Find out more
Leading lights
‌Glasgow is a breeding ground for talented writers. Our list of literary graduates includes William Boyd, Catherine Carswell, Anne Donovan, William McIlvanney, Janice Galloway, Tobias Smollett and Louise Welsh.

Writer and producer Steven Moffat, best known for his work as showrunner, writer and executive producer of TV series Doctor Who and Sherlock, found his passion for TV with Glasgow University Student Television.

John Buchan, author of many adventure and historical novels including The Thirty-Nine Steps, studied at Glasgow during the 1890s. As well as an acclaimed novelist he was also a politician, holding the post of Governor-General of Canada.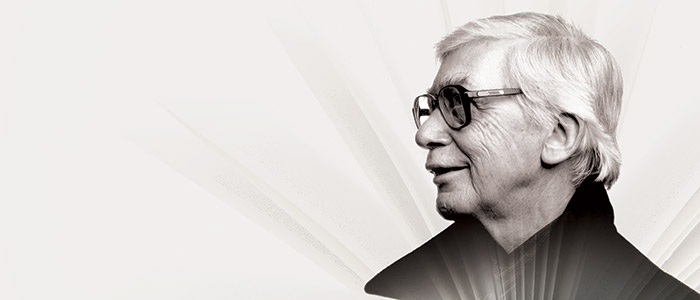 Professor Edwin Morgan (pictured) was one of the greatest poets of his generation and inspired the world and his students at Glasgow with his work.
Across the political parties, ambitious Glasgow alumni have been leading the way for generations.

Law graduate Nicola Sturgeon followed an impressive line of political leaders who studied at Glasgow when she made history as the first female First Minister of Scotland in 2014.

Our Glasgow University Union debating chamber has come to be considered one of the finest training grounds for young and ambitious politicians. The talents nurtured here include current leader of the Liberal Democrats Sir Vince Cable as well as former leaders Charles Kennedy and Sir Menzies Campbell, former leader of the Labour Party John Smith and Scotland's inaugural First Minister Donald Dewar.

Another of our history makers is Sir Henry Campbell-Bannerman who became our first graduate to be elected Prime Minister in 1905. Following in his footsteps, alumnus Andrew Bonar Law served as Prime Minister from 1922 to 1923.

Our long tradition of inspiring people to change the world continues. Over 30 graduates currently hold seats in either the Scottish or UK parliament.
Find out more