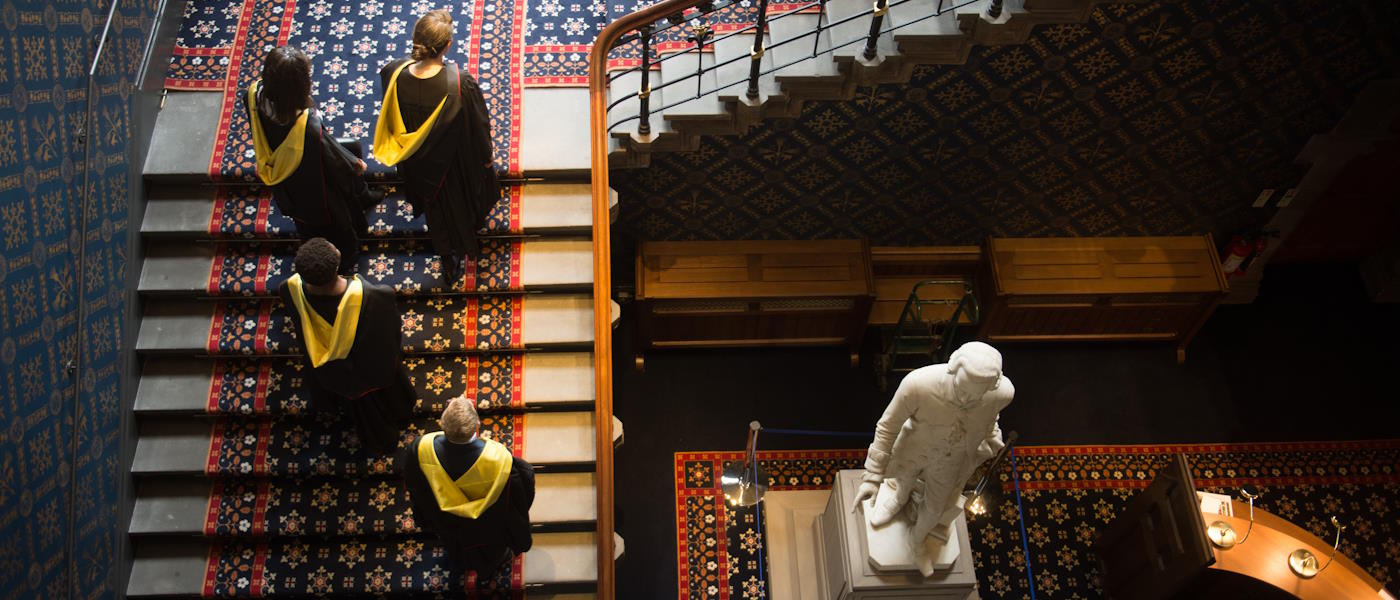 Sustaining and developing our position as a 'study destination of choice' and an 'employer of choice' for global talent who then achieve their goals within our community.
We will:
Grow and diversify our onshore international student community at all levels in line with institutional ambitions while maintaining a focus on quality and the provision of a world-class student experience.
Develop scalable and sustainable transnational education partnerships.
Increase the number and diversity of articulation pathways and learning and teaching opportunities with appropriate overseas partners to support sustainable growth and diversification.
Support the recruitment of global talent into the University's colleague and researcher community.
Future World Changers
Our priority is to nurture our students' potential, support their ambitions and inspire them to go on to change the world.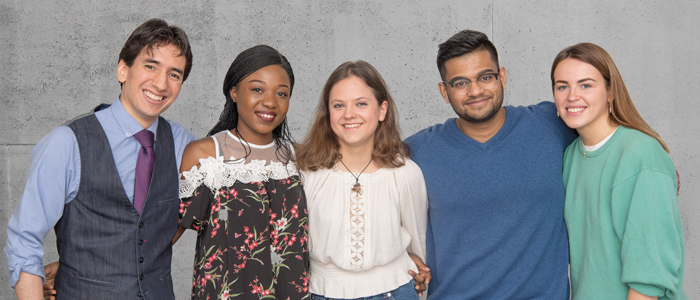 Future World Changers, left to right, and their ambitions: Pavel, creating implants to fight infection; Nura, teaching girls and young women how to code; Zu, transforming the portrayal of disability in the media; Razeen, eradicating water scarcity in Bangladesh; and Alison, making giving to charity easy for students.
We want them to have the best student experience we can offer, with a fantastic range of subjects to choose from, delivered by world-renowned researchers, in state-of-the-art lecture theatres and study spaces, and with access to world-class collections and resources.
And we know we're getting it right. Our students have rated us top in the Russell Group for teaching and joint top in the Russell Group for student satisfaction in the latest National Student Survey (2018).
We believe everyone should have the opportunity to reach their potential. That's why we are proud of our long tradition of helping talented people to fulfil their ambitions regardless of their background or circumstances.
Through our widening participation work we encourage, prepare and support students who are under-represented in higher education to achieve entry to university. We work with over 100 target schools, as well as colleges, local authorities and other organisations to support school leavers and adult learners alike to prepare for, apply to and succeed at university.
Our history of openness at Glasgow stretches back over the centuries. After being refused entry to university in his own country because of his race, James McCune Smith came to study at Glasgow. In 1837 he became the first African-American to receive a university medical degree. He was influential in more than just medicine, however. He was a dedicated and committed slavery abolitionist.
At Glasgow, we are proud of our diverse, vibrant and talented students and their ambitions to change the world.
Find out more
Our award-winning TNE partnership, Glasgow College UESTC
When restrictions prevented our staff from travelling to teach at Glasgow College UESTC, the team's response to ensure continuity of teaching and research was recognised in a major award
The University of Electronic Science and Technology of China (UESTC) and the University of Glasgow (UofG), UK, established the Glasgow College at UESTC in January 2013. Our joint degree programmes in the fields of electronics and electrical engineering, delivered entirely in English, build on the strengths of the Chinese and British education systems, and prepare students for a career better than either University can do alone.
We're proud that we've managed to build a partnership which was robust enough to withstand the challenges of teaching across the world during a global pandemic.
In 2021, Glasgow College UESTC, was named as Educational Partnership of the Year at the Scotland-China Business Awards. The awards, organised by the China-Britain Business Council, celebrate achievements in trade and investment between Scotland and China. The award recognises Glasgow College UESTC's:
innovative learning and teaching practices, particularly during the COVID-19 pandemic,
success of graduates,
quality of joint research projects, and
continued influence on the transnational education sector.
As the COVID-19 pandemic began to spread around the world, preventing face-to-face teaching and our staff from travelling to China, the Glasgow College UESTC team moved quickly to ensure continuity of teaching and research. They developed contingency plans for the effective delivery of learning, teaching and assessment activities. The team made great efforts with further innovative projects aimed at maximising the potential of technology to enhance the learning and teaching experience.
Those projects included working with world leaders in robotics and networked control to enable the delivery of remote hands-on laboratory experience, as well as investment in smart equipment and software for 'state of the art' remote lecture delivery and the development of a project enabling staff to create a Virtual Reality based self-directed learning experience for their courses. Students also received ongoing pastoral support in all matters of their virtual student life.
Watch the award announcement:
China-Scotland Business Awards 2021 - Award for Educational Partnership of the Year
Professor Muhammad Imran, Professor of Communication Systems and Dean for the University of Glasgow's partnership with UESTC, said: "We've worked hard over the last decade to build a partnership with UESTC that offers unique opportunities to students in Scotland and China and creates new avenues for cutting-edge research. We're delighted that our efforts have been recognised by the China-Britain Business Council with this award, and we look forward to building on this success in the coming years with fresh plans to expand our teaching capabilities."
Professor Zeng Bing, Dean of the Glasgow College, UESTC, added: "Glasgow College UESTC combines the teaching and research strengths of universities on two continents to create something truly unique. We're proud that we've managed to build a partnership which was robust enough to withstand the challenges of teaching across the world during a global pandemic, and that our efforts have been well-received by students."
Find out more