The General Council Business Committee
The General Council Business Committee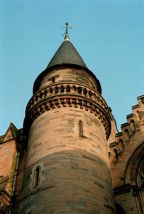 The General Council is a statutory body comprising all graduates and academic staff of the University of Glasgow. It plays a role in the governance of the University.
The General Council works through a Standing Committee called the General Council Business Committee. It acts on behalf of the General Council in matters within its powers, including those delegated by the University Court or Senate. The Business Committee makes representations to the Court on Ordinances and Resolutions. The Convenor of the Business Committee reports to the General Council at statutory Half-Yearly General Council Meetings.
Members
The General Council Business Committee (GCBC) comprises the Principal, two General Council Assessors to the University Court, twenty Elected Members and the Clerk to the General Council. The period of office for Elected Members is four years.
The Clerk to the General Council also clerks the GCBC.
Meetings
The GCBC meets four times per year and Members also attend the two half-yearly General Council meetings. GCBC meetings are usually held at 4.30pm, and in various University rooms (or online).
For more information contact the Clerk at clerkgc@glasgow.ac.uk.