Supporting the biggest cycling event ever held
From 3-13 August 2023, the UCI Cycling World Championships are being hosted in Scotland.
Most of the events take place in and around Glasgow, with Dumfries hosting the para-cycling events.
The University of Glasgow is proud to support the event and champion cycling for health and well-being, commuting and pleasure.
The benefits of cycling to work
Our research found that cycling to work was associated with a more than 40% lower risk of developing heart disease and cancer.
How can cycling improve your mental health?
Ahead of the UCI Championships, members of #TeamUofG tell us how cycling supports their mental wellbeing every day.
Why should you join sports clubs and societies at university?
Ben Heaney, Captain of the UofG Cycling Club, and Careers Manager Fiona Stubbs discuss the benefits of joining clubs and societies for student experience and employability prospects.
Gyrostats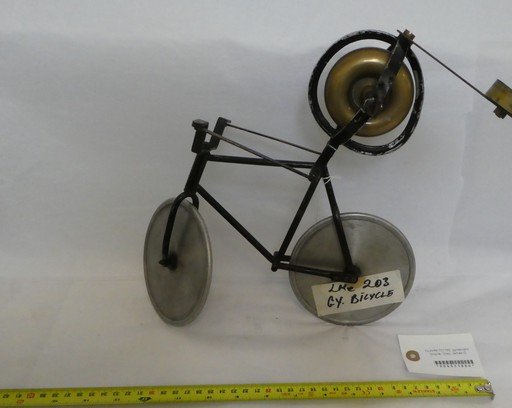 Though the bicycle is a relatively modern invention, historically speaking, its impact on science, education and culture has now lasted over a century.
This gyroscopic model, created as a visual aid for students, was patented by the University of Glasgow's Physics department on behalf of Professor James G. Gray in the early 20th Century.
A native Glaswegian, Gray foresaw both the scientific breakthroughs and real-life implications formed through the creation of the bicycle.
This model, as well as further model bicycles patented by Gray, are available for viewing on request through UofG's Archives and Special Collections department.
Milk Race
In 1974, Glasgow's George Square played host to the start of the Scottish Milk Cycle Race, an international cycling race that formed part of the Tour of Britain.
From 1958 until 1993, the Milk Marketing Board were the major sponsors of British cycling, still to this day the longest cycling sponsorship in UK history.
This video provides a snapshot of international cycling at the time, as well as the impact of the Milk Marketing Board's sponsorship on the sport.
A Schoolboy's Address To His Bike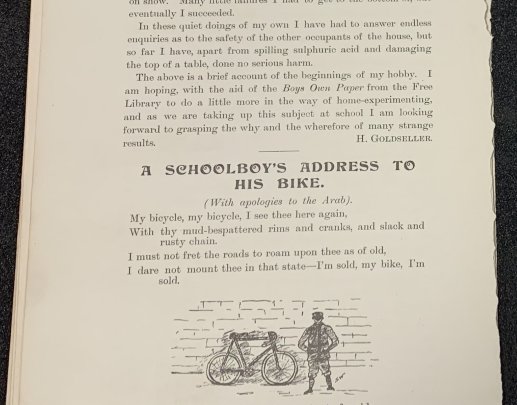 Professor JD Mackie's distinguished career included 27 years spent in the Scottish History & Literature department at the University of Glasgow.
He penned "A Schoolboy's Address To His Bike" during his youth, studying at Middlesbrough High School. The poem of a young schoolboy, the ode paints a picture that - not only was Gray an intellectual youth - he understood how great an impact the bicycle had on everyday lives, even in 1902 (the year the poem was written).
The pages are available for viewing on request through our Archives and Special Collections department.
Clydescope
Nearly 50 years ago, Glasgow's favourite son, Billy Connolly, had a film crew follow him on his cycling journey along the River Clyde.
"Clydescope" was a semi-fictional documentary from 1974, written and directed by the award-winning filmmaker Murray Grigor for the Clyde Tourist Association. Travelling on his famous Flying Scot bicycle, Connolly chooses to show his love and pride for his native Scotland through a mix of music, dialogue and stunning cinematography.
This unique short film can be viewed in-person at the Moving Image Archive's base in the Kelvin Hall.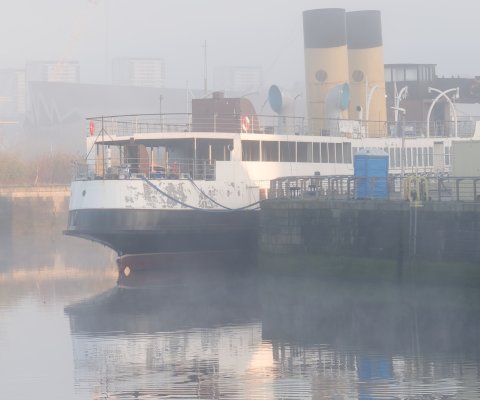 Exterior displays on autonomous vehicles could keep cyclists safe
Research from our human-computer interaction researchers and psychologists, could allow autonomous vehicles to share advance warning of their movements with bike riders. The findings include:
animated representations of virtual drivers
traffic-light-like projections on to the road
emojis displayed on their surfaces
These may replace the complex non-verbal language currently shared between drivers and cyclists once cars begin driving themselves.
Our researchers
Self-driving cars must learn the language of cyclists to keep roads safe
Future generations of self-driving cars should learn the language of cyclists to help them safely share the roads with bikes.
Our Human-computer interaction specialists (led by Professor Stephen Brewster of our School of Computing Science) are highlighting the need for new systems in autonomous vehicles (AVs). Systems capable of replicating the complex social interactions between human car drivers and cyclists on UK roads.
Glasgow Music City Map and Cycling
Professor Matt Brennan has created a fascinating Glasgow Music City Map, overlayed with public and sustainable transport routes.
Matt Brennan, Professor of Popular Music at the University of Glasgow's School of Culture & Creative Arts, created the map as part of a project he is working on called 'Imagining a just and green future for music cities: the case of Glasgow as a UNESCO City of Music'. The project is in partnership with Creative Carbon Scotland, funded by the Royal Society of Edinburgh and the Natural Environment Research Council (NERC).
Ahead of the 2023 UCI Cycling World Championships, those visiting the map will be able to see Glasgow's music venues overlaid with the city's public and sustainable transport infrastructure. This includes NextBike bike parking racks and the city's recommended cycle paths. It was created in collaboration with Glasgow City Council.
ps[c]yched
ps[c]yched for string quartet, bikes and electronics was made leading up to the Glasgow 2014 Commonwealth Games.
The brief was to create a piece related to sport in some way. Cycling was for me the obvious choice. It's both an elite sport and an everyday activity, familiar pretty much to everybody. It is both a pleasurable, reflective activity, and a functional mode of transport. It has a complex social history that permeates cultures globally. The piece explores the familiar sounds of bikes – clicks, clunks and whirring – as well as the less familiar, such as the bowing of spokes. The quartet players move back and forth between their instruments and four upturned bikes, using the cycles to generate sound. Nick Fells, Professor of Sonic Practice at the School of Culture & Creative Arts
We are currently working with the organising bodies, Union Cycliste Internationale (UCI) and Glasgow City Council, to help in the delivery of the road race. The route of which includes parts of our campuses, the city centre, the west end and north-west towards Bearsden.
Campus access arrangements
Road closures around Glasgow will come into effect from 0001hrs, Friday 4 August until 2359hrs, Tuesday 8 August and then again on 0001hrs, Saturday 12 August until 2359hrs, Sunday 13 August. During these periods, a number of the usual access and egress points to the Gilmorehill campus will be closed to vehicles and parking on the campus is limited.
On the days where roads along the route are closed, the only vehicle access and egress points to the main building on Gilmorehill will be from Dumbarton Way. All gates to the campus will remain open for pedestrian and cycle access throughout.
Friday 4 August
Monday 7 August
Tuesday 8 August
Glasgow City Council's Access and Egress plan has full details of all road closures across the city.
Parking arrangements
Localised parking restrictions will be in place around the course for a period of time between Monday 31 July and Sunday 13 August to facilitate the course build up.
Parking space on-campus will be extremely limited over this period. To book a parking space permit holders must contact the University's car parking team. Include vehicle registration in your email.
Local travel and transport restrictions
Free family activities