Lady of the Harbour (GRAMNet Film Series)
Issued: Tue, 21 May 2019 10:15:00 BST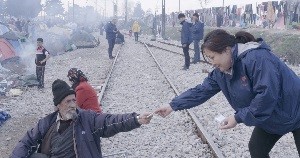 ‌
GRAMNet FILM SERIES - LADY OF THE HARBOUR
sponsored by the Confucius Institute
Wednesday 19 June, 5.45pm doors for 6.00pm start
Centre for Contemporary Arts (CCA), 350 Sauchiehall Street, Glasgow G2 3JD
Lady of the Harbour
Documentary: The Netherlands, China (2017)
Director: Sean Wang
Running time: 90 mins
Chinese, Greek and English with English subtitles
Nearly two decades ago, Chinese immigrants came to Greece traveling along the similar route as the current refugees. Suzanne is one of them. Before moving to Greece, she had developed a successful business in Bulgaria and was friends with the then Bulgarian prime minister, mafia bosses and celebrities. When the refugee crisis arises, Suzanne decides to organize a Greek Chinese volunteer team to help as an act of redemption for her past. It is not easy - Suzanne struggles to persuade business-oriented Chinese bosses and companies to join and has to face the sarcastic attitude of Western volunteers. Suzanne's dominant character also does not help. Against all odds, Suzanne gains a lot in the process, and so do her teammates.
Screenings are accompanied by Q&A sessions for everyone to share views and thoughts in a friendly and supportive atmosphere.
You are welcome to gather in the Centre for Contemporary Arts (CCA) Café following each screening and join in our informal discussions.
www.gla.ac.uk/research/az/gramnet/newsandevents/events/headline_604702_en.html
---