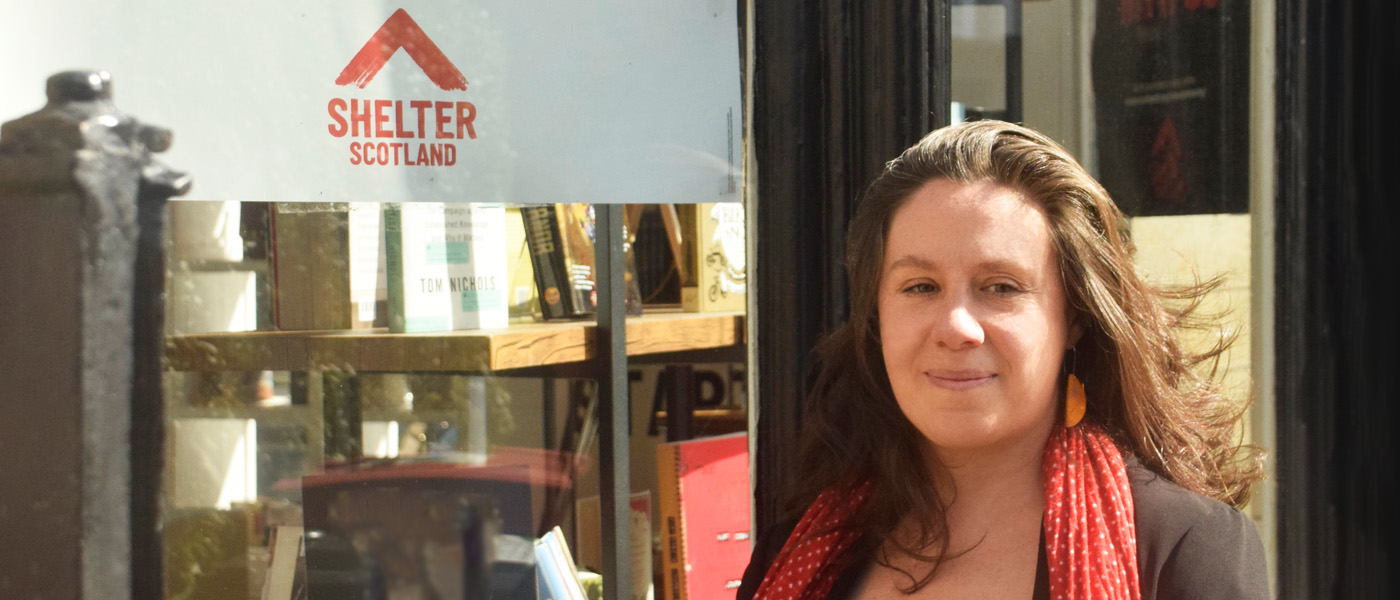 Winning on the home front
Human rights lawyer Fiona McPhail (LLB 2007) is our World Changing Alumni award winner for 2021. As Principal Solicitor with housing charity Shelter Scotland, which helps over 170,000 people a year fight for housing justice, Fiona gives support and advice to those homeless or in poor housing, working with vulnerable clients to ensure their rights are upheld.

I think it was the values in our household when I was growing up that fired my interest in human rights. My parents were very much anti-war, anti-poverty, and always encouraged me to challenge the status quo.

I did Law & Social Theory in my third and fourth years at UofG, which provided a different, more critical perspective on law and society. I think it's always been about social justice for me, and I was lucky enough to be part of the School of Law's human rights project, conducting mock hearings at the European Court of Human Rights in Strasbourg. At the time, I didn't really know what housing law was, as it was not something which was taught at UofG.

We need adequate housing – housing that is accessible, affordable and secure. It's extremely rewarding to be able to take someone from a chaotic living situation to securing accommodation – it's what makes you get out of bed in the morning. But it's also frustrating because you think, all I needed to do was turn up at court or write a legal letter – you realise the power imbalance at play. For every client that we see, there'll be many more who don't have access to legal advice.

When I started out in practice, we were in an economic recession. We had bailed out the banks and I was dealing with clients who had gone from earning decent salaries to having their homes repossessed and claiming jobseeker's allowance. Now we're dealing with the impact of a global health pandemic. In the context of housing, we saw some positive and progressive changes come about as a result, but we are also starting to see a worrying increase in evictions and homelessness as restrictions are lifted, as well as dealing with the impact of Brexit on those EU nationals who are at risk of homelessness.

"Fiona is pivotal in pioneering strategic litigation in Scotland in relation to homelessness and housing poverty, an enduring scourge of our times. She has devoted her legal career to the advancement of human rights and social justice for the most vulnerable members of our community. Maria Fletcher, Senior Lecturer in European Law, UofG
Most people in Scotland who are at risk of losing their home will go through a process where they are given notice of court action and, importantly, have an opportunity to defend themselves. The proposal in 2018 by the multinational Serco Group for a policy that would see a particularly vulnerable group, appeal-rights exhausted asylum seekers, being removed without that due process, seemed fundamentally wrong. I was part of a collaboration of lawyers who challenged the legality of eviction via lock-changing.
We had a fantastic response from the charities and support organisations involved, determined to challenge this practice. That drive and passion is something that really inspired me. And winning the World Changing Alumni award, it's just lovely to see that the type of work that I'm doing, and that my team and others are doing, is valued.
Not all homelessness is visible – it's much more than what we see on the streets. Thousands of households are living in overcrowded, inadequate temporary accommodation, and we are not properly respecting the impact that this can have on us, our children and our mental health. Just watching people break under that pressure – you can't help being affected by that.
But as difficult as it can be for me, it always has been considerably more difficult for my clients. One of the best things about my job is getting to work with so many people who are equally committed to tackling social injustice.

scotland.shelter.org.uk
This article was first published September 2021.