Discover more
Picturing Glasgow: Raymond Depardon in Conversation
On 5 November 2020, the School of Modern Languages and Cultures of the University of Glasgow hosted an online interview with Raymond Depardon, one of the world's most important photographers, on the topic of his celebrated photographs of Glasgow in 1980.
Born in France in 1942, Raymond Depardon is also a prize-winning photojournalist and filmmaker, whose documentary work belongs to the direct cinema tradition. As a photojournalist, he has worked in numerous war zones around the world and on presidential campaigns, while his documentaries have explored psychiatric institutions or the justice system. In the latter part of his career, his photography has often taken a more personal, autobiographical turn.
In 1980, following a commission by The Sunday Times, Depardon travelled to Glasgow where he went on to produce a stunning collection of images of life in the city. Often stark in character, the photographs capture the effects of deindustrialisation and the housing policies of the era on the people of the city. Yet they simultaneously reveal something of the enduring resilience and sense of community among Glaswegians, and offer an evocative and emotionally powerful glimpse of a Glasgow of which only traces remain today.
Depardon's photographs were not ultimately published by The Sunday Times and were unknown to the public until a retrospective of his work at Paris's Grand Palais in 2013. They eventually appeared in a volume published in 2016, available in bookshops and online: Raymond Depardon, Glasgow, foreword by William Boyd (Paris: Le Seuil, 2016). ISBN-13: 978-2021303629.
To mark this event, BAFTA Scotland New Talent photographer Chris Leslie produced a short film, Present Past: Glasgow in Photographs. The film reflects on the place of Raymond Depardon's photos in the history of photography of the city of Glasgow.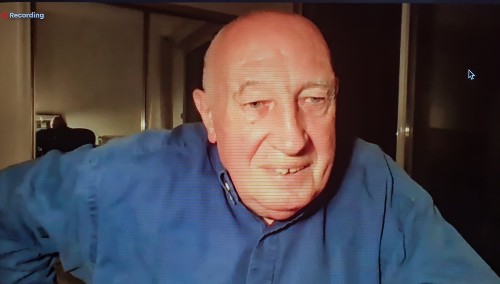 The organising committee for the interview consisted of Dr Greg Kerr, Dr Paul Melo e Castro of the School of Modern Languages and Cultures and Dr Andy Stafford of the University of Leeds. The interview was held on the Zoom platform and what follows is a transcript of the exchange. At the end of the interview, Raymond Depardon announced his desire to donate the prints of his Glasgow photographs to a museum in the city.
Below is the English transcript of the event. Consulter la version française.

Interview with Raymond Depardon
GK : Could you tell us a little more about the context of the Sunday Times commission and your stay in Glasgow? You had been tasked by the newspaper with portraying wealth and poverty in Glasgow, but you focus only on poverty in the photographs. Could you tell us why it was difficult to photograph the wealthier neighbourhoods, or why you were not satisfied with the photographs you took there?
Let's first backtrack a bit…In 1978, I had already worked for two photo agencies… the first was Dalmas, where I was an employee, and earned a monthly salary. Then, in 1977, together with some friends, I founded the Gamma agency, which was a cooperative partly inspired by Magnum Photos. A lot of wars were happening at that time, and I lost several friends, in particular Gilles Caron and Michel Laurent.
I was unlike others in that I began my career at a very young age, ahead of my eighteenth birthday. And so, in my early thirties I had grown tired of photojournalism, possibly a little before everyone else. And I was still marked by the death of my friends. At the time, I couldn't see what the solution might be. The options were either to go to Cambodia, Biafra, etc. or else take photos of films stars at premieres on the Champs Elysées. The French press mainly dealt in celebrities at the time.
In 1971, something had happened that really shook things up for me: a friend brought me to Chile, where I took photos that were neither war photos, nor photos of starlets. I covered Allende's first year in power and took pictures of Mapuche farmers, and the report was published all over the world. I felt that this was a third way, somewhere between war photos and photos of starlets. I joined the Magnum agency in 1978. The Magnum photographers had a very different background to mine… They each came from a certain middle-class background or from the social elite. They would only use Leica cameras, and they were quite privileged. That wasn't my background, and so I was quite different from others in the agency. Some of them were friends, like Gilles Peress or Guy Le Querrec, people for whom I have a lot of respect.
In 1978, since I had just joined Magnum, the magazine Stern asked to send me to Beirut. I spent a month there in summer 1978. And I did what was asked of me, in other words, I took photos of Palestinians, right-wing Phalangists and left-wing fighters, all of the Lebanese communities at the time. It was also the first time I had used Kodachrome film. I was feeling miserable at the time, but I worked well. And the report was published over twenty or thirty pages in Stern. When you turned the page, you moved from photos of the middle class to others of Palestinians. It was very much in the tradition of photojournalism, with people lounging in swimming pools on one side, and people in ruined houses on the other.
But Lebanon is not Glasgow "Lebanon is not Glasgow." [laughs]. And so, following that report, The Sunday Times had the idea of sending me to Glasgow. I was joined by a journalist [Ian Jack] who went there with me. I was supposed to do the same thing I had done in Beirut, in other words, to cover poverty and wealth.
At that time, my speciality was Africa, I went there all the time. Incidentally, there were two photographers at Magnum who kept sleeping bags, Josef Koudelka and me. Koudelka didn't know me. He often slept at the agency, and I did too because I had only a tiny attic room at the time. And he was concerned to know who this photographer was who was constantly leaving for Africa with a sleeping bag and spending months with rebels who were at war. I can tell you that I am a photographer of decolonisation: in other words, I came on the scene in 1960 and was sent to Algeria, to Chad and so on. That's why I wasn't well known abroad. At the time, there were two photographers of my generation at Magnum: Sebastião Salgado and Koudelka. One was Brazilian, the other was Czech and both were well known in other countries. But, personally speaking, that wasn't what I was after at that time. I wanted to progress in my photography, not to do exhibitions or books.
Aside from the stay in Beirut, before coming to Glasgow, I had been in Chad, Niger and Mali. For the record, I was even arrested by the secret services and put in prison on the basis that I was almost collaborating with the enemy. But that wasn't true. I was simply photographing people who were at war with France, and I went over to the other side to see who they were. And since I had been director of the Gamma agency, they knew very well that I wasn't a reporter for the secret services.
So, I come to Glasgow, and I don't speak English. I had no idea what people were saying to me! And the first people to help me – who were wonderful with me – were the children. And when I look at these photographs now, what is incredible is that I did two thirds of these photos with a 28mm lens. It was like a tracking shot. I walked and walked, for hours, and took photos of those I passed. "I walked and walked, for hours, and took photos of those I passed." I did indeed take some photos in the middle-class areas of Glasgow: golfers, parties and society dinners in bourgeois households. But perhaps unlike the swimming pools of Beirut, it just didn't come together. I think it would have been necessary to use a flash like my friend Martin Parr, or to have a different approach. Because unlike in Beirut, the Glasgow bourgeoisie were very discreet. They didn't put their wealth on show: they drove little Austin Coopers and wore cashmere sweaters, but that's about all. There was nothing to see! [laughs]
And so, that was my first stay. Four or six months later, I made a second trip. And from my point of view, it was all so exotic! You have to remember that I was coming to Glasgow from the desert, which is a difficult place to photograph. A few months before the Glasgow photos, I was with rebels in the north of Chad who told me they planned to attack a palm grove. And I went off with them. There was a large town there. The attack lasted two hours. We moved at daybreak and in the middle of the night and so on. The desert is pure emptiness. You see a fighter carrying a Kalashnikov rifle and another behind you too. So, when I set foot on the streets of Glasgow, the whole setting, the people I passed on the footpaths, all of that seemed new to me. And I didn't even have the time to ask myself the right questions.
GK: What kind of questions do you mean?
RD: Questions that came from anthropologists at the time, in particular a French anthropologist who had been in Paraguay, Pierre Clastres. Questions such as: 'What are we doing here? What purpose are we serving for the West? What does it mean to travel and to work with African peoples, and then to sell the photos to newspapers in the West?' And so I could have asked myself that same question in Glasgow: 'What does it mean to be here in Glasgow and to take photos for a London newspaper?'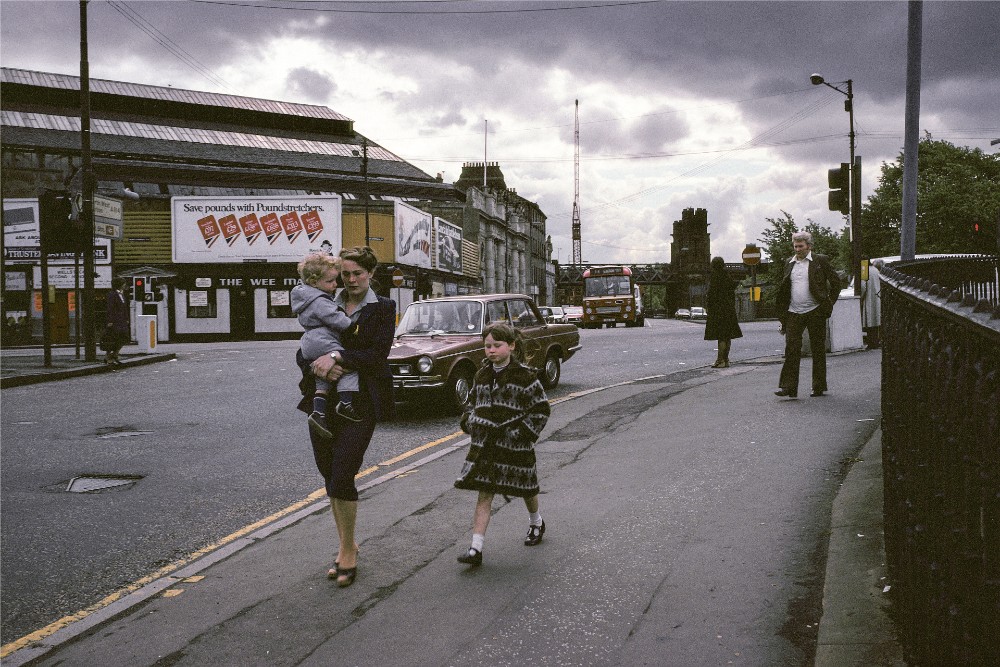 By the way, when I showed the photos at the Barbican in March 2016, one of your political representatives asked me why The Sunday Times hadn't published the photos. I think that at the outset it was because I hadn't fulfilled my mission, which was to do 'fifty-fifty' coverage of the rich and the poor. But I think that in the end these photos aren't really suitable for publication in a newspaper. They're too straightforward, perhaps, too naturalistic. There's one that I really like of a woman who is walking in the street with a child in her arms and a little girl beside her. It's not an amazing photograph. This kind of photograph makes no sense from the point of view of photojournalism. Everyone knows what is being acted out. The woman is in a hurry, she's on her way to school, or to a nursery, to play sport or who knows what. And so, when I look at these photos today, I say to myself that I was like a Martian in Glasgow– and maybe that was a stroke of luck. I took photos of what I saw: children, alcoholics, the poor, the few rich people I passed. And in a certain way, perhaps I wasn't really conscious of what I was doing. I took it all at face value…
GK: Did you take your photographs of Glasgow in full view of others or discreetly? Did people appreciate being photographed or were they reluctant?
In 1980, I knew the work of people like Lee Friedlander or Garry Winogrand who had worked a lot in street photography at the time. They both had totally different theories. Garry Winogrand did a tracking shot and never went back over his route, which is what I did in the streets of New York. Lee Friedlander acted like a street lamp: he didn't move, and he waited for things to come together in his frame. He would spend hours waiting to take a shot. For me, the obvious thing seemed to be to follow Garry Winogrand's method, because that is the kind of photography I had practiced in Africa. In fact, just a few days ago, I returned from a trip to Oran in Algeria, and it was the same experience there: you take a photo and then when it comes to the second one, either a person strikes a pose or they say to you: 'no, no photographs'. So, you have to act quickly.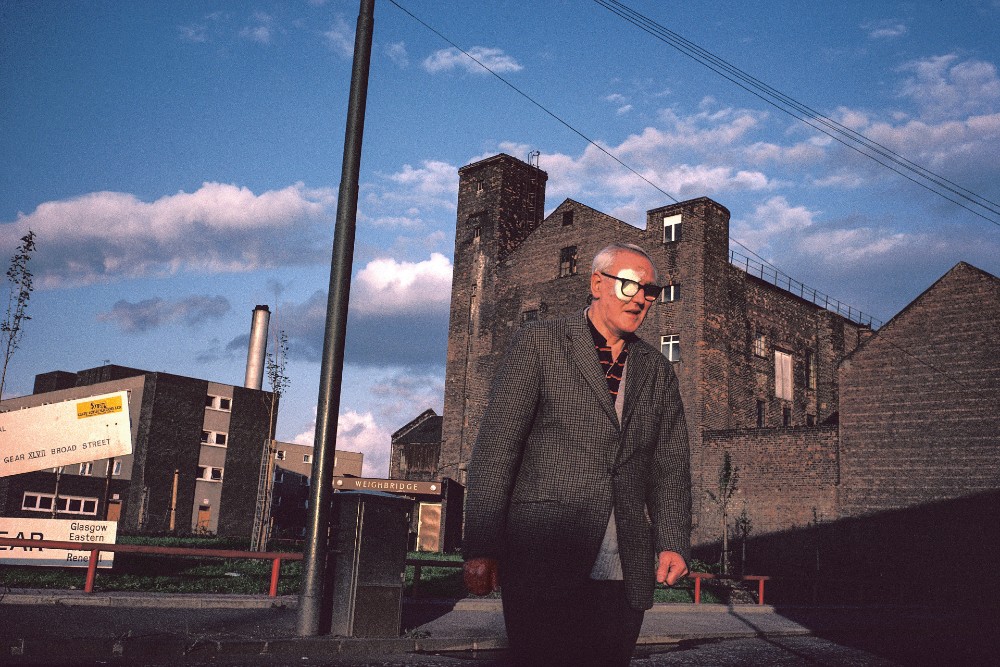 In Glasgow, I have to say that this gentleman with a bandage on his eye gave me a solid punch in the face. He went by me just like that and then turned around … and bam! [laughs]. And I think he gave me black eye. But as regards everyone else, no, it was tremendous for me. Like in Africa, no one passed any remarks.
GK: Do you think that the fact that you didn't speak English had an impact on your interactions?
Yes, I think so. I know there's a tendency to use terms from psychiatry a lot… those are serious words, and they can cause suffering, but it's true that, since I had worked a lot in psychiatric hospitals in Italy, I was very familiar with how humans react to a camera lens. Since I didn't speak the language, perhaps I was 'autistic' in some way. There is an important psychiatrist who I photographed in Italy and who had helped to revolutionize psychiatry in the country. The first thing he said to me was 'Raymond, don't be aggressive with your camera'. Of course, you are often tempted to take a second photograph, or a third or a fourth, but you have to avoid that. Taking photos is a form of aggression. "Taking photos is a form of aggression." I often feel quite down about that. But I can't see any other solution, because otherwise people then start to strike poses, and I don't like that. Often in Beirut, for instance, people carried Kalashnikov rifles and they would release the safety catch. Doing that makes a noise. It means that the bullet is in the barrel, and they say to you 'no photo'. Then two minutes later, they change the position of the bullet and say 'Take my picture'. And you take the photo, but of course it's not a good one!
In Glasgow, I think the children took me by the hand and brought me onto their territory. Maybe if I hadn't been a foreigner, I wouldn't have followed them. But they seemed so warm and kind and generous to me. They spoke to me constantly! I spoke to them with the few words of English that I knew. Here's another little story that will make you laugh: you know, the Palo Alto researchers claimed that the average American uses between 50 and 100 words on a daily basis. So, I said to myself: I just need to learn those 50 words and I'll speak English!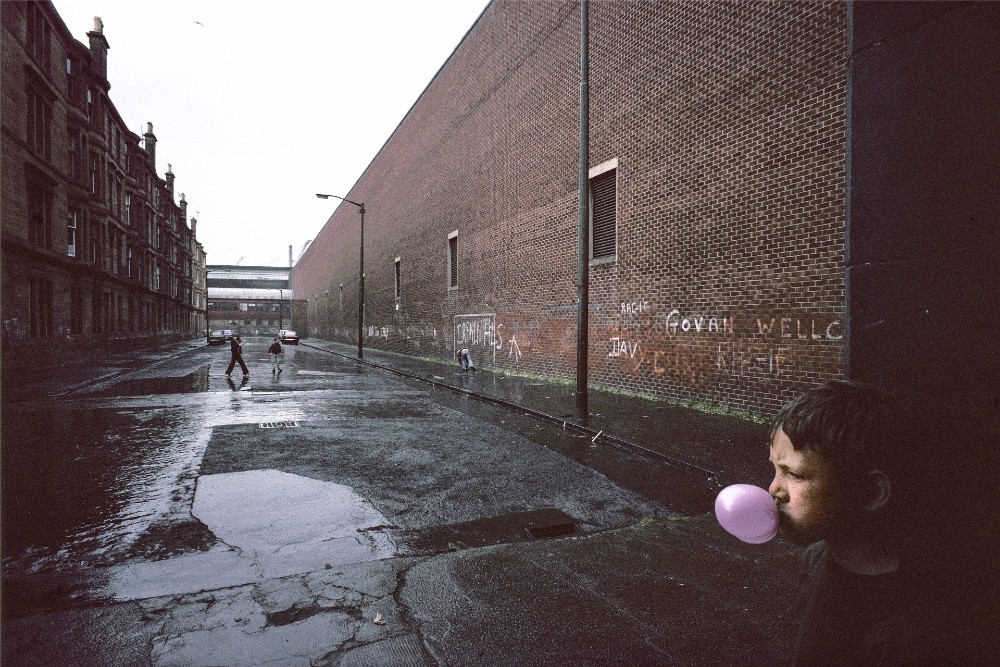 There is a film that made an impact on me, one that is Alfred Hitchock's best in my view, Marnie. At a certain point in the film, a young woman takes Sean Connery to a place where there is a wall that is identical to the one you can see in the photo on the cover of my book. The woman tells him how she was assaulted by her father, it's quite a dark moment. And when I saw this wall in Glasgow, I changed lens. There are about ten photos that are not taken with a 28mm but with a 21mm, notably the one of the little girl in the pink dress. There is something unique to the 21mm Leica .. it's a word that didn't exist at the time: it's as if one is 'embedded' in the sense of an 'embedded journalist'. At some point, with the children, they were so close to me that I felt I was being tugged in two directions: on the one hand there was this exotic setting of Glasgow, and at the same time, I am from a line of French photographers (such as Cartier-Bresson, Doisneau and so on) who have a humanist streak: I photograph people, women and men. I'm thinking here of the photo of the little boy who is in tears. When the photos were shown at the Barbican in London in 2016, journalists from The Sunday Times came to view them, and I learned from them that the little boy had just been told that his mother was in hospital. But there was no way I could know why he was crying.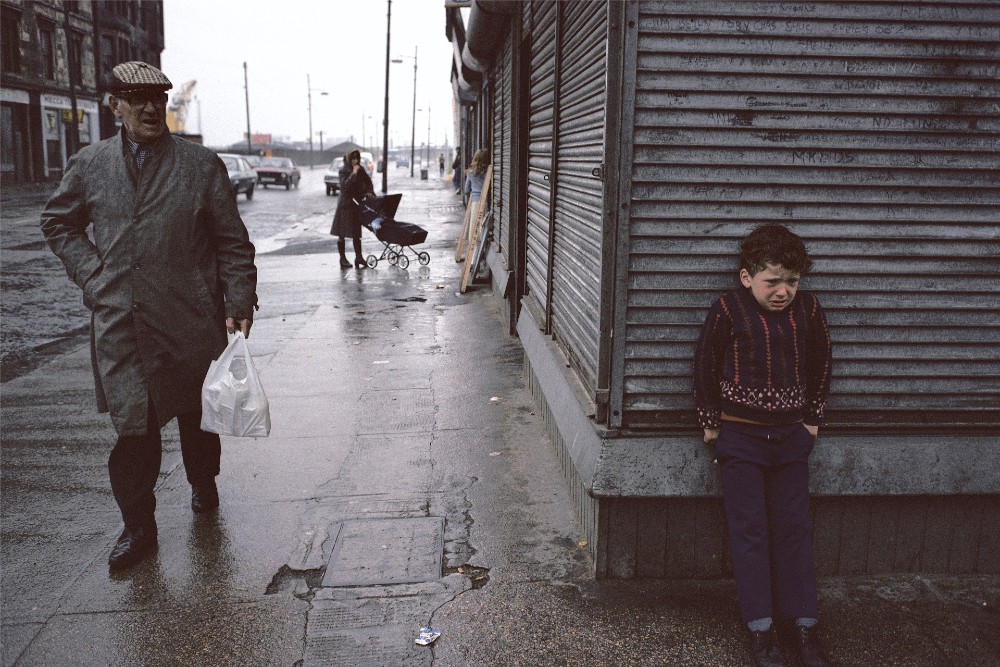 GK: I was wondering whether you picked a scene and waited for someone to walk on stage or whether you looked out for people first?
I can't really say. It all happened very quickly. What is amazing when I see these photos today is that, unlike my colleagues who are specialists in street photography, I use wide angles and head-to-toe shots in these Glasgow photos. So, I can understand why this left the Sunday Times typesetters so perplexed. People take photographs at a much closer distance nowadays.
You have to know that these photos spent thirty three years in boxes, and it's thanks to Hervé Chandès [who commissioned Such a sweet moment, the 2013 exhibition of RD's photos at Paris's Grand Palais] that they made it out of there. Almost as a challenge, I asked him: 'How about we do an exhibition of my colour photos?'. Because my colour photos are not well known. Basically, for a long time I had a complex that I wasn't a good colour photographer. And indeed, it's true that colour doesn't work well in the desert.
But complexes allowed me to make progress too. First of all, I had a complex about being from the countryside; about not having gone to university; not speaking foreign languages; about not being a good photographer (maybe that is why I joined Magnum); about not having gone off to cover a war and dying like Gilles Carron.
I feel like I have something of the nineteenth century in me. Later, I developed a passion for other photographers like Walker Evans, who I really liked, or the Japanese filmmaker Yasujirō Ozu. I noticed that Walker Evans, Ozu and my father were all born the same year, in 1903, at the beginning of the century. And they were told that they had a rendezvous with modernity. And it's true, maybe I held on to something from the last century, in taking photographs like I did in Glasgow, bringing the setting into my photos, with some closeups, but relatively few. Forty years on, people can find these photos interesting because they show a city that has disappeared. "Forty years on, people can find these photos interesting because they show a city that has disappeared."
I noticed the different reviews of the book on Amazon. The opinions in French are very nice, although those in English are quite unpleasant, with people saying that 'this is just the point of view of a Frenchman who has come to photograph our way of life'; that the book is dark, and that it is poorly printed. I don't think so, because given what it costs, I don't think it's poorly printed.
If I have upset Glaswegians with these photos, I didn't do so on purpose. But this kind of reaction is something that I've encountered a lot. For ten years of my life, I worked with French farmers. At the beginning, people were despicable with me. They said that I shouldn't photograph elderly farmers with holes in their sweaters. The farmers' union and people who had never set foot on a farm said it was a national disgrace to show people that way. And then one day, people started saying it was good to have taken these photos because they show France's cultural legacy and its history.
Maybe it comes from a certain shyness in me. I see it in my relations with women. I always found it difficult to take photos of my friends, of my girlfriends. I would look at my shoes instead of into the eyes of the girl [laughs].
AS: You have said that you are a photographer of decolonisation, but you are also a photographer of deindustrialisation and unemployment in these photos. You arrived in Glasgow one year after the election of Margaret Thatcher. What kind of image did the United Kingdom have at that time, from a social and political point of view.
I often looked at the foreign press at the time. When I was a young photographer, I would go to the Drugstore on the Champs Elysées and leaf through The Sunday Times, The New York Times and so on. And I had a certain idea of what state the country was in through Donald McCullin, having been with him in Chad and Biafra. But I have to say that I had no preconceptions about Glasgow.
What I did discover very quickly was that because I had made some films, I had already used a device to measure the colour temperature in Kelvin degrees. And I saw immediately that there was something exceptional about the conditions in Glasgow that you can't find in a town like Roubaix, but possibly in the USSR. Namely a very low or cool colour temperature, one that is completely different from Chad or Beirut. I was told later that Kodak had adjusted its films for this temperature because Kodak had premises north of New York, near the Canadian border: so they had created a kind of film that worked better for the light in Glasgow.
As for deindustrialisation, I had never photographed workers, except in protests in Paris, so that was something that I discovered in Glasgow.
GK: In an interview, Martin Parr says that 'you have to take a lot of bad pictures to get something good'. Do you agree with this idea?
Yes, of course. But when I joined Magnum, the talk was all about distance. For example, Elliott Erwitt, who is American, looks at things from a distance of ten or fifteen metres. Then you have people like Cartier-Bresson who do so from five or ten metres. And then, there are others like William Klein who are a metre away, or a metre and a half or two metres. So you have to understand that, because it determines what lens you will put on your camera. For instance, Guy Le Querrec always uses a 35mm lens and is two metres away from people: that's his distance.
This issue of Cartier Bresson and the 'decisive moment' almost became a caricature, because you can always see a difference between two photos. I have my own theory about this: those great photographers of the 1930s had a complex about painting or felt threatened by it. And then a little camera made by the Germans came along, one that was very easy to use and took snapshots, and the 'decisive moment' became the photographers' challenge to the painters: photographers were saying that painting can't depict an action with so much precision.
For my part, I wasn't in thrall to Cartier-Bresson and that's perhaps just as well. For press photographers, in agencies like Dalmas or Gamma, he wasn't a legendary figure. It was only later that people asked me if I knew Cartier-Bresson. For the press photographers of my generation, the greats were Robert Capa or Vietnamese photographers.
GK: If you were to photograph a city like Glasgow today, would you approach the city differently? What has changed in your approach between 1980 and today?
If I were going to take photos of Glasgow today, I would take a Leica 50mm. I think I had some nerve to take these 28mm photos in 1980, because it's a sequence shot and you can't edit it together: a one-hour sequence shot, unbelievable! If I were to go to Glasgow today, I would do much more abstract shots, fragments. The photos would probably show less of the city. There would probably be more closeups of people. What is remarkable in these photos from 1980 is both the people and the setting.
That's why I think a photographer from Glasgow couldn't have taken these photos because it's their own everyday world, which I can understand. I was lucky to grow up on a farm in the 1950s. You can imagine the wonderful photos I could have taken there! But instead, I took off and went to photograph Brigitte Bardot and General De Gaulle. It's ridiculous, but that's how it was! Basically, it did make an impact on me, but it was only forty years later that I took photos on other farms.
GK: According to Chris Leslie, who produced Present Past: Glasgow in Photographs, we live in a world dominated by the proliferation of images. Even if he is a photographer by training, he is convinced that taking photographs is necessary, but that he also needs to bring together objects or people's stories, or to work with sound or video to capture the real. And he feels that each of these elements could become as important as a photograph. What is the future of photography in your view?
At the beginning of this interview, I listened to you as you presented me for the audience. It's quite difficult to do that, because I'm a photographer, my background is in journalism, and I increasingly work with museums. But there is another aspect of my work that is totally different, which is that I'm a filmmaker. I'm not a filmmaker like many photographers who have made films. I'm an advocate of direct cinema.
I don't know why, but I came to be interested in how people speak. It's curious, because I'm actually someone who is not good at listening to people. But then all of a sudden, with a microphone and film camera, I started to listen to what the American sociologist Erving Goffmann or Palo Alto researchers like Gregory Bateson call 'fresh talk'. For them, it was imperative to keep a record of the spoken word because it's a wonderful thing. According to them, the average person repeats the same thing seven times. I started filming people as they spoke. And as I did so, I noticed that it would be best if I didn't move and if I wore headphones. So, I made films about the police, journalism and the justice system. At first, I directed these films myself and then later with Claudine Nougaret. It was as if I was carrying on what had been started in the USA in the sixties and then taken up later in England.
That has nothing to do with photography but I think that for Glasgow in 1980, if I had had a film camera and a bit of knowledge of English [laughs], I would have made a wonderful film because around me I could hear tremendous people with no affectation in how they spoke. I never found that anywhere else. But it would not have been my place to make that kind of film: it would have had to be a freelancer who would have run into the same problems that I did with my report, and his film would never have been shown on the BBC [laughs]. But there was definitely a film to be made, without a doubt.
AS: In practical terms, how do you go about things when you are a photographer, and you arrive in a city like Glasgow without speaking the language?
I must have had a map. Maybe the journalist from The Sunday Times showed me around the different neighbourhoods. I know that I always came back to where I was staying on foot. I took very few taxis and didn't use public transport much. I wonder how I ate…maybe in the street. I had a room in a very comfortable hotel near a bridge. At the end of the day, I went straight to sleep because I was dead tired. I maybe ordered food on room service. During the day, I walked a lot! I had a backpack with my films inside. I had very good Clarks shoes that were made for the desert [laughs]. You may have seen that there is a photo of me at the end of the book: I bought that parka a few months previously in the USA.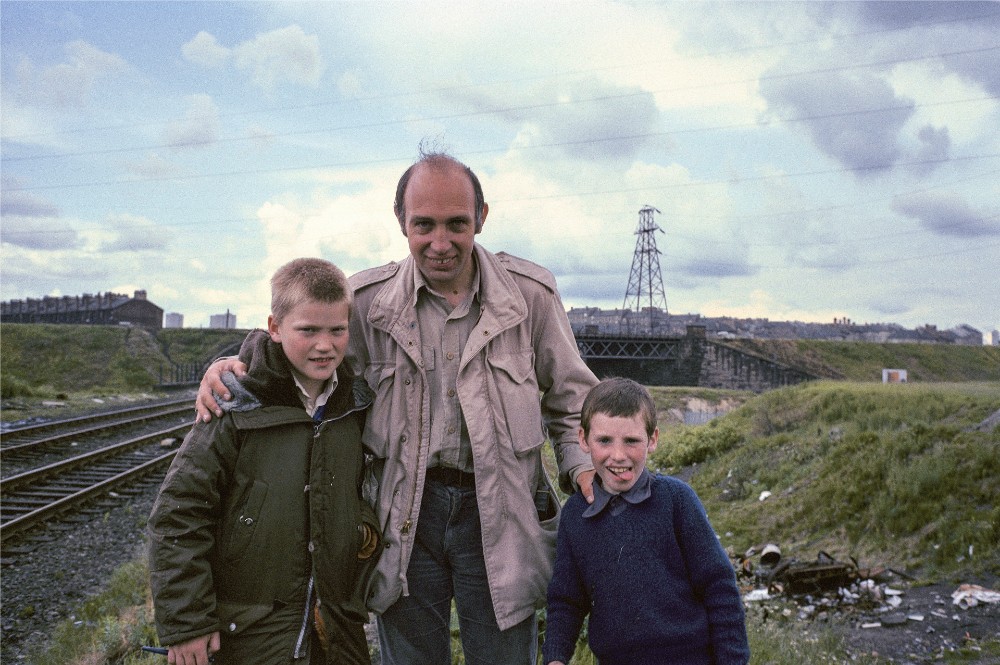 Incidentally, in 1979/80, the Americans had been conducting military manoeuvres in the desert, because there was a belief at the time that 'the enemy would come from the desert'. So they manufactured light grey military clothing and in the photo of me with the children, I'm wearing this jacket with all these pockets. Maybe I saw Glasgow like an African city or a desert city! And I would get close to people, but with the few words of English that I had, I couldn't have a conversation with them! [laughs].
But I have incredible memories of that time. I had never seen a city like it and if it hadn't been for The Sunday Times, I would never have visited it. And I ought to have come back in the meantime. In any case, I'm very touched that you are interested in my work because you have to understand that people often say: 'Raymond is 'so French''! Unlike my friends Sebastião Salgado and Josef Koudelka, I never really made a point of developing my career in other countries. What I do know, is that the photos themselves are with Martin Parr since the Barbican exhibition and my dream would be to come to see you all in Glasgow with an exhibition, and that at least the prints would be with you in Scotland. Perhaps I should organise a gift of these photos to a Glasgow museum. It's the history of Scotland, it's Glasgow's history. And if I've been able to have a part in that in my own way, then I'm delighted. "It's the history of Scotland, it's Glasgow's history. And if I've been able to have a part in that in my own way, then I'm delighted." I would like for a museum to house them as part of the city's heritage.
GK: Do you have any advice for photographers starting out in their careers today?
At the start of my career, I found it very hard to photograph my parents. But that's where you have to start: you have to really try to photograph your parents, your boyfriend or girlfriend, to be able to say who you are.
GK: That's interesting because that element of subjectivity is at the heart of your work, but it has only been so in the second part of your career, isn't that so?
That's because I've learned a lot. My parents were farmers and I have two brothers. When they understood that I wanted to be a photographer, they looked back over the family to see who it was that I took after. They found a grandfather who had attended the Paris Universal Exhibition in 1900. And what did I have in common with this grandfather, fundamentally? Maybe it's just a simple word: curiosity. "Maybe it's just a simple word: curiosity." And that's what pushed me to discover places like Glasgow. By the way, I never sought to do a 'follow-up' to Glasgow. I never set out to photograph Saint Petersburg, for instance, to do something along the same lines. It's the only work I've ever done in Northern Europe, and in a beautiful country with charming people besides.
Photographs by permission of Raymond Depardon © Raymond Depardon / Magnum Photos / Le Seuil.
Version française
GK : Pourriez-vous nous en dire un peu plus sur le contexte de la commande pour The Sunday Times et votre séjour à Glasgow? Vous aviez été chargé de réaliser un portrait de la richesse et de la pauvreté à Glasgow, mais vous vous êtes concentré uniquement sur ce dernier point. Pourriez-vous nous dire pourquoi il était difficile de photographier les quartiers les plus aisés, ou peut-être pourquoi vous n'étiez pas satisfait des photos que vous y aviez prises?
Faisons d'abord faire marche arrière comme on dit, un petit peu… En 1978, j'avais déjà fait deux agences…. la première c'était l'agence Dalmas où j'étais salarié, payé au mois. Ensuite, en 1977 avec des amis on a fondé l'agence Gamma, une coopérative un peu inspirée de Magnum. C'était une période où il y avait beaucoup de guerres et j'ai perdu plusieurs amis, notamment Gilles Caron et Michel Laurent. Ma particularité c'était d'avoir commencé très tôt, je n'avais même pas 18 ans. Et donc, arrivé à trente et quelques années, j'étais un peu fatigué du photojournalisme, un peu avant tout le monde, peut-être. Et marqué notamment par la disparition de mes amis. A l'époque je ne voyais pas de solution. Il fallait ou aller au Cambodge, au Biafra, etc. ou alors faire des photos des avant-premières de films avec des vedettes sur les Champs Elysées. La presse française était très people à l'époque.
J'ai eu un premier choc lorsqu'un ami m'a emmené au Chili en 1971, où j'ai fait des photos qui n'étaient ni des photos de guerre, ni des photos de starlettes. J'ai couvert la première année au pouvoir d'Allende, et j'ai fait des photos de paysans mapuches. Ce reportage a été publié dans le monde entier. Je sentais qu'il y avait une troisième voie, entre photos de guerre et photos de starlettes. Donc, j'étais assez seul, et j'ai rejoint l'agence Magnum en 1978. Les photographes de Magnum avaient un parcours très différent du mien… Ils venaient d'une certaine bourgeoise ou d'une certaine élite. Ils étaient très leicaistes, et un peu privilégiés. Je ne venais pas de cette école-là, j'étais complètement différent des autres. Certains étaient des amis comme Gilles Peress ou Guy Le Querrec, des gens pour qui j'ai beaucoup de respect.
En 1978, puisque je viens d'entrer à Magnum le magazine Stern demande à m'envoyer à Beyrouth. Je passe un mois à Beyrouth en été 1978, quelques jours après le meeting. Et je fais ce qu'on on attend de moi, c'est-à-dire des photos de Palestiniens, de Phalangistes de droite et de combattants de gauche, toutes les communautés libanaises à l'époque. J'ai fait ça pour la première fois au kodachrome, d'ailleurs. J'étais très malheureux, mais j'avais bien travaillé. Et le sujet est publié dans vingt ou trente pages dans Stern où vous tourniez la page pour passer de la bourgeoisie aux Palestiniens. C'était très photojournaliste, avec des gens dans les piscines d'un côté, des gens dans des maisons détruites de l'autre.
Mais le Liban, ce n'est pas du tout Glasgow [rire]. Et donc, suite à ce reportage, The Sunday Times a l'idée de m'envoyer à Glasgow. Se joint très vite un journaliste [Ian Jack] qui m'accompagne. Il parle français et il organise certains rendez-vous : et donc les choses étaient bien claires. Je devais faire la même chose qu'à Beyrouth, c'est-à-dire couvrir les pauvres et les riches.
À l'époque, ma grande spécialité c'était l'Afrique."À l'époque, ma grande spécialité c'était l'Afrique." Une petite anecdote là-dessus : il y avait deux photographes à Magnum qui avait des sacs de couchage, Josef Koudelka et moi. Koudelka ne me connaissait pas. Il dormait souvent à l'agence, et moi aussi parce que j'habitais une petite chambre de bonne à l'époque. Et il s'inquiétait de savoir qui était ce photographe français qui était complètement inconnu et qui n'arrêtait pas de partir avec un sac de couchage en Afrique et qui restait des mois avec des rebelles qui faisaient la guerre. Je peux vous dire que je suis un photographe de la décolonisation : c'est-à-dire que je suis arrivé en 1960 et on m'a envoyé en Algérie, au Tchad, etc. C'est pour ça que je n'étais pas du tout connu à l'étranger. A l'époque, il y avait deux photographes de ma génération à Magnum : Sebastião Salgado et Koudelka. L'un était brésilien, l'autre était tchèque et tous deux étaient connus à l'étranger. Mais, personnellement ce n'est pas ce que je cherchais à l'époque. Je cherchais à avancer dans ma photo, pas à faire des expos ou des livres.
Quand je suis arrivé à Glasgow, à l'exception de mon séjour à Beyrouth, je revenais du Tchad. Et puis j'étais parti au Niger et au Mali. Pour la petite histoire, j'avais même été arrêté par les services secrets [au moment de son reportage qui a alerté le public sur l'affaire Françoise Claustre] : j'avais été mis en prison parce que j'étais presque un collaborateur avec l'ennemi. Mais ce n'était pas vrai, c'était simplement des gens qui étaient en guerre contre la France et moi j'allais de l'autre côté pour voir qui c'était. Et comme j'avais été directeur au Gamma, ils savaient très bien que je ne n'étais pas du tout pigiste des services secrets.
Donc, j'arrive à Glasgow, je ne parle pas anglais. Je ne comprends rien de ce que les gens racontent ! Et les premières personnes qui m'ont aidé – qui ont été formidables avec moi– ce sont les enfants. Et quand je regarde ces photos maintenant, ce qui est incroyable c'est que j'ai fait les deux tiers de ces photos avec un objectif de 28 mm. C'est comme un travelling. Je marchais, je marchais, pendant des heures, et je faisais des photos des gens que je croisais. J'ai fait quelques photos effectivement dans les milieux bourgeois de Glasgow : les joueurs de golf, des rallyes dans des maisons bourgeoises avec des dîners mondains. Mais peut-être qu'à la différence des piscines à Beyrouth, ça ne marchait pas. Je pense qu'il aurait fallu faire des photos flash comme mon ami Martin Parr, ou avoir une approche différente. Parce qu'à la différence de Beyrouth, la bourgeoisie de Glasgow est très discrète. Ils n'exposent pas leur richesse : ils ont des petites Austin Cooper et portent des pulls en cachemire c'est tout, on n'en voit rien ! [rire].
Et donc, ça c'était le premier séjour. Six mois après ou quatre mois après, j'ai fait un deuxième séjour. Et pour moi c'était d'un exotisme tout ça ! Il faut savoir que j'arrivais du désert et que le désert est très difficile à photographier. Quelques mois avant d'avoir fait ces photos à Glasgow, j'étais avec des rebelles au nord du Tchad qui m'ont dit, on va attaquer une palmeraie. Je suis parti avec eux. C'était une grande ville et l'attaque a duré deux heures. On se déplacait de nuit, à l'aube etc. Le désert c'est le vide. On voit un combattant qui est devant vous avec sa kalashnikov et un autre derrière vous aussi. Quand j'arrive dans les rues de Glasgow, tout le décor, les gens que je croise sur les trottoirs, tout ça me paraît nouveau d'abord. "Quand j'arrive dans les rues de Glasgow, tout le décor, les gens que je croise sur les trottoirs, tout ça me paraît nouveau d'abord." Et je n'ai pas le temps de me poser les vraies questions.
GK : De quel genre de questions parlez-vous ?
RD : Des questions qui me venaient des anthropologues de l'époque, notamment, un anthropologue français qui avait été au Paraguay, Pierre Clastres. Des questions comme « Qu'est-ce qu'on fait là ? À quoi on sert pour l'Occident ? Qu'est-ce que c'est de voyager et de travailler avec des peuples africains, et ensuite de vendre les photos aux journaux occidentaux ? ». Et donc à la rigueur, j'aurais pu me poser la même question à Glasgow : « qu'est-ce que ça veut dire d'être ici à Glasgow et de faire des photos pour un journal de Londres ? »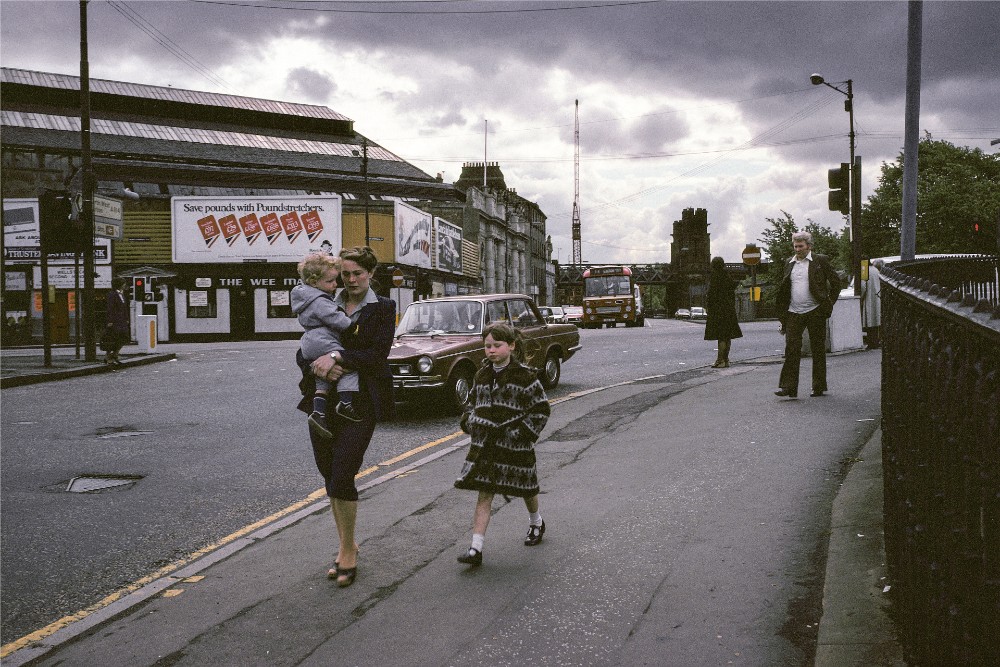 D'ailleurs, quand j'ai exposé les photos au Barbican en mars 2016, une de vos représentantes politiques m'a demandé pourquoi le Sunday Times n'avait pas publié ces photos. Je pense qu'au départ, c'était parce que je n'avais pas rempli ma mission, qui était de faire « fifty-fifty » les riches et les pauvres. Mais, je pense que finalement ces photos ne sont pas faites pour être publiées dans un journal. Elles sont trop simples, peut-être, trop naturalistes. Il y en a une que j'aime beaucoup d'une femme qui marche dans la rue avec un enfant dans les bras et il y a une petite fille à côté d'elle. Ce n'est pas une photo extraordinaire. Ce genre de photo n'a pas de sens dans le photojournalisme. C'est un geste que tout le monde connaît. Cette femme est pressée, elle va à l'école, à la crèche, au sport ou je ne sais quoi. Et donc, quand je regarde ces photos aujourd'hui – et c'est peut-être la chance de ces photos d'ailleurs – je me dis que je suis comme un Martien à Glasgow. Je fais des photos de tout ce que je vois : des enfants, des alcooliques, des pauvres, quelques riches que j'ai croisés. Et dans un certain sens, peut-être que je n'avais pas conscience de ce que je faisais, j'étais très premier degré…
GK : Avez-vous réalisé vos photographies de Glasgow ouvertement ou discrètement ? Les gens ont-ils apprécié d'être photographiés ou ont-ils montré une certaine réticence ?
En 1980, je connaissais des photographes comme Lee Friedlander ou Garry Winogrand qui avait beaucoup travaillé dans la photographie de rue à l'époque. Ils avaient des théories totalement différentes. Garry Winogrand faisait un travelling et il ne faisait jamais marche arrière, ce que j'ai fait moi-même dans les rues de New York. Lee Friedlander faisait comme un réverbère : il ne bougeait pas, et il attendait que les choses se composent dans son cadre. Il passait des heures à attendre pour faire sa photo. Moi, ça m'a paru évident de suivre la méthode de Garry Winogrand, parce que j'avais pratiqué cette photo-là en Afrique. Là, encore, je suis revenu il y a quelques jours d'Oran en Algérie, et c'est la même chose : on prend une photo, et puis pour la deuxième, soit une personne pose, soit elle vous dit : non, pas de photo. Alors il faut y aller très vite.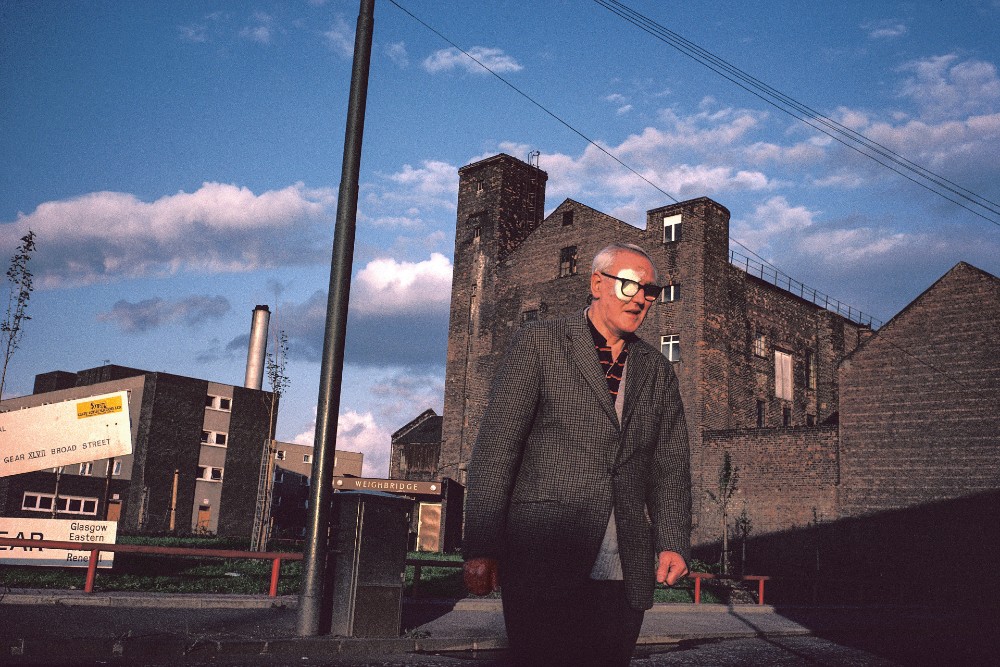 À Glasgow, il faut dire que ce monsieur-là avec un pansement sur l'œil m'a donné un bon coup de poing dans le visage. Il est passé comme ça et puis il s'est retourné … et paf ! [rire]. Et je crois que j'ai eu un œil au beurre noir. Mais pour ce qui est des autres, non, c'était formidable pour moi. Comme en Afrique, les gens ne disaient rien.
GK : Pensez-vous que le fait de ne pas parler anglais ait eu un impact sur vos interactions ?
Oui, je pense. Je sais qu'on use beaucoup du vocabulaire de la psychiatrie… ce sont des mots qui sont graves et il y a beaucoup de gens qui souffrent à cause de cela, mais c'est vrai que, comme j'avais beaucoup travaillé dans les hôpitaux psychiatriques en Italie, je connaissais très bien la réaction de l'être humain par rapport à l'appareil photo. Et comme je ne comprenais pas la langue, peut-être que j'étais un peu « autiste ». Il y a un grand psychiatre que j'avais photographié en Italie et qui avait participé à l'instauration d'une très grande révolution dans la psychiatrie dans le pays : la première chose qu'il m'a dit c'était, « Raymond, il ne faut pas agresser avec ton appareil photo ». Bien sûr, on est souvent tenté de faire une deuxième photo ou une troisième, ou une quatrième, mais il faut éviter cela. On agresse les gens en les prenant en photo. "On agresse les gens en les prenant en photo." Souvent, je suis malheureux de ça. Mais je ne vois pas d'autre solution, parce qu'après, les gens posent et je n'aime pas ça. Souvent à Beyrouth, par exemple, les gens avaient des kalashnikov et ils faisaient sauter le cran de sureté. Ça fait du bruit de faire sauter un cran de sûreté. Ça veut dire que la balle est dans le canon, et ils vous disent : « pas de photo ». Deux minutes après, le gars réengage la balle dans le canon et il dit : « Photographie-moi ». Et vous faites la photo, mais elle est mauvaise, bien sûr !
À Glasgow, je pense que les enfants m'ont pris par la main et ils m'ont emmené sur leur territoire. Peut-être que si je n'avais pas été étranger je ne les aurais pas suivis. Mais ils m'ont paru tellement chaleureux, tellement gentils et généreux. Ils me parlaient sans arrêt ! Je leur parlais avec le peu d'anglais que je connaissais. C'est une autre anecdote mais elle va vous faire rire : vous savez, les chercheurs de Palo Alto, ils disent qu'un Américain moyen utilise entre cinquante et cent mots. Donc, je me disais : il suffit que j'apprenne ces 50 mots et je parlerai anglais !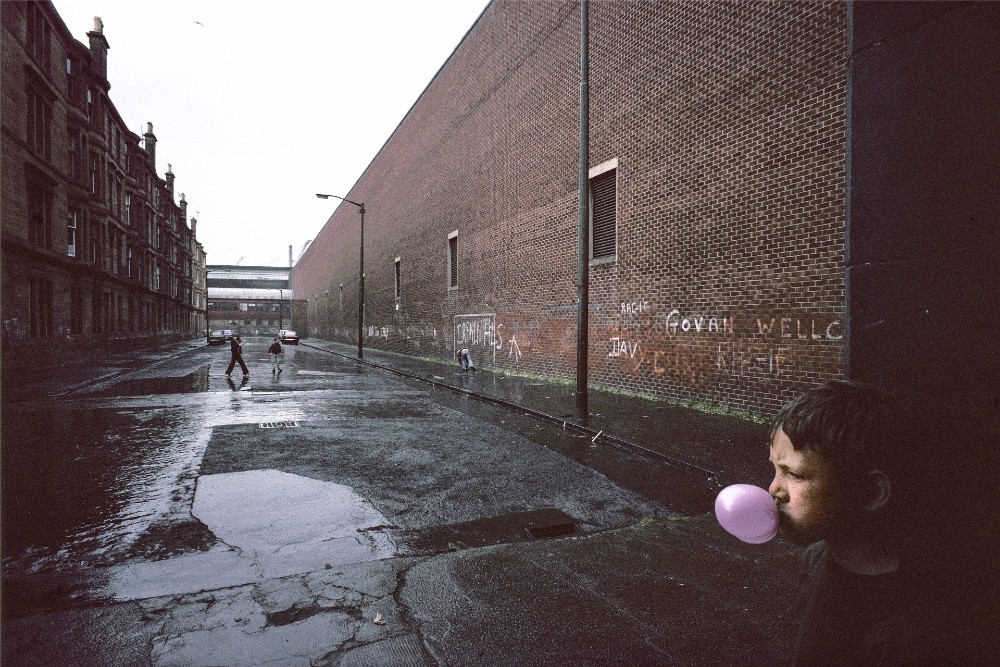 Il y a un film qui m'avait marqué, et qui est pour moi le meilleur film d'Hitchcock, Pas de printemps pour Marnie. À un moment donné dans ce film, une jeune femme emmène Sean Connery dans un endroit où il y a un mur identique à celui qu'on voit sur la photo qui figure en couverture de mon livre. La femme raconte qu'elle a été violentée par son père, c'est une sombre histoire. Et quand j'ai vu ce mur à Glasgow, j'ai changé d'objectif. Il y a une dizaine de photos qui ne sont pas faites au 28 mm mais au 21 mm, notamment celle de la petite fille avec sa robe rose. Ce Leica 21 mm a une particularité qui est un mot qui n'existe pas à l'époque : c'est qu'on est « embedded » au sens d'« embedded journalist » [une forme de journalisme dans laquelle un reporter est pris en charge au sein d'une unité militaire et quelquefois lui-même en tenue militaire dans une zone de conflit]. À un moment, avec les enfants, ils étaient tellement proches de moi qu'il y avait un tiraillement chez moi : il y avait l'exotisme de ce décor de Glasgow, et à la fois, je suis d'une descendance de photographes français qui sont mes pères (Cartier-Bresson, Doisneau etc.) et donc j'ai quand même une fibre humaniste : je photographie des gens, des hommes ou des femmes. Je pense à cette photo du petit garçon qui pleure. Quand les photos ont été exposées au Barbican à Londres en 2016, des journalistes du Sunday Times sont venus sur place, et j'ai découvert par eux qu'on venait d'apprendre au petit garçon que sa mère était à l'hôpital. Mais moi, je ne pouvais pas savoir pourquoi il pleurait.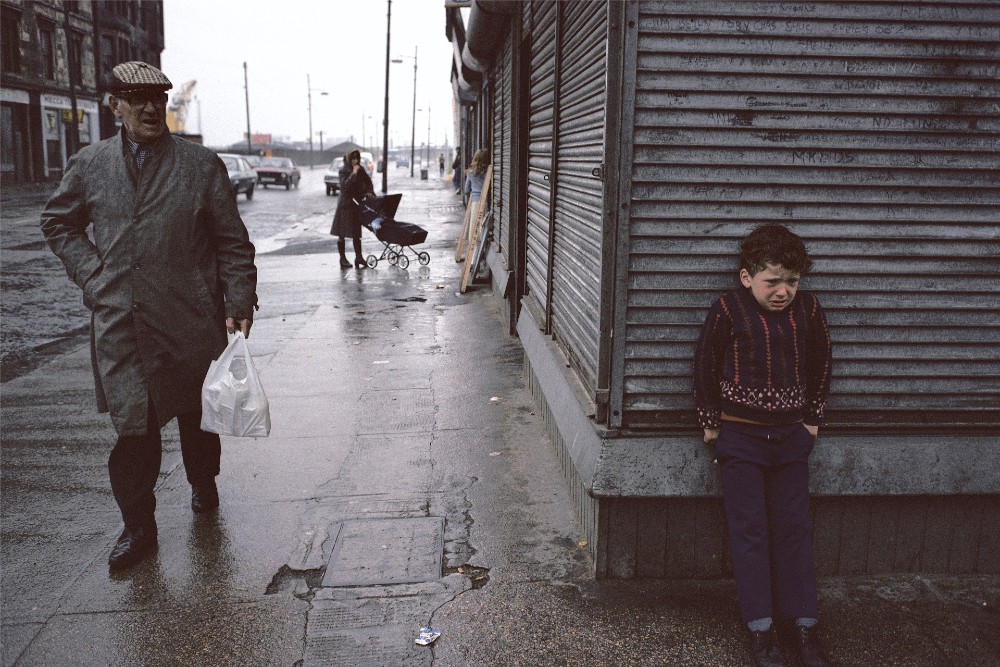 GK : Je me demandais si vous aviez choisi une scène et attendu que quelqu'un monte sur scène ou si vous êtes surtout resté à l'affût des gens ?
Je ne peux pas vraiment dire. Ça allait très vite. Ce qui est très étonnant quand je vois ces photos aujourd'hui, c'est que contrairement à mes confrères spécialistes de la photographie de rue, je suis beaucoup plus grand angle qu'eux et les gens sont en pied dans ces photos de Glasgow. Donc je comprends le désarroi des metteurs en page du Sunday Times, il n'y pas de mise en page à faire ! Il n'y que des prises de vue en pied. Aujourd'hui on fait des photos de beaucoup plus près.
Il faut savoir que ces photos sont restées 33 ans dans des boîtes, et c'est grâce à Hervé Chandès [commissaire de l'exposition Un Moment si doux des photographies de Raymond Depardon à Paris au Grand Palais en 2013] qu'elles en sont sorties. Je lui ai dit un peu comme un défi : « et si on faisait une expo de mes photos couleur ? ». Parce que mes photos couleur ne sont pas connues. Au fond, j'étais très longtemps complexé de dire que je n'étais pas un bon photographe couleur. Et en fait, c'est vrai que dans le désert, la couleur ne marche pas bien ...
Mais ces complexes m'ont servi à avancer aussi. D'abord, j'étais complexé d'être un enfant de la campagne ; de ne pas avoir fait d'études ; de ne pas parler de langues étrangères ; de ne pas être un bon photographe (c'est peut-être pourquoi j'ai rejoint Magnum) ; de ne pas partir couvrir la guerre et mourir comme Gilles Carron.
Je pense un peu comme si j'étais du dix-neuvième siècle. Plus tard, j'ai appris à me passionner pour d'autres photographes comme Walker Evans, qui m'a beaucoup plu, ou pour le cinéaste japonais Yasujirō Ozu. J'ai constaté que Walker Evans, Ozu et mon père sont tous nés la même année, en 1903, au début du siècle. Et on leur avait dit qu'ils allaient rencontrer la modernité. Et c'est vrai, peut-être que j'ai conservé quelque chose du siècle dernier, en faisant des photos comme j'ai faites à Glasgow, comme un photographe qui laisse entrer tout le décor, qui a quelques gros plans mais très peu. Et c'est vrai qu'aujourd'hui, quarante ans après, on peut trouver un certain intérêt dans ces photos parce que c'est une ville qui a disparu.
J'ai vu sur la page d'Amazon l'opinion des gens sur le livre. Les opinions en français sont très gentilles, mais en anglais, c'est assez méchant. C'est-à-dire que c'est le point de vue d'un Français, qui vient photographier notre mode de vie à nous ; le livre est sombre, et il est mal imprimé. Moi je ne trouve pas, parce que pour le prix qu'il coûté, il n'est pas trop mal imprimé.
Si j'ai vexé les habitants de Glasgow, je ne l'ai pas fait exprès. Mais ce genre de réaction est quelque chose que je connais bien, parce que pendant dix ans de ma vie j'ai travaillé avec des paysans français. Au début les gens étaient ignobles avec moi. Ils disaient qu'il ne fallait pas que je photographie ces vieux paysans avec leurs pulls troués. Il y avait le syndicat agricole et des gens qui n'avaient jamais mis le pied chez les paysans qui disaient que c'était un déshonneur pour la France de montrer des gens comme ça. Et puis un jour, on a commencé à dire que c'était bien d'avoir fait ces photos pour le patrimoine et l'histoire.
Peut-être que ça vient d'une certaine timidité que j'ai. Je le vois dans les relations féminines que j'ai. J'avais toujours eu beaucoup de mal à faire des photos de mes amis, de mes petites amies. Je regardais plutôt mes chaussures que les yeux de la jeune fille [rire].
AS : Vous avez dit que vous êtes photographe de la décolonisation, mais vous êtes aussi photographe de la désindustrialisation et du chômage dans ces photos. Vous êtes arrivé à Glasgow un an après l'arrivée au pouvoir de Margaret Thatcher. Quelle était l'image de la Grande Bretagne à cette époque, d'un point de vue social et politique ?
Je regardais beaucoup la presse étrangère à l'époque. Quand j'étais jeune photographe, j'allais au drugstore des Champs Elysées et je feuilletais gratuitement The Sunday Times, The New York Times. Et j'avais une image de la situation du pays par Donald McCullin avec qui j'avais été au Tchad et au Biafra. Mais il faut dire je n'avais pas d'idée précise sur Glasgow.
Ce que j'ai découvert très vite, c'est que, comme j'avais fait des films, j'avais déjà utilisé un appareil pour mesurer la température de couleur, en degré kelvins. Et je vois tout de suite qu'il y a une situation exceptionnelle à Glasgow qu'on ne peut pas avoir à Roubaix mais qu'on peut peut-être avoir en URSS. C'est-à-dire une température très basse, très rasante et froide, complètement différente du Tchad ou de Beyrouth. On m'avait dit plus tard que Kodak avait réglé ses films pour cette température, parce que Kodak était établi au nord de New York, proche de la frontière canadienne ; ils avaient donc créé un film qui marchait mieux pour la lumière de Glasgow.
Quant à cette désindustrialisation, je n'avais jamais photographié d'ouvriers à part dans des manifestations à Paris, donc c'est à Glasgow que j'ai découvert le phénomène.
GK : Martin Parr affirme dans un entretien, « il faut prendre beaucoup de mauvaises photos pour en obtenir des bonnes ». Êtes-vous d'accord avec cette idée ?
Oui, bien sûr. Mais quand je suis entré à Magnum on parlait énormément de la distance. Par exemple Elliott Erwitt, un Américain, regarde les choses à dix quinze mètres. Ensuite vous avez des gens comme Cartier-Bresson qui regardent à cinq ou dix mètres. Et puis, il y a d'autres comme William Klein qui sont à un mètre, un mètre cinquante, deux mètres. Donc il faut savoir ça un peu, parce que ça détermine l'objectif que vous mettez sur votre appareil. Par exemple, Guy Le Querrec est toujours au 35 mm et à deux mètres des gens : c'est sa distance à lui.
Cette question de Cartier Bresson et de l'« instant décisif » est devenue presque une caricature, parce qu'on peut toujours voir une différence entre deux photos. J'ai ma petite idée à ce propos : ces grands photographes des années trente étaient complexés ou agressés par la peinture. Et puis un petit appareil fait par des Allemands est arrivé, qui était très pratique et qui faisait des photos instantanées, et « l'instant décisif » représentait un défi aux peintres : les photographes disaient, vous voyez, la peinture ne peut pas saisir un geste avec autant de précision.
Quant à moi, je n'ai pas vécu dans le culte de Cartier-Bresson et c'est peut-être une chance."Quant à moi, je n'ai pas vécu dans le culte de Cartier-Bresson et c'est peut-être une chance." Pour les photographes de presse, à Dalmas ou à Gamma, ce n'était pas un photographe mythique. Ce n'est que plus tard qu'on me demandait si je connaissais Cartier-Bresson. Pour les photographes de presse de ma génération, les plus grands étaient Robert Capa ou des photographes vietnamiens.
GK : Si vous aviez à photographier une ville comme Glasgow aujourd'hui, aborderiez-vous la ville différemment ? Qu'est-ce qui a changé dans votre approche entre 1980 et aujourd'hui ?
Si j'allais faire des photos à Glasgow aujourd'hui, je prendrais un Leica 50 mm. Je trouve que j'étais gonflé de faire ces photos au 28 mm en 1980, car c'est un plan séquence et on ne peut pas le monter : une heure de plan séquence, c'est incroyable ! Si j'allais à Glasgow aujourd'hui, je ferais des photos beaucoup plus abstraites, des morceaux. On verrait peut-être moins bien la ville. On verrait peut-être plus les gens en gros plan. Mais dans ces photos de 1980, on remarque les gens et le décor.
C'est pourquoi je pense qu'un photographe de Glasgow n'aurait pas pu faire ces photos parce que c'est un univers quotidien pour lui, ce que je peux comprendre. J'ai eu la chance d'être élevé dans une ferme dans les années cinquante. Vous imaginez – il y avait des photos formidables à faire ! Mais moi, je pars, et je vais photographier Brigitte Bardot et le Général de Gaulle. C'est ridicule, mais c'est comme ça ! Au fond, ça m'a marqué mais quarante ans plus tard j'ai fait des photos dans d'autres fermes.
GK : Selon Chris Leslie, qui a réalisé Present Past: Glasgow in photographs, nous vivons dans un monde dominé par la prolifération des images. Même s'il est photographe de formation, il est persuadé qu'il lui faut non seulement faire des photos mais collectionner également des récits ou des objets, travailler à partir du son et de la vidéo pour capter le réel. Et que chacun de ces éléments pourrait devenir aussi important qu'une photographie. Quel est l'avenir de la photo d'après vous ?
Au début de cette rencontre, je vous ai écouté me présenter. C'est très difficile de me présenter, parce que je suis photographe, je viens du journalisme de presse ; je travaille de plus en plus pour des musées. Mais il y un autre aspect de mon activité qui est complètement à part, c'est que je suis cinéaste. Je ne suis pas cinéaste comme beaucoup de photographes qui ont fait des films. Je suis un défenseur du cinéma direct.
Je ne sais pas pourquoi, mais je me suis intéressé à la parole des gens. C'est curieux, parce que je suis quelqu'un qui écoute mal les gens. Mais d'un seul coup je me suis mis, avec un micro sur la caméra, à écouter un « discours frais » comme le dit le sociologue américain Erving Goffman ou des chercheurs de Palo Alto comme Gregory Bateson. Pour eux, il fallait conserver la parole parlée parce que c'est formidable. Selon eux, une personne normale répète sept fois la même chose. Je me suis mis à filmer les gens qui parlaient. Et comme je le faisais, je m'apercevais qu'il valait mieux que je ne bouge pas et que j'aie des écouteurs. J'ai donc fait des films sur la police, le journalisme et la justice. Au début j'ai réalisé ces films tout seul et ensuite avec Claudine Nougaret. J'ai fait un peu comme ce qui avait été initié aux États-Unis dans les années soixante et poursuivi en Angleterre.
Tout cela n'a rien à voir avec la photo mais je pense que pour Glasgow en 1980 si j'avais eu une caméra et un peu de connaissance de l'anglais [rire], j'aurais pu faire un film formidable parce que j'entendais autour de moi des gens formidables avec un grand naturel. "j'aurais pu faire un film formidable parce que j'entendais autour de moi des gens formidables avec un grand naturel." Je n'ai jamais retrouvé ça autre part ailleurs. Mais ce n'était sans doute pas à moi de le faire : il aurait fallu un freelance qui aurait eu les mêmes problèmes que j'ai eus pour mon reportage : son film ne serait pas passé à la BBC etc. [rire]. Mais il y avait certainement un film à faire.
AS : Comment cela se passe-t-il concrètement quand on est photographe et quand on ne maîtrise pas la langue en arrivant dans une ville comme Glasgow ?
J'ai dû avoir une carte. Peut-être que le journaliste du Sunday Times m'a montré les différents quartiers. Je sais que je rentrais à pied. Je prenais très peu de taxis, très peu de transports en commun. Je me demande comment j'ai mangé… dans la rue peut-être. J'avais un hôtel très confortable, près d'un pont. Je me couchais, j'étais mort. Peut-être que je mangeais au room service. La journée, je marchais beaucoup ! J'avais un sac à dos avec mes films dedans. J'avais de très bonnes chaussures de la marque Clarks, faites pour le désert [rire]. Vous avez vu, il y a une photo de moi à la fin du livre, j'avais acheté cette parka aux États-Unis quelques mois auparavant.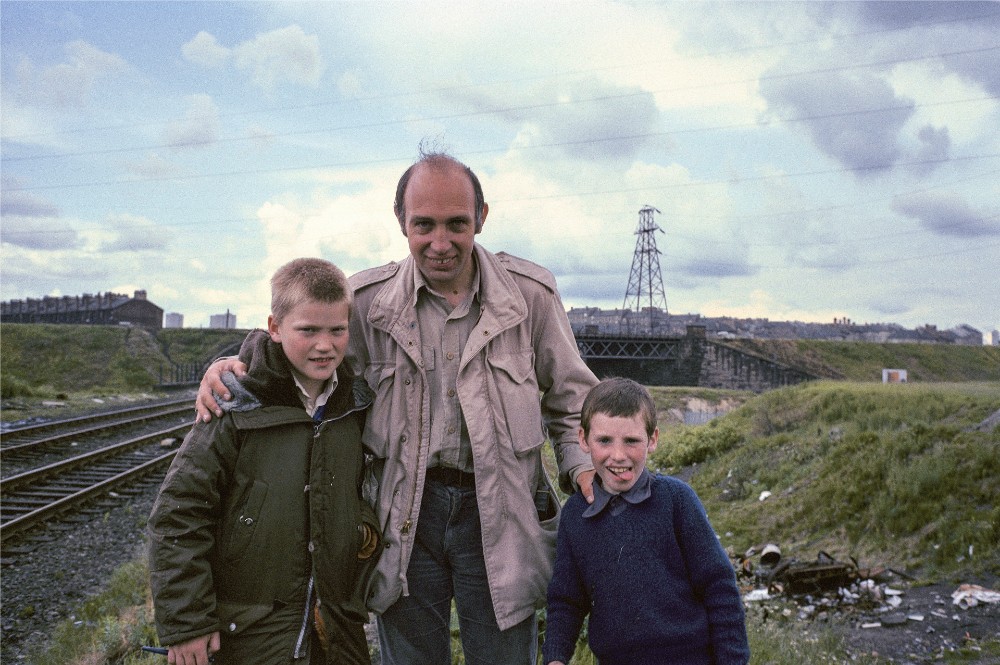 Pour la petite anecdote, dans les années 1979-80, les Américains organisaient des manœuvres militaires dans le désert, car selon la croyance de l'époque « l'ennemi viendrait du désert ». Ils ont donc fabriqué des habits militaires en gris clair et sur la photo de moi avec les enfants, j'ai cette veste avec toutes ces poches. J'ai peut-être pris Glasgow comme une ville africaine ou une ville du désert! "J'ai peut-être pris Glasgow comme une ville africaine ou une ville du désert!" J'allais vers les gens, mais avec les quelques mots d'anglais que j'avais, je ne pouvais pas tenir une conversation [rires].
Mais j'en garde un souvenir incroyable. Je n'avais jamais vu une ville comme ça et s'il n'y avait pas eu The Sunday Times je n'aurais jamais pu la visiter. Et j'aurais dû revenir depuis. En tout cas, je suis très touché que vous vous intéressiez à mon travail parce que, comme vous le comprenez, on dit souvent de moi « il est « so French », Raymond » ! Contrairement peut-être à mes amis, Sebastião Salgado et Josef Koudelka, je ne me suis pas tellement occupé de ma carrière à l'étranger. Ce que je sais, c'est que ces photos existent chez Martin Parr depuis l'exposition au Barbican et mon rêve ce serait de venir tous vous voir à Glasgow avec une exposition, et qu'au moins vous ayez, vous en Écosse, les tirages. Je devrais peut-être organiser un don de ces photos à un musée de Glasgow. Parce que c'est l'histoire de l'Écosse, c'est l'histoire de Glasgow. Et si j'ai pu y participer un peu à mon niveau, j'en suis ravi. J'aimerais qu'un musée puisse les conserver comme un élément de patrimoine.
GK : Avez-vous des conseils pour les photographes en début de carrière aujourd'hui ?
Au début de ma carrière j'ai eu beaucoup de mal à photographier mes parents. Mais c'est par là qu'il faut commencer : il faut s'efforcer à photographier ses parents, son petit ami ou sa petite amie, pour pouvoir dire qui on est.
GK : C'est intéressant parce que cette part de subjectivité est au cœur de votre travail, mais seulement depuis la deuxième partie de votre carrière, n'est-ce pas ?
Parce que j'ai beaucoup appris. Mes parents étaient cultivateurs et j'ai deux frères. Quand ils ont compris que je voulais être photographe, ils ont cherché dans la famille de qui je pouvais bien tenir. Ils ont trouvé un aïeul, un grand-père qui avait assisté à l'Exposition universelle à Paris en 1900. Et quel point commun avais-je avec cet aïeul, au fond ? Peut-être que c'est un mot simple : la curiosité. Peut-être que je suis timide, je suis français etc., mais j'ai quand même une curiosité. Et c'est cela qui m'a poussé à découvrir des endroits comme Glasgow. D'ailleurs, je n'ai jamais « complété » Glasgow. Je n'ai jamais cherché à faire Saint-Pétersbourg, par exemple, à faire quelque chose dans le même registre, ou à photographier Edimbourg. C'est le seul travail que j'aie fait sur le nord de l'Europe, et en plus sur un très beau pays avec des gens très attachants.
Photographies reproduites avec l'aimable autorisation de Raymond Depardon © Raymond Depardon / Magnum Photos / Le Seuil.