Our Doctoral Training Programme in Multimorbidity for Health Professionals offers a unique collaborative training environment for students to carry out clinical research across the translational spectrum from examining aetiology and mechanisms, through data science and epidemiology, to applied clinical research. Our PhD Programme is funded via a Doctoral Training Programme Grant from the Wellcome Trust and is run jointly by the Universities of Glasgow, Edinburgh, Dundee and St Andrews.
A call for PhD Projects is launched annually by the Coordinating Committee via an email to appropriate academics at all partner universities.
The information below includes the key processes and responsibilities relevant to project supervisors.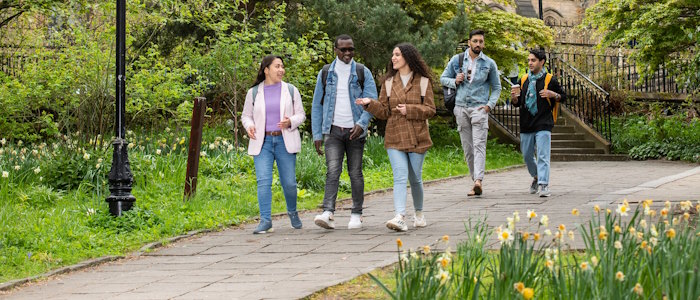 Key Dates
Project Call Opens - 23rd May 2022
Project Call Closes - 18th July 2022
Project Shortlisting by Coordinating Committee - 1st August 2022
Programme Background
We are seeking interdisciplinary projects that address three research themes:
1) Prevention and Management of Multimorbidity
2) Physical and Mental Health Multimorbidity
3) Polypharmacy and Multimorbidity
Inequalities is a cross cutting theme and so projects that take account of inequalities will be viewed favourably.
We can offer students training across a range of methods spanning from aetiology and mechanisms; data science; social science; to solutions focused applied health research and aim to bring together interdisciplinary teams of supervisors with diverse skills. We will not consider predominantly wet lab based research or projects involving animals. We will consider projects which consider multimorbidity in a global health context and have funds to support a number of these more specific projects to carry out research overseas in Low or Middle Income Countries.
The programme allows students to undertake a 3-year PhD as part of an employed research fellowship, and with research cost, training and conference travel funding. We additionally aim for employers to release fellows for one day per week during a 6-month preparatory period before beginning the 3-year PhD project, although this isn't always possible. During this six-month run-in we expect clinical training/work (80%) to be combined with dedicated time (20%) for planning of the PhD project with the support of supervisors and the Programme Coordinating Committee. We will also work with NES and employers to support fellows to have similar 20% protected time for 12 months after completion to promote publication of papers and applications for further grant/fellowship funding, maximising the chances for academic success (although protected time before and after the 3 year's funded PhD is not guaranteed).
Mandatory taught elements for students will include: Introduction to Multimorbidity, Knowledge Exchange and Patient and Public Involvement, and Research Ethics.
All project proposals will be reviewed and ranked by the Coordinating Committee (whose members span the 4 institutions and representatives from NES and the general public) and priority for advertisement will be given to project proposals that foster collaboration between disciplines and the Universities and fit with the remit of the programme.
We are encouraging variation in supervisory teams, so researchers are expected to be a Primary supervisor of a student at most every other year.
Project Proposal Submission
All projects will require two supervisors with a minimum of a 70/30 split.
Primary supervisors may be senior or mid-career, but every supervisory team must include an established researcher with substantial grant funding and experience of supervising PhDs to completion to ensure Fellows join well-resourced groupings with post-doctoral and senior research staff offering direct access to expertise and day-to-day support.
The supervisory team should have a minimum of one active grant (with at least 1 year of funding left) and good track record of supervision. The lead supervisor must have a tenured post or guaranteed employment for the duration of the Fellowship, this may apply to second supervisors dependent on host institution requirements. Two supervisors must hold a higher degree or evidence of extensive PhD supervision. Two supervisors must be from the host institution – additional supervisors can be located at external locations.
A Project Proposal Form will be circulated for supervisors to complete and submit to be reviewed by the Coordinating Committee.
The form includes:
Project Title
Supervisors Information
Project Description: Background, Aims, Proposed Methods (including PPI) and Training Outcomes.
Project Summary
Project Alignment with Multimorbidity Themes
Project cross-institutional collaborative, overseas or Global Health components.
An evaluation of the project will be made by the Coordinating Committee and all selected projects will be advertised on the programme website.
Research Fellow Application Process
Potential applicants will be strongly encouraged to contact project supervisors prior to applying to discuss the research plans. They must indicate their preferred two project choices in order of preference when applying.
Recruitment of Research Fellows will be merit based, and we will advertise more projects than there are places to attract the strongest possible field. Therefore, advertisement of a project does not guarantee that a candidate will be recruited for this.
Supervisors with projects with no recruited candidates will be welcome to resubmit a project proposal for the next recruitment intake.
Supervisor Responsibilities
All supervisors are required to refresh supervisory training every five years. Mid-career colleagues are always paired with more experienced supervisors for 'on-the-job' mentoring. Every supervisor will also complete equality, diversity and unconscious bias training and receive mental health awareness training.
During the application process supervisors should make themselves available to discuss the project with interested candidates and to help with interview preparation.
During the 6-month preparatory period prior to Research Fellows formally starting their PhD, supervisors must meet with Fellows every 2 weeks, working with the fellow to define a Research Project Plan and Training Needs Analysis which should be submitted one month before the start of the programme.
During the 3-year PhD study period, supervisors are responsible for formal monitoring of achievement of progress milestones, attainment of academic competencies and project objectives. The Coordinating Committee (CC) will assess progress at one month before starting the PhD (through review of a project protocol). If a fellow is unable to gain protected time during the preparatory period, a project protocol will be developed during the first month of the fellowship and be reviewed by the CC at the end of month 1. The 3 months review will consist of a short, written report at 3 months, to demonstrate a solid understanding of the project. There will then be an end of 'thesis year-1' written report and Year 1 interview with the CC. The CC will also require and review a written report at 24 months.
Where the partner institutions require a report at each time point, the student can submit their university report with any extra information in a cover letter to the Programme Coordinating Committee. Supervisors should take part in bimonthly Consortium programme meetings.
In addition to this, each University has a system of independent assessors who will review progress annually. These assessors will be members of staff at the host institution. The assessors cannot be a named supervisor on the project and must not be related to any of the supervisors or be part of any of the supervisors' teams.
Post-PhD, Fellows will continue to meet monthly with their supervisors to finalise outputs and receive support to apply for independent funding.
Figure 1. Academic Structure