Central & East European Studies
Student Testimonials
Jakub Csabay (Slovakia) CEES-Politics joint honours 2017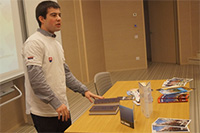 The opportunity to pursue my studies within the Department of Central and East European Studies at the University of Glasgow as a part of my undergraduate degree in Politics and CEES was extremely enriching for me as a student and broadened my horizons with regard to my home region. The members of staff, ranging from young experts to distinguished professors in their respective fields of specialisation, have always been supportive and friendly, thus making the learning experience really enjoyable, as far as learning can be.
Having been given the privilege to be one of the first two students being sent for an exchange from the University of Glasgow to ADA University in Azerbaijan as a part of my degree, along with another CEES/Politics student Lucie Wüster, made my studies even more interesting and valuable. Equally, financial support that I was provided for this purpose by the university through Sir Fitzroy MacLean Travel Scholarship allowed me to enjoy all the aspects such opportunity provides. My stay in Azerbaijan gave a me a chance to explore and gain in-depth understanding of the key political, economic and social developments in the country and their practical implications first-hand, including the ongoing Nagorno Karabakh conflict, complex geopolitical environment, the human rights situation in the country as well as the country's natural and cultural riches, and thus provided me with real life insights into what I have been studying. Apart from this, it enabled me to pursue a field research for my dissertation, to further improve my knowledge of Russian but also to take part in an internship in the local office of the United Nations Population Fund.
Overall, the undergraduate programme in the CEES department at the University of Glasgow, dominated by combination of inter-disciplinary and multi-disciplinary approaches with regional specialisation and international opportunities included, offers a range of options for career and future studies, be this in governmental, non-governmental or private sector or a direct continuation to graduate degree in a diversity of disciplines within the area of social sciences and beyond. Speaking from personal experience, I would certainly recommend this programme to anyone interested in historical and/or contemporary developments stretching from Central Europe to Central Asia.
Peter Taggart (UK) CEES-Russian joint honours 2018
Studying CEES has been an incredible educational journey, led by some of the most gifted academics I have come across. Having an older brother with postgraduate expertise in this subject field, I've long held a deep interest in issues regarding Central and East Europe and studying it at the University of Glasgow has only heightened this interest.
A varied and flexible course programme has allowed me to simultaneously gain awareness of the wide Central and East European sphere, as well as in-depth studies of more specific parts of this region. The academics running the courses have developed my analytical and research skills immeasurably.
Having spent my previous year studying in Russia, as part of the Russian language part of my joint honours degree, I have since returned to the CEES fold with first-hand experience of this region, and have developed my academic knowledge of the region, its people and its politics, thanks to the thoroughly developed honours options I have undertaken. The attention and care afforded to CEES students by the staff is, I feel, something of a scarcity lacked by most university departments, and something that truly sets the subject apart.