This project, which will run until July 2014, is funded by the Arts and Humanities Research Council (AHRC) and runs in collaboration with the Scottish Screen Archive (part of the

National Library of Scotland). A major aspect of the project is to locate amateur video makers active between 1980-2000 and preserve and store some of the videos made during this period. The academic research team, based at the University of Glasgow, will investigate this video material to gain a unique insight into the lives of Scottish children in the twentieth century.
Conference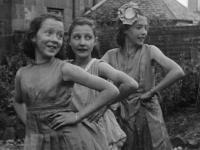 Children and nontheatrical media: from film to video

(Registration for this event has now closed)

Keynote speakers:
Rick Prelinger (archivist, writer, and filmmaker)
Professor David Buckingham (Loughborough University)

University of Glasgow, Scotland, April 11-13th 2014

This event will feature papers and presentations exploring the relationship between nontheatrical media (amateur, orphan, sponsored, municipal, educational films and/or audiovisual material) and children.

Archivists, academics and film-makers from countries including Colombia, Italy, the Netherlands, Romania, the United Kingdom and the United States, will explore topics such as child performance, children as audiences (e.g. in schools) and children as filmmakers.

There will be an exhibition launch and wine reception on the Saturday evening.