Tributes have been paid to renowned academic, and historian Professor Ted Cowan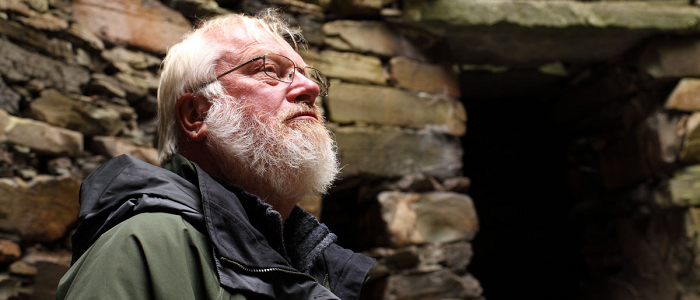 Tributes have been paid to renowned academic, and historian Professor Ted Cowan.
Professor Cowan passed away on Sunday 2 January following a short illness.
The Emeritus Professor, formerly Professor of Scottish History and Literature at the University of Glasgow and Director of the university's Dumfries Campus, he previously taught at the Universities of Edinburgh and Guelph, Ontario.
Professor Cowan, who was 77, was born in Edinburgh but was brought up, lived and eventually retired to Dumfries and Galloway.
A pioneer in the study of 'people's history', he had a passionate commitment to communicating Scotland's past to its people today, and to the world.
He published, co-wrote or edited 18 books and nearly a 100 articles or book chapters, including crucial contributions to our understanding of the Viking impact on Scotland, the Wars of Independence, Scottish political thought, the Highlands in the 16th and 17th centuries, the Witch-Hunts, Scottish popular culture and folk belief. Two books are due to be published this year, Northern Lights: The Arctic Scots, and the edited proceedings of a conference on Gaelic Galloway.
Professor Sir Anton Muscatelli, Principal and Vice Chancellor of the University of Glagsow, said: "I would like to extend our deepest condolences to the family, friends and colleagues of Professor Ted Cowan.
"I have very vivid memories of Ted during my time as Vice Principal while he was Director of the Crichton Campus, as it was known at the time. What I remember most is his determination, belief and passion for a campus to be in Dumfries: he truly was a champion for the local community and for retaining the University's presence in the area. Indeed, as Director of the Crichton Campus from 2004-2009, Ted brought about significant changes and developed research and educational links in Dumfries and the wider region which still exist today.
"Ted's other great passions for Scottish history and literature saw him recognised and highly regarded across the globe. His exceptional reputation allowed him to teach and conduct his work not only at the University of Glasgow, but in Edinburgh, Canada, the USA, New Zealand and Australia. It is therefore not an understatement to say that Ted was considered as one of our greatest scholars and most respected historians.
"Since hearing of his passing, many colleagues from across the University have been in touch with their own tributes for Ted, demonstrating how much of an impact he has made to our community in Dumfries and Glasgow, and to the academic community across the globe."
Professor Dauvit Broun, Professor of Scottish History at the University of Glasgow, who was a friend and colleague of Professor Cowan, said: "Professor Ted Cowan was a towering presence in the field of Scottish studies for nearly half a century. His command of history and literature spanned a millennium, from Vikings to WW1 poets, and ranged across the globe, following the fortunes of Scots from the Arctic to the Antipodes.
"His particular passion was what he referred to as 'the people's history', and latterly the history of his native Dumfriesshire and the South West generally, to which he was committed not only as a scholar but as head of the University's Crichton campus, successfully campaigning against plans to close it.
"He was in regular demand as a speaker in local and academic settings, and his lectures eagerly attended by the public and scholars alike. There never was, and never will be, a scholar with such a range of research or gift for communication. It was a privilege and inspiration to work with him, and a source of great pride that he made the University of Glasgow his academic home while he was at the peak of his powers."
Professor Cowan is survived by his second wife, Dr Lizanne Henderson, his children by his first wife Alison (d. 1994), Karen, Morna and David, and eight grandchildren.
---
Tributes and Messages
Following the sad news of the passing of our esteemed Professor Ted Cowan, Colleagues across the College of Arts, the University of Glasgow, and beyond share their fond memories of him. Some messages and tributes have been shared below, and more can be found here: Tribute Webpage
Professor Carol Hill (University of Glasgow, Head of School) writes:
I first met Ted nearly 30 years ago, when I was a PhD student at Strathclyde University sharing a cramped, windowless room with another Doctoral student - a certain Lizanne Henderson who was later to become Ted's wife and who first introduced me to him. At that time, Professor Ted Cowan was the Chair of Scottish History and Literature at the University of Glasgow. He was already a giant of a man and, as a humble PhD student, I was decidedly in awe of one to whom, all these years later, I believe I owe a personal debt of gratitude.
Without Ted I would not have spent the last eight years of my life as Head of the School of Interdisciplinary Studies and Director of Dumfries campus; the equivalent of the role Ted held from 2004 to 2009. I know that for certain because I witnessed at first hand as he reached the decision that Crichton campus would not go down under his watch and then saw him fight with every inch of his being to ensure that it did not. The pressure must have been extraordinary but then, so was the man whose legacy now includes a thriving university campus in the heart of the southwest of Scotland, where he was raised – and, had I but known it, lived in the road that runs parallel to mine.
I have lost count of the number of students who, having studied at the University of Glasgow Dumfries campus, have benefitted from opportunities and experiences that would have been lost to them had Ted not dug his heels in, but I do know that their lives are immensely richer because he did. So too is the region in which he spent much of his life; it abounds with alumni who make enormous contributions to the economic and cultural life of southwest Scotland, students from every background and from all corners of the world, academics whose specialisms are a long way from Ted's but who are bound together by that same deep concern for students that drove 'Ted the Director'.
At heart a modest man he did not speak often of the part he played in keeping us here, or of the cost to him, but it is etched in our memories and is a true legacy.
People knew Ted in many different guises; husband, father, grandfather, boss, colleague, mentor chum, author, scholar, raconteur, inspirational speaker, historian par excellence and the list goes on – it is truly endless. Yet no matter how, or why, or for how long we knew him, the measure of this man is clear in the language we use when we recall or speak of him. The simple truth is that he was a 'towering presence', he was 'larger than life', he was undoubtedly 'an exceptional scholar', 'an inspirational man', humorous, respectful, blunt fearless, kind and loved.
Others have written eloquently and accurately of the milestones and accolades in his life. I simply want to recognise and give place to his extraordinariness and to thank him for being Ted.
Dr Ralph Jessop (University of Glasgow) writes:
Among his many talents as an eminent Scottish historian, I knew Ted Cowan principally as an admirably humane, level-headed, respectful, and humorous Director of the Dumfries Campus between 2006 and 2010. But before this time, when I was teaching English Literature and Philosophy at The University Glasgow in the 1990s, I'd known this physically striking, affable figure, somewhat indirectly, or at a distance – a regular co-frequenter of the College Club.
My first direct experience of Ted's quick-witted and insightful humour occurred in 1999. He was on the interviewing panel for my present post and (responding to one of my answers), he made an especially complex declaration: 'well-fielded!' – though the utterance alone was refreshingly simple, it was inextricably interlaced with a lingering chuckle and huge smile, immediately fostering an increasingly encouraging discussion. Ted had effortlessly struck an affirmative chord that, along with his other contributions to the interview, memorably told me that here was a man I could trust. Authentic, healthily sceptical of authority – 'No hidden agenda? Ho, oh, there's always a hidden agenda!' – and so often engagingly flickering between dignity and impudence, he was to me an exemplary, unique embodiment of that seemingly peculiar and precious weel kent Scottish combination of seriousness and fun. He was passionate about the potential for the South of Scotland of the Dumfries Campus, which is of course significantly situated in the very heartland of a rich, extensive, fascinating, yet still far too marginalised and globally pertinent cultural history – the very place in which the term 'environment' was coined.
But, when the Campus was threatened with closure in 2007, Ted also had to perform a professional role as the Campus' Director. So, I strongly suspect that he often had to temper his passion to ensure he steered our wee boat safely through those troubled waters. Fortunately, Ted's commitment to the Dumfries Campus was matched by some colleagues, a variety of local supporters, and by the truly heroic Arts students who campaigned so vigorously, intelligently, and most publicly to prevent the Campus' closure. At least since that time, I often heard Ted deliver public lectures and witnessed how his combination of humour and serious scholarship invariably gripped his audience's attention, evidently stimulating them to find out more. Like a great many of those who knew him, I have been deeply saddened by his death, but have at least one abiding regret: that I let slip the possibility of learning more from him, within a convivial setting, about at least one little-known yet precocious New Galloway figure (Robert Heron (1764-1807)), whose work Ted had warmly exhorted me to research.
Mike Duguid (Chairman of Kirkcudbright History Society) writes:
I first met Ted when I was a mature student and he was lecturing at Glasgow University at the Crichton campus in Dumfries before he became the Director there. I was hooked from the start because he was such a brilliant lecturer, informative, humourous, controversial and engagingly enthusiastic about his subject. Such was his inspiration that by the time, as Director, he led the campaign to save the university campus he had turned me from the upstanding establishment figure of an ex-Royal Air Force officer into a protesting student marching down Sauchiehall Street with a 'Save Our Campus' banner. He deserves huge praise for his role in saving the campus.
It was also directly through his inspiration that I acquired sufficient knowledge and courage to take on such roles as President of the Robert Burns World Federation and Chairman of the Kirkcudbright History Society. In the latter capacity I had the pleasure of welcoming Ted to deliver several talks, all of which were hugely appreciated by the audience.
Looking back at some of the post-event write ups, I am struck by the constant refrain which ran through his talks: the history of his beloved Dumfries and Galloway in relation to the wider history of Scotland. A typical write up read, "A packed town hall audience sat in rapt attention as Professor Ted Cowan, in typical rumbustious and humorous style, provided a thoughtful and highly detailed analysis of ways in which the culture of the South West has been continually under attack from a multiplicity of diverse sources over many centuries."
He stressed the importance of learning about local history, especially in view of the large numbers of incomers to the region and pointed out that, ironically, it was often the newcomers who expressed most interest in the history of their newly-adopted home. He cited this phenomenon as being a 'cultural disjunction' which provided even greater reason for encouraging a sustained period of cultural re-invention to ensure Dumfries and Galloway's cultural identity emerged stronger and better understood by all its residents. He certainly did his best to help us understand.
His loss to Scottish History scholarship and research will be immense, especially here in the South West, an area he championed at every opportunity. Even though his death is awful and unexpected I'm sure he would want us to remember him with a smile. I feel privileged to have known him.
First published: 25 January 2022