Material Connections
---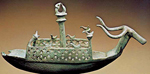 Material Connections: Mobility, Materiality and Mediterranean Identities
Objectives
This research seeks new ways to examine the social identity of prehistoric and historic Mediterranean peoples — and thus considers how materiality, migration, colonial encounters, and connectivity or insularity have influenced social identities.

Because material objects constitute a crucial and integral part of culture and society, we draw upon the key concept of materiality in formulating our perspectives on mobility and identity in the Mediterranean, applying experiences and interdisciplinary insight from archaeology, anthropology and classics. Our intention is not just to interrogate existing viewpoints, but actively to unlock and explore new ways of thinking about:

how the dynamics of materiality, including object diasporas and transmissions, offer insights into migratory and colonial experiences;
how factors such as mobility, exchange, communication and hybridisation impact on colonial and local identities and subjectivities.

Our primary aim is to investigate collaboratively and comparatively the interrelated issues of material culture, mobility and identity throughout the Mediterranean world, and in particular to assess:

how Mediterranean peoples used material culture to establish, maintain or alter their identities, especially during periods of transition, cultural encounter and change;
how mobility, migration and colonialism, hybridisation, and the Mediterranean Sea itself influenced trans-regional and local subjectivities and identities;
how recent colonial encounters can enhance understanding of materiality, mobility and identity as formative experiences embedded in territorial expansion or cultural transitions.

To pursue these aims, the following interlinked themes structure the research:

Materiality: we highlight the material dimensions of cultural encounters and social contexts, and focus on the role of material culture in identity formation and long-term cultural transmission.
Mobility: we consider connectivity and insularity, travel, transport and exchange as mechanisms that served to establish, motivate or modify diasporic, trans-regional and local identities.
Contact, conflict and co-presence: we explore various contexts, along a continuum from harmonious to hostile, in which people of diverse cultural backgrounds met and interacted. Integral to these interactions were the physical co-presence of people and the resulting socio-cultural dynamics.
Identity: we examine the material parameters involved in the emergence or change of island and coastal social identities in the Mediterranean during diverse cultural encounters and periods of major social discontinuity or reorganisation.
Material Connections
---