Glasgow Iona Research Group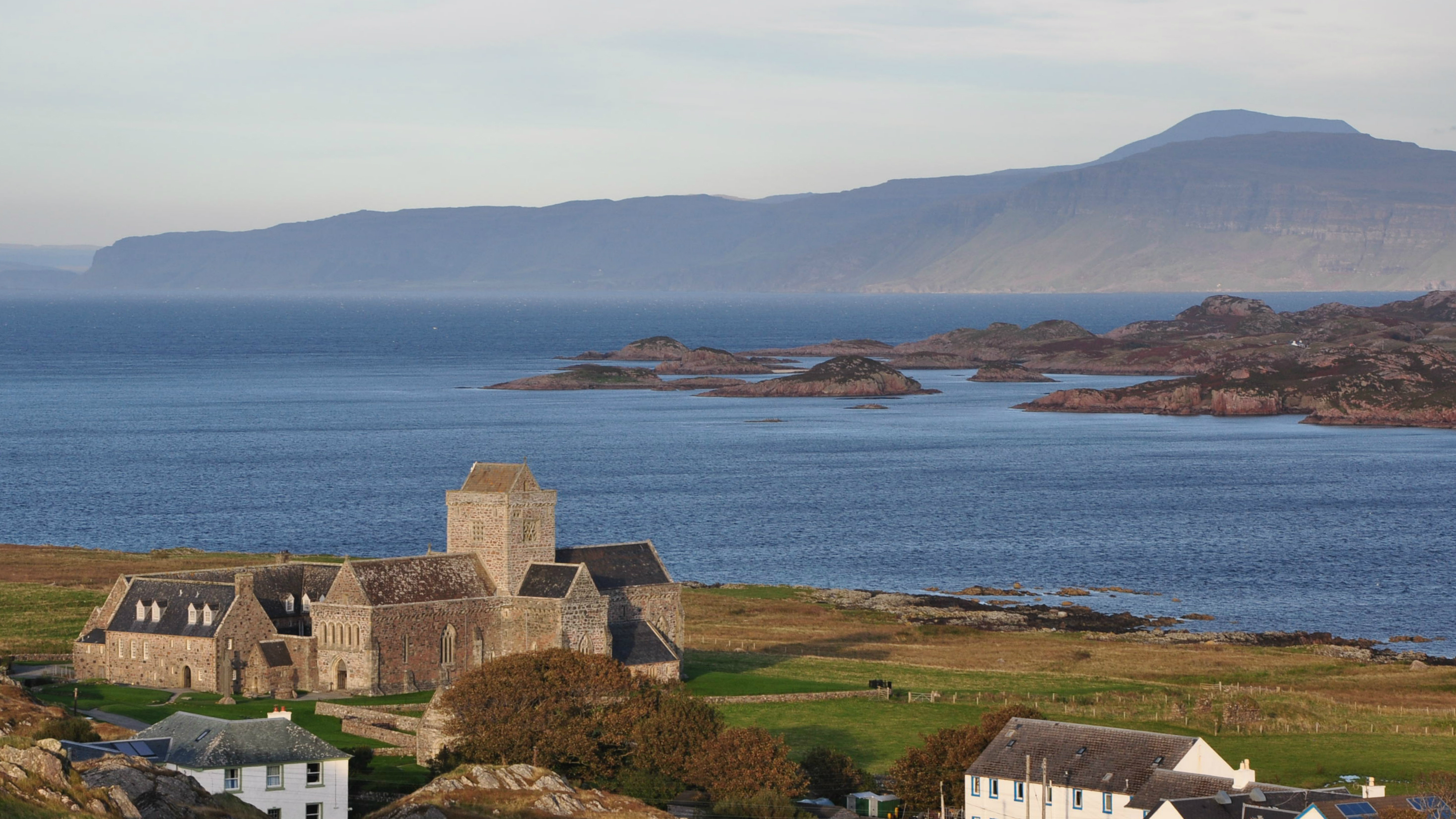 The early medieval monastery of Iona, Argyll & Bute was founded AD 563, and remains to many an icon of the 'Celtic' church. Yet Iona is more than about its famous founder St Columba, and even the medieval Benedictine abbey (founded 1203) rests on a 600-year legacy of learning, innovation and pilgrimage.
Thanks to the survival of primary texts produced here, along with an unparalleled survival of archaeological remains, carved stones and Gaelic place-names, the entire island is a rich resource for archaeologists and historians. More than a missionary outpost in the sea, Iona has played a key role in the shaping of Christianity itself.
Researchers across the departments of Archaeology, History and Celtic & Gaelic independently conduct work on various aspects of Iona's history, producing important articles, monographs and edited volumes as seen in the reading list below. In 2012, we created the Glasgow Iona Research Group to spark collaboration and generate new multidisciplinary projects. Several members attended the Iona Research Conference in April 2012 hosted by Historic Scotland and the Iona Community, the proceedings of which can be consulted online. The research of Dr Katherine Forsyth and Dr Adrián Maldonado on the early sculpture played a key role in the new redisplay of the carved stones in the Iona Infirmary Museum in 2013.
Since then, the project team has continued to work together to develop new research projects concerning the monastery of Iona as well as the history and archaeology of the rest of the island.
The most recent project is currently under way in the department of Archaeology, where Dr Ewan Campbell is writing up the unpublished Russell Trust excavations on Iona by Charles Thomas in 1957-1963, thanks to generous funding from Historic Environment Scotland. Also in progress is the new Iona Research Strategy which we will be putting out for consultation soon.
Please visit the new Iona Research Group website for updates on all our projects.
The Glasgow Iona Research Group are:
For enquiries, please contact Research Associate Dr Adrián Maldonado
Selected Iona related publications by group members:
Broun, D. and Clancy, T.O. (eds.) 1999. Spes Scottorum, Hope of Scots: Saint Columba, Iona and Scotland. Edinburgh: T&T Clark.
Campbell, E. 1987. A cross-marked quern from Dunadd and other evidence for relations between Dunadd and Iona. Proceedings of the Society of Antiquaries of Scotland, 117: 105-117.
Campbell, E. 1999. Saints and Sea-Kings: The First Kingdom of the Scots. Edinburgh: Canongate.
Campbell, E. 2010. The archaeology of writing in the time of Adomnán. In: Wooding, J.M. (ed) Adomnán of Iona: theologian, lawmaker, peacemaker. Dublin: Four Courts, pp. 139-144.
Clancy, T.O. 1996. Iona, Scotland, and the Céli Dé. In: Crawford, BE (ed.), Scotland in Dark Age Britain. St John's House Papers 6. St Andrews: St John's House, pp. 111-130.
Clancy, T.O. 2004. Iona in the kingdom of the Picts: a note. Innes Review, 55(1): 73-76.
Clancy, T.O. 2011. Iona v. Kells: succession, jurisdiction and politics in the Columban familia in the later tenth century. In: Edmonds, F and Russell, P (eds.), Tome: studies in medieval Celtic history and law in honour of Thomas Charles-Edwards. Studies in Celtic History 31. Woodbridge: Boydell, pp. 89-102.
Clancy, T.O. 2013. The Christmas Eve massacre, Iona, AD 986. Innes Review, 64(1): 66-71.
Clancy, T.O. and Márkus, G. (eds.) 1995. Iona: The Earliest Poetry of a Celtic Monastery. Edinburgh: Edinburgh University Press.
Forsyth, K., and Driscoll, S.T. 2009. Symbols of power in Ireland and Scotland, 8th-10th century. Territorio Sociedad y Poder: Revista de Estudios Medievales, 2, pp. 31-66.
Forsyth, K., and Maldonado, A. (eds.) 2012. The Early Medieval Sculpture of Iona [unpub internal report]. Edinburgh: Historic Scotland.
MacGregor, M.D. 2006. The statutes of Iona: text and context. Innes Review, 57(2), pp. 111-181.
MacGregor, M.D. 2014 Gaelic Christianity? The Church in the Western Highlands and Islands of Scotland before and after the Reformation. In: Ó hAnnracháin, T. and Armstrong, R. (eds.) Christianities in the Early Modern Celtic World. Basingstoke: Palgrave MacMillan, pp. 55-70.
Márkus, G. 2010. Adiutor Laborantium - a poem by Adomnán. In: Wooding, J.M. (ed.) Adomnán of Iona: Theologian, Lawmaker, Peacemaker. Four Courts: Dublin, Ireland.
Márkus, G. 2012. Adomnán's Law of the Innocents - 697. In: Mulhern, M.A. (ed.) Scottish Life and Society: The Law. Series: A compendium of Scottish ethnology (13). John Donald: Edinburgh, UK, pp. 47-61.
Taylor, S. 1999. Seventh-century Iona abbots in Scottish place-names. In: Broun, D and Clancy, TO (eds.), Spes Scottorum, Hope of Scots: Saint Columba, Iona and Scotland. Edinburgh: T&T Clark, pp. 35-70.
Taylor, S. 2000. Columba east of Drumalban: some aspects of the cult of Columba in eastern Scotland. Innes Review, 51(2): 109-130.
Wooding J. M. with Aist, R., Clancy, T.O. and O'Loughlin, T. (eds) 2010. Adomnán of Iona: Theologian, Lawmaker, Peacemaker. Dublin: Four Courts.