The Virtual and Augmented Reality Lab – A Knowledge Exchange Project
Issued: Mon, 06 Feb 2017 10:48:00 GMT
With financial support from the Knowledge Exchange fund, The Centre for the Study of Perceptual Experience (CSPE), based in Philosophy, has established The Virtual and Augmented Reality Lab to develop and promote the use of Virtual and Augmented Reality technology throughout the University.
Virtual Reality (VR) technology intervenes on the senses and lets users experience wholly virtual environments (like distant places, times, or even fantasy worlds). Augmented Reality (AR) on the other hand, merges virtual objects into the real world, so that you might experience a Pokémon in your garden, or see a virtual temperature gauge on your cake. Whilst the basic idea is not new, the execution of it is: the devices launched by Samsung, Facebook, Google, Sony and HTC in 2016 have kick-started a VR revolution in gaming and entertainment. The great power of VR is its ability to make the user feel completely immersed in the alternate environment. The potential applications for teaching, research, and commercialisation for the University of Glasgow are astonishing.
Establishing the VR Lab is the first step to capitalising on those opportunities. Dr Neil McDonnell, a post-doc at the CSPE, is tasked with showcasing the technology to colleagues, developing grant applications, and, crucially, establishing a route to impact through a local partner company, Soluis. Whilst Soluis stand to benefit from expertise of philosophers and psychologists specialising in perception, the University stands to gain a partner company with the experience and expertise to bring VR/AR teaching and research ideas to fruition.
The initial phase of the project will run until March, and those interested in VR and the lab should contact Neil.McDonnell@Glasgow.ac.uk
‌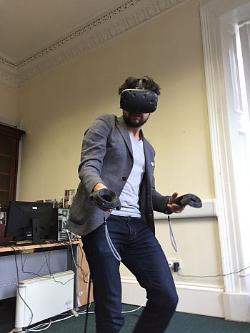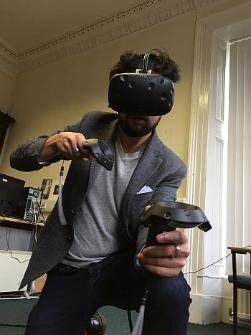 ---