Researcher Spotlight: Bedur Albalawi
Published: 16 March 2018
This week Kirsty McWhinnie has put Bedur Albalawi, under the spotlight. Bedur is a 3rd year PhD Student researching the blue tit.
‌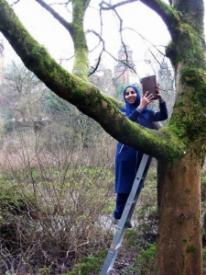 Can you tell us a bit about your background?
I studied General Biology at Tabuk University in Saudi Arabia. Then I had the chance to complete an MSc at Swansea University before joining the institute.
What can you tell us about your PhD project?
My study species is the blue tit, a passerine bird, which nests in nest-boxes along an urban gradient here in Glasgow. Our urban site is Kelvingrove Park, where we have about 80 nest boxes hanging on the trees around the park. The rural site is an oak forest in Loch Lomond near to SCENE with more than 400 nest-boxes in this location. It is often reported that birds in the cities and towns are less successful than their rural counterparts; clutch size (number of eggs) is lower, the chicks weigh less and the number of fledglings are also often lower.
The nest-box system allows us not only to monitor the birds, but also conduct several experiments in the field. We can set up a camera inside the nest to study the provision behaviour of the parent or the type of food they are feeding their young, as well as helping us to study some of the behaviour displayed by the chicks. I conducted my experiments out in the field during the best period of Glasgow weather (April-June) and collecting blood and feather samples for lab analysis.
Right now, the blue tits are collecting material to build their nests as their breeding season will begin soon and our great, hard working group are getting ready to carry out our annual monitoring of the breeding season.
‌What is the focus of your research?
I am focusing of the impact of urbanisation on some aspects of the immunity of blue tit chicks by comparing gene expression of genes relating to immunity in the urban and rural populations. In addition, I am looking at the prevalence of avian malaria parasites in their blood; this disease is transmitted mainly by blackflies and biting midges here in Scotland. Feather samples also allow us to study the stress level of these chicks for a period of around two weeks and as the metabolised stress hormone is deposited in the feathers, collecting feathers at two weeks old will give us a record of the stress these chicks are experiencing for a greater time period than what we would get from only using blood samples.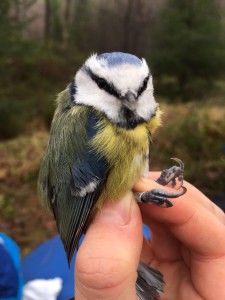 What do you find most interesting about your work?
At the beginning of my PhD, it was a bit difficult for me to work in the field under the heavy rain showers and typical Glasgow weather, but in the end I began to really enjoy it and I am proud of myself that I can carry a ladder through the middle of the park and jump over the fences; things I had never done in my home country.
The most interesting part for me is watching some mother birds refusing to leave the nest and trying hard to protect their young; they are real mums!
What has been the most positive aspect so far?
As I have a job waiting back in my country in a newly established university for when I finish my PhD, I have been learning a range of different lab techniques which will be very useful skills for me to bring back.
What has been the most challenging aspect so far?
The most challenging part for me as a mother of three angels, is the PhD process itself as my husband also started his PhD too at the same time as me. I am one of those crazy people who likes to try and juggle everything in one hand!
What advice would you give to anyone doing or considering PhD?
Just one sentence "YOU CAN DO IT!"
Tell us about your plans for the future.
So far, I've got a good background in urban ecology and I'm hoping to apply my studies to further work in this field back home in "the desert" where very little research has been done on the impact of the urbanisation on wildlife.
Catch Bedur's talk "The Impact of Urbanisation on Bird Health" at the PhD Seminar Series on Friday the 23rd of March at 4pm in LT2 of the Graham Kerr Building.
---
First published: 16 March 2018