Siran Valley
Heritage Foundation and KIRAT
April 2009 International Workshop
Developmental Issues in the Siran Valley, NWFP, Pakistan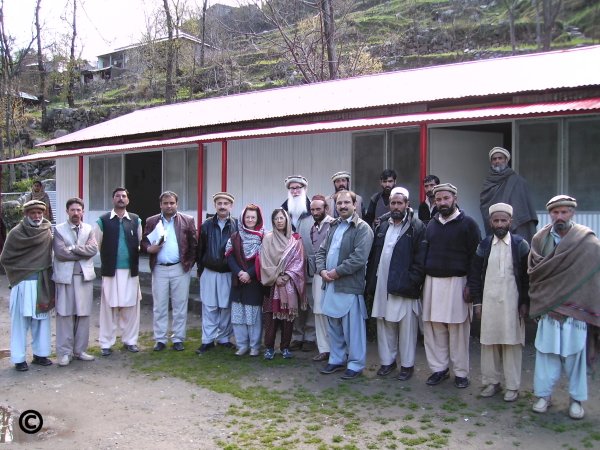 © Photograph copyright Azra and Peter Meadows
Siran Valley. Jabbor.
Group of villagers with KIRAT colleagues in front of a new girls middle school building.
The funds for this building were provided by the Scottish Asian Earthquake Disaster Appeal (SAEDA) in 2006, and handled in Pakistan by the Save the Children Fund and the British Council.
Heritage Foundation
Heritage Foundation was established in 1980. It is a Pakistan-based not-for profit social and cultural organization engaged in research, publication and conservation of Pakistan's cultural heritage. HF is now incorporated under Section 42 of Companies Ordinance, 1984, Government of Pakistan. Since 2000, HF's outreach arm KaravanPakistan has involved communities and youth in heritage safeguarding activities in Pakistan.
As part of HF's Heritage for Rehabilitation and Development programme, work on several projects has been undertaken for rehabilitation of communities, particularly women, affected by the 2005 Great Earthquake in Northern Pakistan. These are currently focused on rural communities in the Siran Valley, NWFP.
In the Earthquake Affected Areas (EQAA), HF's mission is to rebuild confidence, pride and ownership of the communities by restoring heritage assets, and maximizing effective use of natural resources through value added products. This also includes capacity building and enhancement of economic opportunities with particular emphasis on women's empowerment.
KIRAT
Karavan Pakistan Institute of Research & Training
KIRAT was established by Heritage Foundation with the objective of providing a platform for research and training into various aspects of the EQAA. KIRAT's programmes are based around four thematic units: Cultural and Vernacular Heritage, Development, Disaster Mitigation and Rehabilitation, and Conservation and Sustainability. These thematic units include education and clean water initiatives.
These activities led to the organisation of an International Workshop on "Development Issues in the Siran Valley" held in April 2009.
April 2009 International Workshop
Developmental Issues in the Siran Valley, NWFP, Pakistan
Host Organisation:
KIRAT
Participating Organisations:
Comsats University, Islamabad, Pakistan
Earthquake Reconstruction Rehabilitation Authority (ERRA, GoP) Pakistan
Hazara University, Mansehra, NWFP, Pakistan
Karakorum International University, Gilgit, Pakistan
KIRAT, Karachi, Pakistan
Scottish Pakistani Association, Scotland, UK
Swiss Pakistan Society, Switzerland
Quaid-e-Azam University, Islamabad, Pakistan
University of Glasgow, Scotland, UK
University of Veterinary and Animal Sciences, Lahore, Pakistan
WWF Pakistan
Organising Committee
Yasmeen Lari, Sitara-i-Imtiaz.
Lead Coordinator, Chair & Chief Executive, Heritage Foundation, Pakistan.
Professor Dr Ihsan Ali,
Vice Chancellor, Hazara University, Mansehra, NWFP, Pakistan
Dr Azra Meadows, OBE
University of Glasgow, UK.
Peter Meadows, Sitara-i-Quaid-i-Azam
University of Glasgow, UK
The international workshop is the first of a series of seminars and workshops. These are planned to develop collaborative linkages between the rural communities and educational and research institutions and experts at a local national and international level.
The first workshop aimed to develop initiatives jointly with the Siran Valley rural communities that were very badly affected by the 2005 massive earthquake in northern Pakistan. The workshop has laid the foundations for joint research and training programmes working collaboratively with members of local communities. The visits to the field sites in the Siran valley provided participants with an outstanding insight of the potential for working in these areas.
The workshop's outputs are already promoting the sustainable uplift of these communities. This includes empowering women, improving education especially for girls, and planning programmes to sustain the Siran Valley's unique biodiversity, ecology and cultural environment.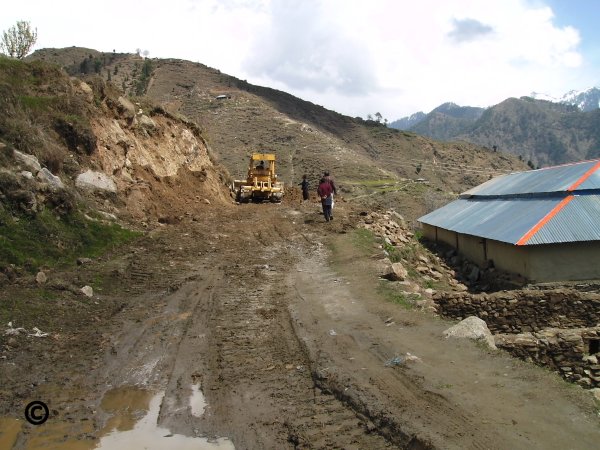 © Photograph copyright Azra and Peter Meadows
Siran Valley. High pass at 6000 feet, above the conifer tree line. Caterpillar tractor moving land-slip material from an un-metalled road following a recent land slip caused by torrential rain. New earthquake-resistant building on the right.
WORKSHOP PROGRAMME
1st to 4th April 2009
Day One. Wednesday 1st April 2009
Arrival at Base Camp. Battal. Konsh Valley.
Orientation. Workshop organisation.
Day Two. Thursday 2nd April 2009
Visits to village communities. Kodar and Jabber.
Day Three. Friday 3th April 2009
Morning. Brain storming.
Afternoon. Plan of future action.
Evening. Cultural Evening.
Day Four. Saturday 4th April 2009
Final wrap up session.
Depart mid-day.
Accommodation was provided at Base Camp, Battal. The cost for the four-day workshop was 3,500 Rs per person. This covered food, shared accommodation in tents, and travel to and from the isolated rural communities in the Siran Valley.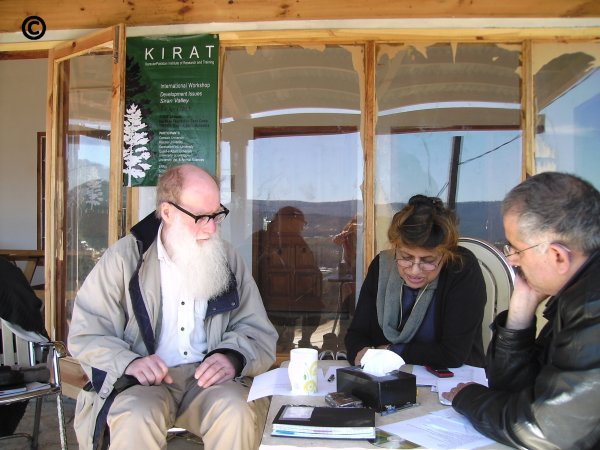 © Photograph copyright Azra and Peter Meadows
Workshop participants discuss strategy at KIRAT base camp. Peter Meadows (University of Glasgow), Yasmeen Lari (CEO Heritage Foundation), and Saad Khan (Swiss Pakistan Society).
KIRAT International Workshop
Topics
These topics closely address the United Nations Millenium Development Goals
1. Health
Primary care and first aid
Maternity issues
Health problems associated with natural hazards
2. Education
Primary and secondary education
Universities and further education
Adult education
Women empowerment
3. Natural Hazards, Earth Sciences
Natural hazards - earthquakes, flash floods, tsunami, cyclones
Disaster prediction, recovery, mitigation, rehabilitation
Geology, seismology
Geography, land use
4. Biodiversity, Conservation and Environment
Flora and fauna, wildlife
Ethnobotany, medicinal plants
Deforestation
Environmental degradation and conservation
Climate change
5. Livelihoods, Livestock and Agriculture
Livestock management, breeding
Veterinary medicine
Agriculture and farming
Fisheries and aquaculture
6. Cultural Heritage
Anthropology and Sociology
Heritage Conservation
Archaeological sites and their preservation
Cultural, archaeological and eco-tourism
7. Renewable energy
Solar, wind, hydel, tidal, biofuel, geothermal
Efficiency of different renewable energy technologies
Sustainability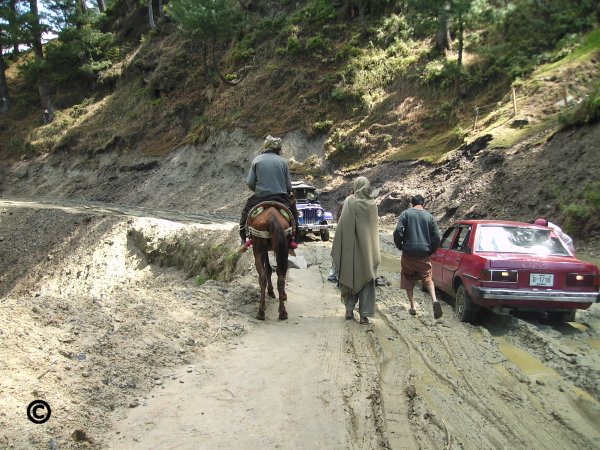 © Photograph copyright Azra and Peter Meadows
Siran Valley. Un-metalled road after a recent landslide caused by torrential rain. The semi-liquid mud is 10 cm thick in places. Traditional means of transport - men walking, a man on horseback, and a 4WD jeep in the background, get through easily. The car on the right is completely stuck in mud.
The upper edge of the landslide is very obvious on the steeply sloping surface at the right hand side of the road.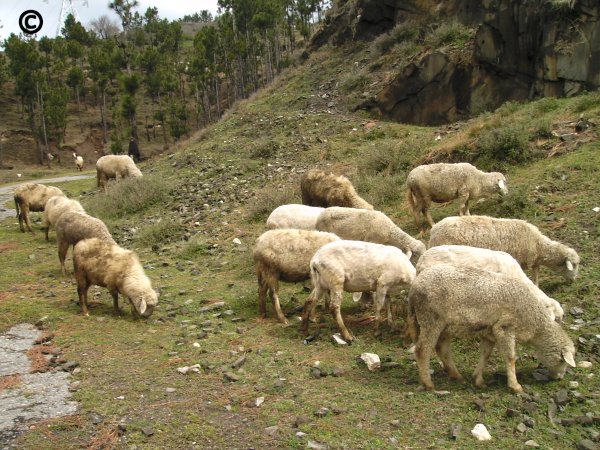 © Photograph copyright Azra and Peter Meadows
Grazing flock of sheep near KIRAT base camp. The metalled road surface at the left of the picture is part of the prehistoric Silk Route. It was metalled by the British in the late 19th or early 20th century.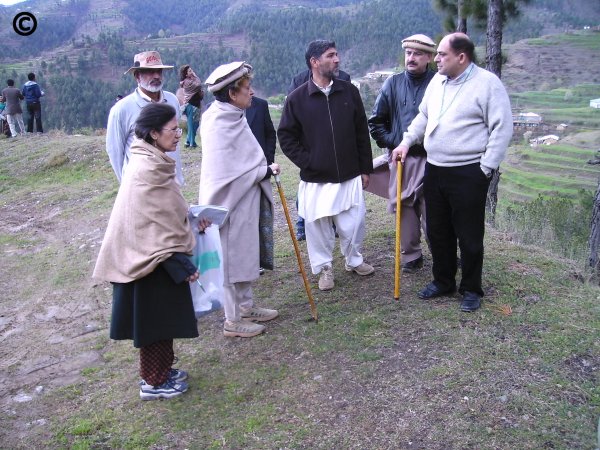 © Photograph copyright Azra and Peter Meadows
Siran Valley.
Workshop participants discuss strategy in the field near KIRAT base camp. Left to right: Azra Meadows (University of Glasgow and Scottish Pakistani Association), Brigadier Yasub Doghur (behind Azra), Yasmeen Lari (CEO Heritage Foundation), Ibrahim Khan (WWF), Saad Khan (Swiss Pakistan Society), Sohail Mirza (Swiss Pakistan Society).
Hillside coniferous forest in the upper middle. Hillside terraced agriculture in the middle distance on the right hand side.