British Council
'European Union Youth Project'
December 2005
Pakistan, and the Asian Earthquake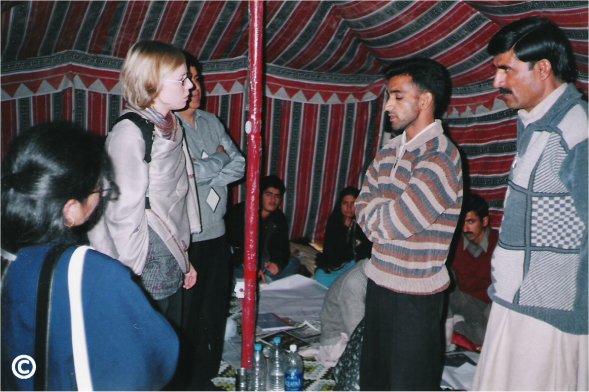 © Photograph copyright Azra and Peter Meadows
Azra Meadows (left) and Louise Dear talking to Kashmiri students who survived the October 2005 Asian earthquake. Tent Village, Islamabad, Pakistan. November 2005.
The European Union Youth Project
UK Student Quote: "Pakistan is a fantastic country"
After the success of the British Council Connecting Futures project on 'Student Dialogues' between University students from Pakistan and the United Kingdom, the British Council Pakistan organised a 'European Union Youth Project' under the UK Presidency of the EU 2005.
Interested EU member states were each invited to identify one 18 - 25 year student, the aim being to send the selected students on a fully funded visit to Pakistan where they would engage in cross-cultural dialogue and debate on Identity with Pakistani counterparts.
The fully funded visit to Pakistan took take place at selected universities in Lahore, Islamabad, Peshawar and Karachi. Louise Dear an undergraduate student of English Literature at the University of Glasgow (a reserve finalist of the British Council 'Student Dialogues' project) was nominated to represent the United Kingdom, together with Usman Adam (Denmark), Martin Beddeleem (France), and Martin Von Bahr (Sweden).
The student group was also able to meet some of the recent Pakistan earthquake survivors in Islamabad during their weeklong visit from late November to early December 2005. During this visit they were accompanied by Azra and Peter Meadows of the University of Glasgow, who were already in Pakistan on a University of Glasgow educational visit and a DFID British Council link programme.
Louise Dear records her impressions of the visit as follows:
"Fatima Jinnah Women's University (FJWU), Rawalpindi was for me, the most interesting and innovative institutions that we encountered. The students were a thoroughly engaged and passionate group of individuals, presumably drawing on the dynamism of their Vice-Chancellor, Professor Dr. Najma Najam. After our visit I was much more acquainted with the complexities of gender and educational issues in Pakistan: the benefits of single-sex education in developing countries in particular was concisely articulated. The University seemed to be a pioneering institution, emphasizing curricula adaptability for women wishing to get married, women with children, mature students, students that require counseling services and so on. This type of flexibility is something I very much took for granted, assuming this to be the educational standard; I am glad the staff and students of FJWU have rectified this false assumption. The addition of Martin, Martin and Usman and myself, presented quite a diverse cross-section of European society and as a result the dialogues themselves became livelier.
I had been steadily building up a positive picture of Islamic society whilst in Pakistan and I have to admit that Peshawar shook that resolution somewhat. A student at the University of Peshawar asked me in a rather accusatory tone, "...you aren't one of those feminists, are you?" and for the first time in my life I said with complete certainty that "Yes, I most definitely am". I did not feel the slightly animosity either emanating from, or directed towards me but I did feel both from the dialogue at the University of Peshawar and my discussions with Usman an overwhelming sense of incomprehension towards the religion. I do not wish to illuminate this experience as a negative, quite the opposite I found it infinitely valuable, I have analysed my feelings from a more balanced perspective and with more rationality since I returned: I am very grateful for the insight into Islam that the trip has given me.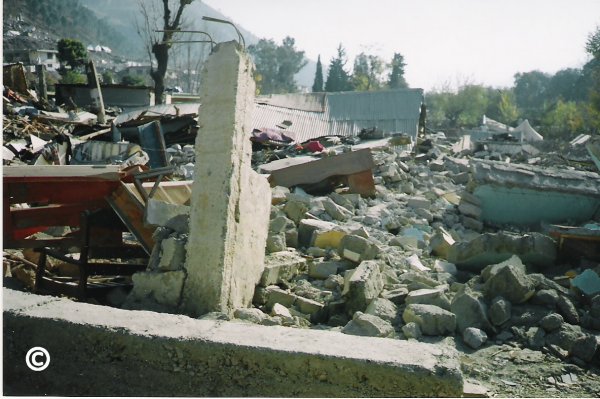 © Photograph copyright Azra and Peter Meadows
Balakot, Azad Jammu and Kashmir. Pakistan. November 2005.
Total destruction of the town of Balakot, which was at the centre of the October 2005 earthquake.
The Earthquake Relief Tour in Islamabad was undoubtedly one of the most thought provoking and emotionally exhausting days of my life. My career plans involve a move towards post-war recovery, development politics and humanitarian aid, so I was extremely grateful to have had this opportunity. Touring the hospital wards and the relief camp, whilst obviously learning a great deal about emergency phase recovery work I also felt like I was beginning to understand the challenges and difficulties of diplomatic duties. Meeting the Azad Kashmiri people was a traumatic and deeply humbling experience. It was hard to dispel self-consciousness and equally tough to replace a sense of futility and melancholy with useful questions, but we found that the astonishing pragmatism of the hospital and relief workers checked any tears or despairing thoughts we may have had. A statistic that remains with me is that one hospital department that we visited conducted 272 operations in a 24-hour stretch. Martin (France) and I discussed how amazing it was for students like ourselves to meet so many committed and inspiring people; we did not feel their equals in the slightest. I very much enjoyed meeting some students in a community tent; they were amassing data and doing there best to keep learning and working in the adverse conditions. At every stage of the day I felt awed by the resilience and enthusiasm of human nature in the face of catastrophe. My reflections on national solidarity, from the students and from Pakistani's in general were really uplifting.
I do not wish to sound over-zealous but I really feel that the 'European Union Youth Project' was one of the most formative experiences of my life. My confidence and public speaking skills have really improved as a result of the programme. I have travelled in countries around the world but yet I feel I gained more insight into Pakistani culture in a week than I have in other countries where I spent many months. Pakistan is a fantastic country; I will definitely be back. I intend to move into Development Studies when I graduate from the University of Glasgow; the British Council programme came at a time in my career when I really needed practical experience in this field and I am very grateful for that opportunity. To the British Council and all the members of staff who looked after myself, Martin, Martin and Usman I extend my warmest thanks."
We are very grateful to the British Council Pakistan for inviting the University of Glasgow to participate in this programme and for the continued support offered by the University International and Postgraduate Service.
Louise Dear, Department of English Literature, University of Glasgow.
Azra and Peter Meadows, IBLS, University of Glasgow.
Glasgow University Newsletter - March 2006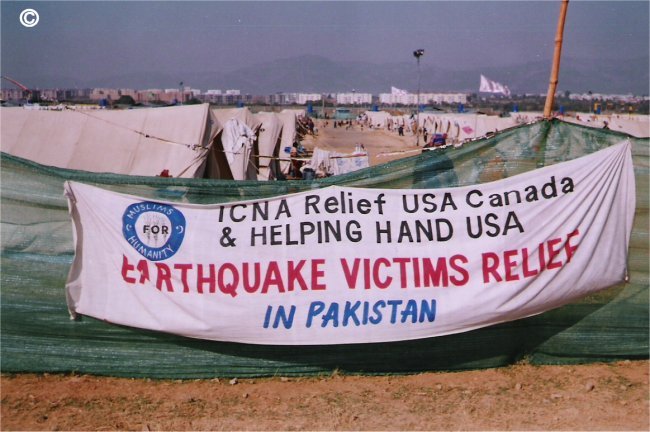 © Photograph copyright Azra and Peter Meadows
Tent Village, Islamabad, Pakistan. November 2005.
Islamic Centre of North America (ICNA) Relief, and Helping Hand USA, were two of the many religious and secular organisations providing aid for the survivors of the October 2005 earthquake at the tent village in Islamabad.