Dr Richard Orton
Research Associate

(Centre for Virus Research)
telephone: 01413304019
email: Richard.Orton@glasgow.ac.uk
Centre for Virus Research, Sir Michael Stoker Building, 464 Bearsden Road, Glasgow, G61 1qh
https://orcid.org/0000-0002-3389-4325
Research interests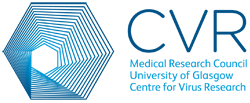 I am a bioinformatician working in CVR Bioinformatics at the MRC-University of Glasgow Centre for Virus (CVR). My current research focuses on:
I spend 50% of my time working for the International Committee on the Taxonomy of Viruses (ICTV) on a Wellcome Trust bioresource grant (WT108418AIA) entitled "A database for the universal classification of viruses: development of an open access model for the dissemination of classification information and virus descriptions" with Andrew Davison, Peter Simmonds and Stuart Siddell. As part of this, I am the Technical Editor of the ICTV Report, and am also a member of the ICTV Herpesviridae Study Group.
Google Scholar - Publication Profile
Grants
Grants and Awards listed are those received whilst working with the University of Glasgow.
Comparing the fitness and patient landscapes of HIV-1 (ISSF Catalyst)
Wellcome Trust
2014 - 2015

Supervision
Bone, Jordan
Tracing equine influenza virus spread using next generation sequencing data
MSc Bioinformatics project students:
2018. Eilidh Greig
AllmondViz a GUI for Heatmap based Visualisation of Viral Metagenomics Diversity
2017. Zack Boyd
A pipeline for low frequency variant calling from viral high throughput sequencing & benchmarking of variant callers and aligners
2017. Ng Kai
Visualisation of viral quasispecies populations from next generation sequencing data using Circos
2015. Ewan Straiton
CircReads: a bioinformatics pipeline for processing circular NGS reads and characterisation of sequence errors
PhD students:
2014-2018. Laura Bergner (with Daniel Streicker and Roman Biek)
Viral Communities in Vampire Bats: Geographic Variation and Ecological Drivers
2015-Present. Michael Oade (with Erica Bickerton, John Hammond and Daniel Haydon)
Towards in silico IBV vaccine design: defining the role of polymorphism in viral attenuation
2017-Present. Kathy Li (with Andrew Davison)
Third-generation sequencing of whole human cytomegalovirus genomes from clinical material
2018-Present. Sejal Modha (with David Robertson and Sreenu Vattipally)
Data mining and characterisation of dark metagenomic sequence data
Teaching
I have taught on the following viral bioinformatics courses: