Professor Harry De Koning
Professor of Parasite Biochemistry and Pharmacology (Parasitology)
Associate (School of Life Sciences)
telephone: 01413303753
email: Harry.De-Koning@glasgow.ac.uk
https://orcid.org/0000-0002-9963-1827
Research interests
The two main aspects of my research are the investigation of the mechanisms of drug resistance in protozoan parasites, mainly African trypanosomes, and the identification of new lead compounds and therapeutic strategies against various protozoan pathogens including Trypanosoma brucei, Trypanosoma congolense, Leishmania species and Trichomonas vaginalis.

The two most important classes of drugs against African trypanosomiasis in humans (also called sleeping sickness) and animals are commonly known as aromatic diamidines and melaminophenyl arsenicals. Both classes of drugs are old, dating from the 1930s and their long usage has inevitably led to highly significant levels of resistance in the parasites. We have investigated the mechanisms by which the trypanosomes become resistant to the drugs and found this is mostly linked to the loss of specific transport proteins; in their absence the drugs do not enter the parasite and are therefore ineffective. We have identified and characterised these transporters and ongoing work is identifying the genes encoding them so that genetic research can be performed on parasite populations. We further work on the identification of the Trypanosoma brucei resistance mechanism for isometamidium, an important phenanthridine drug against animal trypanosomiasis in sub-Saharan Africa.

We have developed much needed screening tools for drug efficacy to some parasites, including Leishmania species, Trypanosoma species and Trichomonas vaginalis. These enable the screening of compound collections for activity against these pathogens. We are working together with academic collaborators and pharmaceutical companies to discover new lead compounds for pre-clinical drug development. Several series of compounds have been tested and promising leads have been identified, especially against Trypanosoma species.

Finally, our emphasis on transporters of protozoan parasites is not limited to drug transporters per se. I have worked on nutrient transporters, particularly purine and pyrimidine transporters since 1994 and contributed much to our knowledge how protozoa take up these vital nutrients from their hosts. Having recently characterised pyrimidine transport activities in several protozoa, current projects include the identification of pyrimidine transporter genes in Trypanosoma and Leishmania species, and the characterisation of nucleoside and nucleobase transporters in Trichomonas vaginalis.
Grants
Grants and Awards listed are those received whilst working with the University of Glasgow.
A new drug discovery pipeline for animal African trypanosomiasis.
GALVmed
2016 - 2019

A new drug discovery pipeline for animal African trypanosomiasis
Biotechnology and Biological Sciences Research Council
2016 - 2019

Drug resistance and cross-resistance in livestock trypanosomes.
Bill and Melinda Gates Foundation
2014 - 2018

PDE4NTD: Phosphodieasease inhibitors for the treatment of Neglected Parasitic Diseases.
European Commission
2014 - 2018

Diamidine and oxaborole transporters and resistance in livestock tryponosomes (Gap Period)
Bill and Melinda Gates Foundation
2014 - 2014

Modulation of trypanosomal cAMP signaling for sleeping sickness therapeutic therapy
Tres Cantos Open Lab Foundation
2014 - 2017

Diamidine transporters and resistance in livestock trypanosomes
Department for International Development
2012 - 2013

Fellowship programme in Infection and Immunity
Royal Embassy of Saudi Arabia
2011 - 2020

Uptake of novel diamidine drugs by Trypanosoma brucei
The Royal Society
2009 - 2011

Drug resistance in African trypanosomes
Medical Research Council
2008 - 2011

Assessment of the probability of developing resistance to novel trypanocides under consideration for late stage HAT
University of North Carolina at Chapel Hill
2006 - 2010

Combatting drug resistance in human African trypanosomiasis
UBS Optimus Foundation
2004 - 2007

Additional information
Grant Advisory Board
2009 - 2012: NANOTRYP - Scientific Advisory Board
2008 - 2009: Cyprus Research Promotion Foundation - Panel member for 'Strategic Infrastructure Projects'
2008 - present: European Science Foundation - Member, International Evaluation Committee of the Cyprus Research Promotion Foundation (Grant Review panel)
2007 - present: World Organisation for Animal Health - Member, OiE ad hoc group on Non-Tsetse Transmitted Animal Trypanosomoses (NTTAT)
2005 - 2008: Pharmalinks - Member of Management Committee
2004 - present: CURE IT - Co-chair of the CURE IT collaborative consortium on anti-trypanosomal chemotherapy with the University of Strathclyde as part of the Synergy initiative
2003 - present: Medecins-sans-Frontier - Member of Neglected Diseases Group Advisory Board to the Drugs for Neglected Diseases Initiative
Invited International Presentations
2014: Umea, Sweden - University of Umea, Sweden. Drug resistance mechanisms in a protozoan parasite, Trypanosoma brucei. 28 January 2014
2014: Malaga, Spain - International Conference on Global Challenges for New Drug Discovery Against Tropical Parasitic Diseases. February 17-20, 2014. Aquaglyceroporins determine sensitivity to pentamidine and melarsoprol in Trypanosoma brucei.
2014: Al-Baha, Saudi Arabia - 1st Scientific Research Conference, Al-Baha University March 18th, 2014. Scientific research - From idea to publication.
2014: Al-Baha, Saudi Arabia - 1st Scientific Research Conference, Al-Baha University March 17th, 2014. Ethics and considerations for a successful research programme.
2014: Cambridge, England, UK - Annual British Society for Parasitology Spring Conference. April 6th-9th, 2014. Aquaporin 2 is the main determinant for pentamidine and melaminophenyl arsenical resistance in Trypanosoma brucei spp
2014: 7th Saudi Students Scientific Conference. Feb 1st - 2nd, 2014. Invited speaker and session Chair. Research into parasitic diseases of Saudi Arabia and the Middle East by Saudi students at the University of Glasgow.
2014: Madrid, Spain - Towards New Therapeutics for Diseases of the Developing World". May 11th-13th 2014, Tres Cantos. The importance of transporters in drug action and resistance: examples form African trypanosomes.
2013: Madrid, Spain - 15th International Symposium on Purine and Pyrimidine Metabolism in Man. June 9-13, 2013. Evaluation of pyrimidine metabolism as a drug target in kinetoplastid parasites. Invited lecture and session Chair
2013: Stockholm, Sweden - Karolinska Institute. Pyrimidine transporters and metabolism in Trypanosoma brucei - opportunities and bottlenecks. 20 Feb 2012.
2013: Glasgow, Scotland, UK - University of Glasgow Parasitology Networking Day. Aquaporins are the principal determinant for pentamidine and melarsoprol sensitivity in Trypanosoma brucei. 20 August 2013
2013: St Andrews, Scotland - St Andrews University. Pyrimidine transporters and metabolism in Trypanosoma brucei - where are the drug targets? 3 April, 2013.
2013: Amsterdam, The Netherlands - 45th Microsymposium on Glycosomes and Parasite/Trypanosomatid Metabolism. October 10th-11th, 2013. The role of T. brucei Aquaporins in drug sensitivity and resistance.
2012: Antwerp, Belgium - Institute for Tropical Medicine. Mechanisms of diamidine and phenanthridine resistance in Trypanosoma brucei. January 26th, 2012.
2012: Munich, Germany - Ludwig-Maximilians-Universitat Munchen, Department of Genetics. Markers and determinants of drug resistance in a model protozoan pathogen, Trypanosoma brucei. January 24th, 2012.
2012: Ceske Budejovice, Czech Republic - Czech Institute of Parasitology. Evaluation of pyrimidine biosynthesis and salvage as drug targets in African trypanosomes. 18 October 2012
2012: Barcelona, Spain - University of Barcelona. Pyrimidine transporters and metabolism in Trypanosoma brucei - where are the drug targets? Dec 21st 2012
2012: Antwerp, Belgium - International Symposium 'African trypanosomes', September 14, 2012. Institute Tropical Medicine. Drug design: the past, the present and future. Invited lecture
2012: Edinburgh, Scotland - 'Diamidines drug resistance in Animal Trypanosomosis' meeting by GALVmed.24 October 2012. The role of TcoAT1 in diminazene resistance of Trypanosoma congolense. Invited oral presentation
2012: Cambridge, England, UK - Sanger Institute. Pyrimidine metabolism in kinetoplastids: a validated drug target. January 23rd, 2012.
2012: London, England, UK - London School of Hygiene and Tropical Medicine. Assessment of pyrimidine biosynthesis and salvage pathways as drug targets in Trypanosoma brucei: pipeline or pipe dream? 1 November 2012.
2011: Riviera Mayo, Mexico - Global Challenges for New Drug Discovery Against Tropical Parasitic Disease, December 11-15, 2011
2011: Tbilisi, Georgia - National Centers for Disease Control. Drug resistance mechanisms in African trypanosomes. November 28th, 2011
2011: Hull, England - Northern UK Kinetoplastid Forum (NUKK5) May 6th, 2011. cAMP phosphodiesterases of Trypanosoma brucei: validation as targets for chemotherapy. Invited keynote lecture
2011: Amsterdam, The Netherlands - Netherlands Cancer Institute. The role of transporters in chemotherapy. October 26th, 2011
2010: Bournemouth, UK - British Blood Transfusion Society 28th Annual Conference, Red Cell Special Interest Group. Invited oral presentation: 'Purine and pyrimidine transport in healthy and Plasmodium falciparum-infected human erythrocytes'
2010: Madrid, Spain - Invited Seminar at Institute for Medicinal Chemistry, 'Choline-derived analogues as new antiprotozoal lead compounds'
2010: Hull, UK - Northern UK Kinetoplastid Forum (NUKK5). Keynote lecture: 'cAMP phosphodiesterases of Trypanosoma brucei: validation as targets for chemotherapy'
2010: Dundee, Scotland - Epithelial Biology 2010. Keynote address: 'Nutrient transport in protozoan parasites'
2010: Waterville Valley, NH, USA - Gordon Research Conference on Cyclic Nucleotide Phosphodiesterases. Invited oral presentation: 'Phosphodiesterase inhibitors reveal a critical role for cAMP in the cell division cycle of Trypanosoma brucei'
2010: Tarragona, Spain - Purines 2010: Adenine nucleosides and nucleotides in Biomedicine. Invited oral presentation: 'Molecular modelling of substrate recognition at an unusual aminopurine transporter'
2010: Barcelona, Spain - International Workshop on Nucleoside and nucleobase transporter proteins in biomedicine. Invited Lecture: 'Transport in Plasmodium-infected erythrocytes
2010: Granada, Spain - Invited Seminar at Instituto de Parasitologia y Biomedicina "Lopez-Neyra". Drug targeting and transport mechanisms in pathogenic protozoa'
2009: Madrid, Spain - Institute for Medicinal Chemistry - Invited seminar: Modelling of substrate interactions with membrane proteins of unknown structure
2009: Cambridge, UK - University of Cambridge, Department of Pathology. cAMP signalling in Trypanosoma brucei: a target for novel chemotherapy
2009: Brussels, Belgium - Free University - Trypanosoma brucei: Transporters and chemotherapy.
2009: Basel, Switzerland - Swiss tropical Institute, Basel - Drug resistance mechanisms and new therapeutic strategies in Human African Trypanosomiasis
2009: St Andrews, Scotland - Annual Conference of the Consortium for Parasitic Drug Design. Invited oral presentation 'Transporters in drug uptake and resistance'
2009: Amsterdam, The Netherlands - 'Neglected Diseases Seminar' for Top Institute Pharma. 'Drug resistance and drug development in parasitic protozoa: the role of transporters'
2009: Bonn, Germany - University of Bonn - Strategies for the study of nucleobase and nucleoside transporters in protozoa
2008: Bagamoyo, Tanzania - Annual meeting for the Consortium for Parasitic Drug Development. - "Diminazene uptake by the High Affinity Pentamidine Transporter"
2008: Bagamoyo, Tanzania - Annual meeting for the Consortium for Parasitic Drug Development. - "New lead compounds against African trypanosomes."
2008: Lucca, Italy - Gordon Research Conference on Cyclic Nucleotide Phosphodiesterases - "The mechanism of action of PDE inhibitors in Trypanosoma brucei: rapid elevation of cAMP levels leads to cell death through highly specific actions on cell "
2007: Atlanta, USA - Diamidine transporters in Trypanosoma brucei. Annual meeting for the Consortium for Parasitic Drug Development [Gates Foundation / WHO].
2007: Modena, Italy - Curcumin analogues as a new class of antiprotozoals; activities and investigation of mechanism of action. COST B22 Working group1/3 Expert Group Meeting: Medicinal Chemistry in Parasitology: new avenues in drug discovery
2007: Ceske Budejovice, Czech Republic - The role of transporters in antiparasitic drug design. Research Seminar at the Parasitology Institute.
2007: University of Glasgow, Glasgow, UK - Co-organiser and chairman/moderator at PharmaLinks 'Chemistry and Biology into Medicine'
2007: Dundee, Scotland - SAR of determinants of diamidine transport and resistance in African trypanosomes. COST B22 Annual Congress: Drug development for parasitic diseases.
2006: University of Montpellier, France - Presentation: Strategies for chemotherapy of parasitic diseases.
2006: Glasgow, Scotland - Member of organising committee of ICOPA IX (11th International Conference of Parasitology)
2006: Dakar, Senegal - Symposium Organiser - The Incidence, Causes and Mechanisms of Drug Resistance in African Trypanosomiasis. Kinetoplastid Diseases
2006: Glasgow, Scotland - Co-organiser Pharmalinks Chemistry-Biology Day, Strathclyde University and Glasgow University
2006: Basel, Switzerland - The use of transporter mutants in antiprotozoal drug screening. COST B22 Working group 3/4 Expert Group Meeting: Drug development for parasitic diseases.
2005: Switzerland - Invited plenary lecture: The ENT family of transporters in Trypanosoma brucei - its role in drug action and resistance'. 21st Swiss trypanosomatid meeting.
2005: Boxmeer, The Netherlands - Intervet International, 'Trypanocides: Transporters, resistance mechanisms and some new strategies.'
2004: Glasgow, Scotland - Co-organiser of the combined CURE-IT and DNDi [Drugs-for-Neglected-Diseases-initiative] meeting 'Sleeping sickness and the brain', University of Glasgow Veterinary School
2004: Antwerp, Belgium - COST B22 Meeting on drug development for parasitic diseases.
2004: Invited oral presentation: 'Delivering the magic bullet: the role of transporters in rational drug design.' World Conference on Dosing of Antiinfectives - Dosing the Magic Bullets
2004: Academy of Sciences of the Czech Republic, Prague - 'The ENT family of purine transporters in protozoa: Cloning, characterisation and identification of substrate-transporter interactions responsible for very high activity.'
2004: Athens, Greece - Series of lectures on Biochemistry, molecular biology and genomics of pathogenic protozoa for postgraduate students at the National University of Athens
2004: Ceske Budejovice, Czech Republic - Transport and resistance of arsenicals and diamidines in Trypanosoma brucei. British Society for Parasitology Trypanosomiasis and Leishmaniasis Seminar
2004: Antwerp, Belgium - Invited plenary lecture: 'Diamidine transporters and resistance in protozoa.' COST B22 meeting on "Drug development for Parasitic Diseases"
2002: University of Athens, Greece - The significance of transporters in chemotherapy
2001: Chania, Greece - Protozoan nucleobase transporters: substrate recognition motifs reveal selective uptake of purine antimetabolites, invited plenary lecture at the 19th Small meeting on Yeast transporters and energetics
2001: Finlay Institute, Havana, Cuba - Protozoan nucleobase transporters: substrate recognition motifs reveal selective uptake of purine antimetabolites
Professional Learned Society
2005 - present: Netherlands Society for Parasitology - Member
1997 - present: British Society for Parasitology - Member
1995 - present: Biochemical Society - Member
Research Fellowship
1999 - 2003: Wellcome Trust Research Fellowship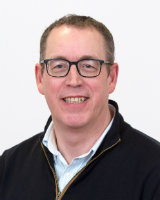 RB518 Level B5, Iii - Gbrc, University Place, Glasgow G12 8TA,