Professor Crawford and Global Science Committee at COP15, Abidjan, Côte d'Ivoire
Published: 12 May 2022
Professor John Crawford (University of Glasgow), Professor Ratan Lal (Ohio State University, Dr Leigh Ann Winowiecki (ICRAF, Kenya), and Barbara Baarsma (CEO, Rabo Carbon Bank) participating in the COP15 Coalition for Action on Soil Health (CA4SH) event on 13th May 2022.
The fifteenth session of the Conference of the Parties (COP15) of the United Nations Convention to Combat Desertification (UNCCD) is taking place in Abidjan, Côte d'Ivoire, from 9 to 20 May 2022.
The COP15 theme, 'Land. Life. Legacy: From scarcity to prosperity', is a call to action to ensure land, the lifeline on this planet, continues to benefit present and future generations. ​
COP15 will bring together leaders from governments, the private sector, civil society and other key stakeholders from around the world to drive progress in the future sustainable management of one of our most precious commodities: land. ​
Land is the bedrock of a healthy, productive society, and COP15 will explore links between land and other key sustainability issues.
Our Global Science Committee member, Dr Leigh Winowiecki (ICRAF, Kenya) is leading the Coalition for Action on Soil Health (CA4SH) event focusing on:
Multi-stakeholder action for scaling soil health globally through evidenced based public and private investment
If you are interested in attending virtually, please register here.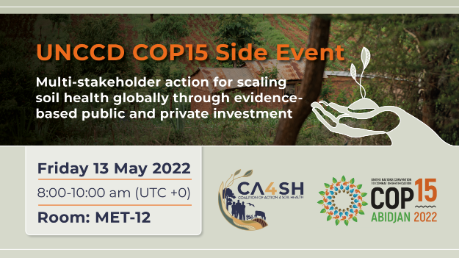 ---
First published: 12 May 2022