Study Overview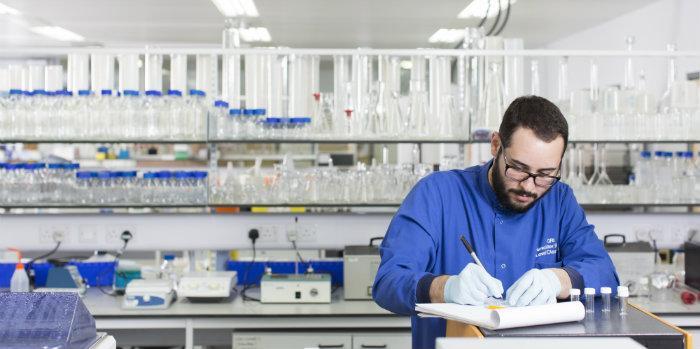 Members of staff in the Centre for Immunobiology teach on a wide variety of undergraduate and postgraduate courses within the University, and they design and supervise research projects being undertaken by students in their labs.
Undergraduate Study
Our flagship undergraduate programme is the 4-year Immunology BSc Honours course. After acquiring a broad knowledge of biology in Years 1 and 2, Years 3 and 4 are spent exclusively studying the immune system and its role in health and disease. This 2-year focus on the immune system is unique in the UK and allows students to develop a broad and in-depth knowledge of immunology. Importantly, with teaching being delivered by both scientists and clinicians, the basic molecular and cellular principals underpinning the immune system are translated into an understanding of how it can both prevent and cause disease in humans and animals.
Practical experience is a key feature of the course. In Year 4, each student undertakes a 10-week research project placement in the laboratory of one of our staff members. Alternatively, students interested in a teaching career can join the Ambassador Scheme to gain experience of teaching science in one of Glasgow's schools. Between Years 3 and 4, some students undertake a Work Placement year doing full-time research in industry or academia in the UK or overseas: those selecting this path graduate with a Masters degree (MSci).
Postgraduate Study
In addition to our excellent undergraduate students, the Centre for Immunobiology also benefits from a large cadre of postgraduate students who contribute enormously to the vibrant intellectual and social atmosphere of the Centre.

A new MSc in Immunology & Inflammatory Disease was launched in 2015 to complement existing postgraduate courses in the Institute of Infection, Immunity and Inflammation. It is organised and delivered by staff in the Centre for Immunobiology, with input from other key researchers in the Institute.

The Centre is typically home to more than 35 laboratory-based PhD students who work on a broad variety of topics under the expert supervision and guidance of our research staff. A PhD from the Centre for Immunobiology acts as an excellent springboard for research careers in academia and industry, and opens opportunities for postdoctoral work in the UK, continental Europe, the US, and elsewhere.
Career Prospects
Our graduates are highly employable and move into a wide variety of scientific careers. Ex-Glasgow Immunology students can be found working in academic institutions, hospitals, government and charity funding agencies, pharmaceutical companies, publishers, and other science-related workplaces across the UK and around the world.

We have an active alumni society with more than 300 members that acts as a useful source of guidance, advice and job opportunities, and which can help undergraduates establish key contacts for their future professional development.