Our Partners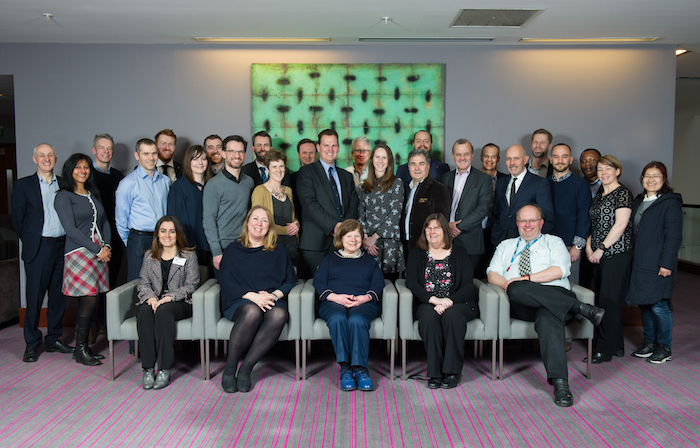 IMID-Bio-UK is a network of academics, clinicians, charities and industry partners working together across the UK to inform and improve drug development and the stratification of therapeutic options for patients affected by IMIDs. The investigator team, together with extensive supporting facilities and staff, offer the clinical, investigative, technical and analytical leadership skills necessary for the success of IMID-Bio-UK.
The combination of diverse IMID Stratified Medicine Consortia which includes multiple funders and pharma partners, collectively delivers deep knowledge of the IMID landscape and infrastructure, together with strong industry interactions. Several of our partners have collaborated over many years and have established a long-term, shared commitment to furnishing our precision medicine ambition to realise the promise of precision medicine approaches in IMID.
University of Glasgow
IMID-Bio-UK is led by Professor Iain McInnes, director of the Institute of Infection, Immunity and Inflammation at the University of Glasgow. In addition to being the chief investigator of the Scottish Early Rheumatoid Arthritis (SERA) inception cohort and biobank, Iain is also co-investigator in RA-MAP, Pathobiology of Early Arthritis Cohort (PEAC), Maximising Therapeutic Utility in Rheumatoid Arthritis (MATURA) and has lead numerous phase I-III clinical trials. He is Director of the ARUK Centre of Excellence in rheumatoid arthritis and the Institute of Infection, Immunity and Inflammation at the University of Glasgow. He is an authority on the pathogenesis and treatment of inflammatory arthritis. His early studies identified the expression and functional importance of a number of cytokines in rheumatoid synovitis and have extended since to explore the pathways that drive inflammation in the skin and joints of people with psoriatic arthritis.
‌
University College London
Lucy Wedderburn, BA (Cantab), MBBS, FRCP, PhD, MRCPCH, FRSB
Professor and Consultant of Paediatric Rheumatology NIHR Senior Investigator Lucy Wedderburn is a Professor in Paediatric Rheumatology at UCL (UCL GOS Institute of Child Health) and a Consultant at Great Ormond Street Hospital (GOSH). Professor Wedderburn's areas of interest are the immunology and pathogenic mechanisms of childhood arthritis, which is also called Juvenile Idiopathic Arthritis (JIA) and childhood myositis, also called Juvenile Dermatomyositis (JDM). She runs a research team that investigate the mechanisms and different types of these diseases, as well as what controls response to treatment, and how to better stratify patients for clinical trials and new treatments. Lucy is the CI of CLUSTER an MRC funded consortium working to deliver precision medicine for childhood arthritis and its associated uveitis , and is the Director of the Centre for Adolescent Rheumatology Versus Arthritis at UCL, UCLH and GOSH.
Andrew Dick, BSc(hons), MD, MBBS, FRCS, FRCP, FRCOphth, FMedSci, FRBS
Professor Andrew Dick is Director of UCL-Institute of Ophthalmology and Head of the Academic Unit of Ophthalmology at the University of Bristol, leading ocular immunologist and translational physician in England & Wales and clinician/scientist in the introduction of novel biologic therapy for severe sight threatening ocular inflammatory disease.
Having developed this field in the first instance some 20 years ago, he continues to investigate and introduce other potential and better stratified and personalised treatments for patients under his care through understanding of fundamental biology in experimental models and experimental translational medicine in man.
Queen Mary University, London
Michael Barnes, PhD
Mike Barnes joined QMUL in January 2012 as the Director of Bioinformatics at the William Harvey Research Institute and is the leader of the data integration work streams of IMID-Bio-UK. He previously led a computational biology team at GlaxoSmithKline focused on translational research for neuroscience drug discovery. Michael is an investigator at the London Farr Institute and also serves on the board and exec of eMedLab, a groundbreaking cloud computing facility funded by the MRC. He is also a co-investigator on several stratified medicine projects, including Psoriasis Stratification to Optimise Relevant Therapy (PSORT), RA-MAP, Maximising Therapeutic Utility in Rheumatoid Arthritis (MATURA) and Treatment According to Response in Giant cEll arTeritis (TARGET) and Childhood arthritis and its associated uveitis: stratification through endotypes and mechanism to deliver benefit (CLUSTER).
Professor Costantino Pitzalis' major research interests focuses on the cellular and molecular mechanisms of inflammation and autoimmunity in chronic arthritis applied in particular to rheumatoid and psoriatic arthritis. The emphasis is on translational research and biomarkers discovery and he is Director of an Arthritis Research UK Experimental Arthritis Treatment Centre at Barts dedicated to the development of new anti-arthritic drugs and experimental medicine. He leads a Research Team of approximately 50 Researchers (Clinicians and Scientists) supported by an active grant income over £14M and has published over 200 highly cited peer-reviewed papers (H-Index 47) in the field of inflammation, immunity and arthritis. He has written over 10 book Chapters including one published in the various editions of the Oxford Textbook of Rheumatology, currently in its 4th Edition, on "Synovial Pathology". He is Chief Investigator of the MRC/ARUK/NIHR biopsy-driven trials: PEAC, R4RA, MATURA.
Newcastle University
Professor John Isaacs is Director of Newcastle University's Institute for Cellular Medicine and Professor of Clinical Rheumatology. Additionally, he is Honorary Consultant Rheumatologist with the Newcastle upon Tyne Hospitals NHS Foundation Trust. John is internationally renowned as a pioneer of translational rheumatoid arthritis research, and is the Chief Investigator of the MRC/ABPI RA-MAP Consortium. He performs early phase experimental medicine studies, often using products developed in-house. His research interests include immunotherapy of rheumatic autoimmune disease, clinical therapeutic tolerance induction, pathogenesis and pharmacogenetics of rheumatoid arthritis.
David Jones is Professor of Liver Immunology for the Faculty of Medical Science at Newcastle University with a particular focus on the impact of the diseases on patients and how we can improve outcomes through the development and evaluation of new treatment approaches. Additionally, he is Honorary Consultant Hepatlogist with the Newcastle upon Tyne Hospitals NHS Foundation Trust. Dave also holds the position of NIHR Dean for Faculty Trainees, and is an NIHR Senior Investigator. Dave has an international reputation for his work in autoimmune liver disease and leads the UK-PBC research consortium, which has the largest cohort of fully phenotyped primary biliary cholangitis/cirrhosis (PBC) patients.
Fai Ng is a Professor of Rheumatology at Newcastle University and the chief investigator of the Primary Sjögren's Syndrome Registry. He qualified from Cambridge University and completed his postgraduate clinical training and PhD study in London. Fai's research programme focuses on understanding the relationships between biological changes in primary Sjögren's syndrome and clinical manifestations in particularly fatigue and stratified medicine. He is a co-director of the Newcastle Biomedicine Experimental Arthritis Treatment Centre and deputy director of the Clinical Research Facilities at Royal Victoria Infirmary.
University of Manchester
Professor Bruce is a NIHR Senior Investigator at the Arthritis Research UK Centre for Epidemiology, Centre for Musculoskeletal Research, Division of Musculoskeletal and Dermatological Sciences. He is also Director of the NIHR Manchester Biomedical Research Centre and Centre Academic Lead for the NIHR Translational Research Partnership in Joint and Related Inflammatory Diseases. Ian is chief investigator for MAximizing Sle ThERapeutic PotentiaL by Application of Novel and Stratified approaches (MASTERPLANS) clinical trial, the British Isles Lupus Assessment Group Biologics Register (BILAG-BR) and the PRe-clinical EValuation of Novel Targets in RA (PREVENT RA) cohort.
Professor Christopher Griffiths
Professor Griffiths is Foundation Chair in Dermatology at the University of Manchester in 1994 and is an honorary consultant dermatologist at Salford Royal NHS Foundation Trust. At the University of Manchester, he has held several posts including Faculty Research Dean and Director of the Manchester Academic Health Science Centre. He currently leads for precision medicine and the University in the DevoManc initiative. Chris is Chief Investigator of both the Psoriasis Stratification to Optimise Relevant Therapy (PSORT) and British Association of Dermatologists Biologic Interventions Register (BADBIR). The latter is a biologics pharmacovigilance registry and bioresource, linked to PSORT and other national psoriasis cohort studies. He leads the precision medicine agenda for Health Innovation Manchester.
Professor Freemont is Director of MMPathIC (Manchester Molecular Pathology Innovation Centre), an MRC/EPSRC Molecular Pathology node which aims to take novel molecular pathology and molecular pathology related engineering discoveries into clinical use in partnership with industry. He is Professor and Honorary Consultant at Manchester University NHS Foundation Trust. His basic scientific and clinical research is focused in the broad area of molecular pathology and, in particular, the development and application of molecular pathology techniques to human skeletal tissues to obtain a better understanding of the molecular mechanisms underpinning disease.
Kimme Hyrich , MD, PhD, FRCP (Canada)
Kimme Hyrich is Professor of Epidemiology at the University of Manchester at the Centre for Musculoskeletal Research and an Honorary Rheumatology Consultant in the Kellgren Centre for Rheumatology at Manchester University Hospitals NHS Foundation Trust.
Her main research interests are to understand the short and long-term outcomes in adult and childhood inflammatory arthritis, including a greater understanding of the role treatments play in these outcomes.
Professor Hyrich has published extensively on outcomes in adult and paediatric inflammatory arthritis, with a focus on pharmacoepidemiology. She is a member of the EULAR registries group and the Chief Investigator for the British Society for Rheumatology Biologics Register for Rheumatoid Arthritis as well as the UK JIA Biologics Register. She is National Co-Lead of the UKRI funded CLUSTER-JIA Precision Medicine Consortium. Professor Hyrich was also instrumental in the establishment of the EULAR COVID-19 register for patients with rheumatic disease.
Steve Eyre, PhD
Professor Eyre has been involved in researching the genetic susceptibility to rheumatoid arthritis (RA) since he joined the Arthritis Research Centre of Excellence, based at the University of Manchester, UK in 1996.
In collaboration with Peter Fraser (Babraham, Cambridge) and Chris Wallace (University of Cambridge), Steve's group has developed methods to interrogate the regions that are associated with RA, mainly regulatory enhancer regions, to determine the interacting gene targets. Using this Capture HiC methodology they are discovering how long-range interactions, often involving multiple regions associated with different autoimmune diseases, regulate gene expression.
In addition, he has established collaborations with Soumya Raychaudhuri (Harvard Medical School, Boston), Caroline Ospelt (Zurich) and David Sansom (UCL), to look at the immunological, epigenetic and non-coding RNA consequences of the RA associated regions. These methods include ChIP, ATAC-Seq, RNA-seq and CRISPR genome editing.
Soumya Raychaudhuri, MD, PhD
Soumya Raychaudhuri serves as the Director for the Center for Data Sciences (BWH, HMS) and is appointed as an Associate Member at the Broad Institute. Additionally, he is clinically active and sees patients at Brigham and Women's Hospital Arthritis Center.
Since joining the faculty at Harvard Medical School in 2010, he has contributed to the understanding of the genetic basis of rheumatoid arthritis and other immune-mediated diseases. He has also been at the forefront of devising statistical and computational methods to localize genetic association signals to causal variants, and to interpret human genetic data in the context of functional information.
He currently has active research programs in the human genetics and functional genomics of tuberculosis, type I diabetes, and rheumatoid arthritis, with a specific focus on using genomic strategies to understand CD4+ T cell biology.
University of Cambridge
Dr Richard Sandford
Dr Sandford is Honorary Consultant in medical genetics at Addenbrooke's Hospital and Reader in Renal Genetics at Academic Department of Medical Genetics at the University of Cambridge, has a special interest in inherited renal and liver disease, the genetics of autoimmune liver disease and transformation of clinical genomic testing.
Dr George Mells
Dr Mells is a Consultant Hepatlogist at Addenbrooke's Hospital and Clinical Lecturer/Reader at Academic Department of Medical Genetics at the University of Cambridge specialising in renal genetics.
Richard and George, along with Dave Jones, lead a unique, world-leading, portfolio of autoimmune liver disease cohorts linked to the NIHR Rare Diseases – Translational Research Collaboration. They spearhead stratified hepatic medicine e.g. introducing a novel, second-line therapy for high-risk PBC into the clinic.
Chris Wallace, PhD
Chris Wallace is a Wellcome Trust Senior Research Fellow at the University of Cambridge and joined the MRC BSU as an honorary Programme Leader in February 2016. Her focus is on the twin goals of using genomic analysis to make meaningful contributions to the understanding of human autoimmune disease and the development of statistical methodology to enable these contributions.
Chris Wallace's research programme has three complementary aims. First, to develop the statistical tools needed to identify genetic associations with disease, then robustly and empirically link each genetic association with a gene, cell type, stimulatory condition and ultimately a biological pathway.
University of Surrey
Nophar Geifman, PhD
Nophar Geifman is Professor of Health and Biomedical Informatics in the School of Health Sciences at the University of Surrey. Her research is primarily focused on precision medicine, patient stratification, and biomarker discovery from large, diverse clinical and 'omics' datasets. Specifically, her work focuses on applying informatics techniques for discovery in various areas of biology and medicine, particularly where conventional research methods have over-simplified the inherent complexity of disease and care.
Nophar is passionate about extending the use of artificial intelligence, machine learning, and big-data analytics to improve patient-centric predictions, treatment and outcomes, while also enhancing the open sharing of biomedical data, and has contributed to numerous studies across a wide range of diseases such as cancer, dementia, and kidney disease. In recent years she has been involved to a great degree in research focused on rheumatoid conditions and immune mediated inflammatory diseases, contributing to a number of national consortia and projects.
University of Liverpool
Michael Beresford, MBChB MRCP(UK) MRCPCH PhD
Professor Beresford is the Brough Chair, Professor of Child Health, University of Liverpool. He is Director of the UK's only 'Experimental Arthritis Treatment Centre for Children'.
He has an international reputation in Paediatric Rheumatology including clinical trials and translational science, is Executive member of the Paediatric Rheumatology European Society, Chair of the EULAR Paediatric Committee, and Chief Investigator or Co-Investigator on >£25 million of grant funding.
University Hospitals Bristol
Athimalaipet V. Ramanan, FRCPCH, FRCP
A.V. Ramanan is a Consultant Paediatric Rheumatologist at the Bristol Royal Hospital for Children and the Royal National Hospital for Rheumatic Diseases in Bath. He is joint lead for research (Division of Women and Children) at UHBW, and Professor of Paediatric Rheumatology at the University of Bristol. He has published >225 articles and numerous book chapters covering a variety of topics in the field of rheumatology. He is the Co-Editor of Rheumatology and Associate Editor for the Archives of Diseases in Childhood.
Professor Ramanan is Co-Chair for the National Institute for Health Research Clinical Research Network: Children/Arthritis Research UK Paediatric Rheumatology Clinical Studies Group, and Associate Director for the UK Experimental Arthritis Treatment Centre for Children. He has been given multiple awards by the British Society of Rheumatology, the University of Bristol and the Royal College of Physicians/NIHR for his outstanding contribution to research.
Industry Partners
Without the support of industry, it would not be possible for IMID-Bio-UK to integrate the activities and resources of many highly successful stratified medicine initiatives which are part of our ambitious project.
We are delighted to confirm Abbvie, Janssen, Novartis and QIAGEN have agreed to be founder industrial partners.

‌
We enthusiastically welcome ongoing and future collaborations with industry. If you would like to become an industry partner, please feel free to drop us an email to start the conversation.
Charity Partnership
We work with a range of charity partners from across the IMID landscape. This will guide our development going forward by helping to engage with the wider public and those affected by inflammatory mediated immune diseases. IMID-Bio-UK is aligned with the strategic aims of our charity partners that broadly seek to impact patient outcomes via collaborative disease focussed discovery and translational research.
British Sjögren's Syndrome Association exists to raise awareness of Sjögren's Syndrome and support research into its cause and treatment. It is a self-help organisation with more than 2300 members, regional support groups throughout the UK whose members include sufferers and supporters who work together in helping one another cope with the day-to-day challenges of this debilitating and distressing condition.
LUPUS UK is the only national registered charity supporting people with systemic lupus and discoid lupus and assisting those approaching diagnosis. They more than 5500 Members and a number of Regional Groups around the UK who arrange medical talks, publish local newsletters, set up local occasions and organise fundraising events.
National Rheumatoid Arthritis Society is the only patient-led organisation in the UK specialising in rheumatoid arthritis (RA) and juvenile idiopathic arthritis (JIA). Due to its targeted focus on RA and JIA, NRAS provides truly expert and wide-ranging services to support, educate and campaign for people living with these complex autoimmune conditions, their families and the health professionals who treat them.
The PBC Foundation is the only UK organisation exclusively dedicated to providing support and information to those affected by PBC. Their purpose is to have a positive impact on the lives of all those affected by PBC.
The Psoriasis Association are the leading national charity and membership organisation for people affected by psoriasis in the UK. Through their work, they help people whose lives are affected by psoriasis and psoriatic arthritis by funding research, providing information and raising awareness.
Use My Data is a movement of patients, carers and relatives which supports and promotes the protection of individual choice, freedom and privacy in the sharing of healthcare data to improve patient treatments and outcomes.
Versus Arthritis (formerly known as Arthritis Research UK), invests in breakthrough treatments, the best information and vital support for everyone affected by arthritis. Versus Arthritis believe that by harnessing the power of exceptional science, it is possible to overcome the pain, isolation and fatigue arthritis causes, making everyday life better for all people with arthritis in the UK.