Global Security Events at the University of Glasgow
Glasgow University has a wide range of subjects with a global security theme. The GSR is delighted to help publicize all such talks. Anyone who would like us to do so, please email your announcement details to masters-globalsecurity@glasgow.ac.uk
Friday 27 May 2011
John Aycock, a visiting researcher from Canada, will be talking on 27 May at 4pm.
John has published widely in the security field and is a very good speaker. Here's a link to one of his books.
Please do come along to hear John speak.
Venue: Sir Alwyn Williams building, level 5 (directions)
Title: Stux in a Rut: Why Stuxnet is Boring

Abstract:
Stuxnet has been described as "a watershed moment" and "a game-changer" for security. While one would expect those gushing superlatives from mainstream media, the surprising source of those comments is security researchers themselves. I will begin by arguing that Stuxnet is nothing short of unsurprising. In fact, there are few game-changing moments in the history of malware, and I'll put that into its proper context by identifying and discussing the handful of "highlights" in the last few decades. Why are we not seeing more novelty in malware? It would be easy to dismiss malware authors as untalented, unimaginative hacks, but the underlying cause may be deeper than that. I'll look at whether the relationship between malware and anti-malware is a contributing factor. Finally, if even the highly-touted Stuxnet isn't interesting, what can
Wedneday 16 March 2011 at 5pm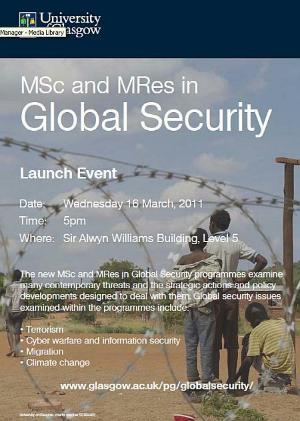 Global Security: a new MSc programme - Launch event
in the Sir Alwyn Williams Building, Level 5 (D20 on campus map)
Tuesday 8 March 2011 at 5.15pm
First talk of the Global Security Group, co-sponsored by CEES and the Scottish Centre for War Studies
Keir Giles will be speaking on the present state of the Russian Military
In the Lecture Room, 2 University Gardens.
All welcome.
Thursday 11 November 2010, 3.00-5.00 pm
The Goldstone Report One Year Later: Prospects for Middle East Peace - A Panel Discussion with Mervat Rishmawi, Human Rights Consultant, London; Dr. Michelle Burgis, University of St. Andrews; Dr. Antonios Tzanakopoulos, University of Glasgow
One year ago, the UN endorsed the Report of its Fact Finding Mission on the Gaza Conflict. Typically referred to as the 'Goldstone Report', this Report contains detailed, if controversial, findings on violations of international humanitarian law and human rights in the course of the Gaza conflict.
Was this a much-needed documentation of systematic abuses, or rather a one-sided investigation that ignored Israel's justified security concerns? Has the Report had any effects or merely further polarized debates? And how does it relate to the on-going attempts to settle the long-standing conflict between Israel and Palestine?
In the Senate Room, Main Building, University of Glasgow
All welcome to attend. Followed by a reception.
The organizers would like to acknowledge the support of the Office of the Vice Principal for Research and Enterprise, and of the International Law Association (British Branch).
Wednesday 3 November 2010
Wednesday 20 October 2010
Professor Matthew Strickland, 'Strategy, Loyalty and the Imperative of Battle in the Anglo-Norman World: Henry I and the Brémule Campaign, 1119' (Medieval Research seminar, in conjunction with the Scottish Centre for War Studies)
at 4.00 pm in the McKechnie Room, 10 University Gardens. All welcome.
(Scottish Centre for War Studies seminars)
Tuesday 5 October 2010
Professor Daniel Szechi (University of Manchester), Reconceptualising the Dynamics of Early Modern Rebellion: a military effectiveness study of the 1715 Jacobite rising
At 5.30pm in Room 209, 2 University Gardens. Tea will be served from 5pm.
(Scottish Centre for War Studies seminar)