Zika virus
Zika virus (ZIKV) is a mosquito-transmitted arbovirus in the genus Flavivirus of the Flaviviridae family. Although it was first identified in 1947 it caused limited and sporadic cases in Africa and Asia until 2007 when the first significant outbreak occurred in Micronesia. Since then outbreaks have occurred in French Polynesia, New Caledonia, the Cook Islands, Easter Island and the Americas. Infection is normally asymptomatic however the most recent outbreaks have been linked to an increase in neurological symptoms such as Guillain-Barré syndrome and microcephaly. Its unprecedented spread, coupled with the associated neurological conditions, led to the WHO declaring it a global health emergency in February 2016.
Research at the CVR focuses on the interactions between the virus and the immune system and interactions with Wolbachia symbionts in the mosquito; developing genetic techniques to understand its biology; and potential novel control measures (including Wolbachia), treatments and vaccine candidates.
Contact: Alain Kohl, Steve Sinkins

[Top]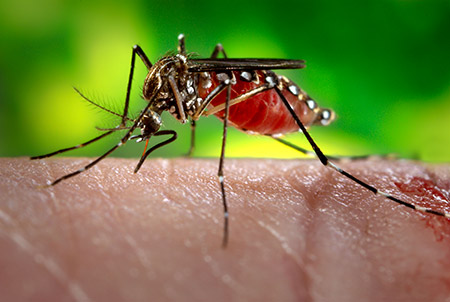 Image of an adult Aedes Aegypti mosquito.