Tick-borne encephalitis virus
Tick borne encephalitis virus (TBEV) is a single stranded positive sense RNA virus belonging to the genus Flavivirus of the family Flaviviridae. It is transmitted by ixodine ticks to mammals, including humans and results in a disease of the central nervous system (like meningitis, encephalitis and meningoencephalitis) with a mortality rate of 1-2%. It can be divided in three subgroups: Western European (transmitted mainly by Ixodes ricinus), Siberian and Eastern (transmitted mainly by Ixodes persulcutus).
A vaccine exists only for the Western European subgroup and not for the others, which are the more pathogenic ones. TBEV is present in many parts of Europe, former Soviet Union and Asia.
Research at the CVR focuses on the interaction between the virus and it tick-vector, specifically the innate immune response and how this influences vector competence and transmission.
Contact: Alain Kohl
[Top]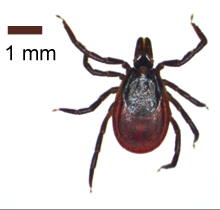 European deer tick (Ixodes ricinus)