Respiratory syncytial virus
Respiratory syncytial virus (RSV) is an important viral agent of childhood respiratory tract disease worldwide, causing pneumonia and bronchiolitis in infants. Reinfection is common throughout life, and RSV is also associated with severe illness in the elderly. No vaccine is available, and antivirals are of limited efficacy. RSV has a non-segmented, negative-sense RNA genome and is classified within the pneumovirinae sub-family of the Paramyxoviridae family. Related viruses include measles virus, mumps virus, parainfluenza viruses, canine distemper virus and the emerging pathogens Nipah and Hendra viruses.
Research in the CVR focuses on understanding the structure and assembly of the RSV virion and replicative complexes. We use cryomicroscopy and computational image reconstruction methods to calculate structures for components of the virion that play critical roles in the infectious process, including viral attachment and entry and RNA synthesis. These methods are also being applied to other important paramyxoviruses, in particular parainfluenza viruses.
Contact: David Bhella
[Top]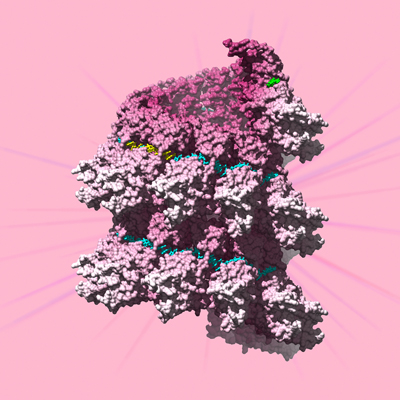 Atomic resolution model of the RSV nucleocapsid, calculated from cryomicroscopy and crystallographic data