Human Herpesvirus 6A and B
Human herpesvirus 6A and B (HHV-6A and B) are two closely related herpesviruses of the Roseolovirus genus. Most healthy adults in Europe, Japan and the USA are infected by HHV-6B, whereas HHV-6A infection is more common in Africa. Primary infection by HHV-6B can give rise to roseola infantum (sixth disease) and viral reactivation can have serious consequences in immunocompromised people. HHV-6A and B are unique among human herpesviruses in that they can integrate into the telomeres of human chromosomes. In around 1-3% of the population, HHV-6 is integrated in every cell in the body and passed on to subsequent generations in a Mendelian fashion—a phenomenon referred to as inherited chromosomally integrated HHV-6 (iciHHV-6). Little is known about the consequences of iciHHV-6.
Researchers at the CVR are investigating the prevalence, disease associations, genomics and evolution of iciHHV-6 using samples and data from large population-based studies.
Contact: Ruth Jarrett
[Top]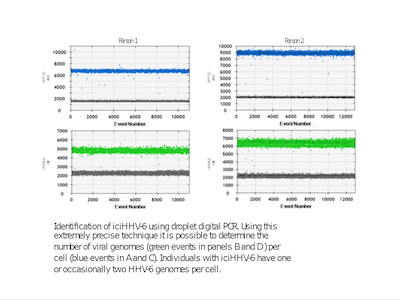 Identification of iciHHV-6 using droplet PCR.