Canine distemper virus
Canine distemper virus (CDV) is a widespread morbillivirus of carnivores. CDV is thought to have arrived in Europe in the mid-18th century when an epidemic spread across the continent. While known for many years as a virus of domestic dogs, CDV has been appearing in new areas and causing disease and mortality in a diverse range of wildlife species; from Ethiopian wolves, black-footed ferrets and Lake Baikal seals, to giant pandas, lions and tigers.
CVR researchers are developing novel assays for the rapid and accurate quantification of the immune (neutralising antibody) responses elicited by CDV infection and vaccination. These technologies enable them to examine the cross-immunity afforded by field strains of virus from distinct lineages and geographical origins, and the level of protection afforded by current CDV vaccines.
Contact: Brian Willett, Margaret Hosie
[Top]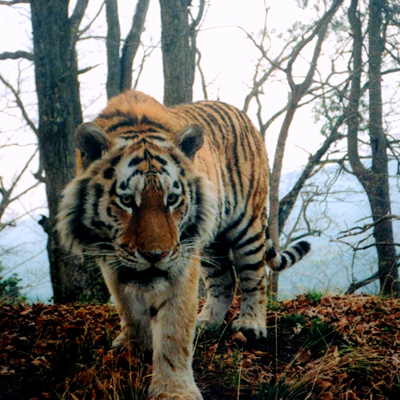 Camera trap photo of an Amur tiger. Credit: WCS Russia Programme