Acute Febrile Illness study
The Department of Arbovirology, Emerging and Re-Emerging Infectious Diseases at the Uganda Virus Research Institute (UVRI), established a surveillance programme in 2013 to obtain clinical public health data about the causes of acute febrile illness.
This programme, known as the Acute Febrile Illness study (AFI) is based at the UVRI with partners including the United States Centres for Disease Control and Surveillance (CDC) and the CVR.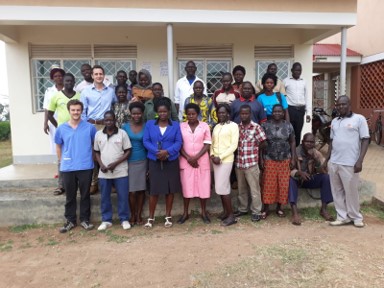 AFI study team in Arua
The study monitors patients with fevers and analyses blood samples from these patients.
One of the findings of the study was that arboviruses were the cause of many of the acute febrile illnesses detected (arboviruses are viruses transmitted by mosquitoes, flies, sand flies, lice, fleas, ticks, and mites). This discovery has led to the setting up of the Arbovirus Infection study (AVI).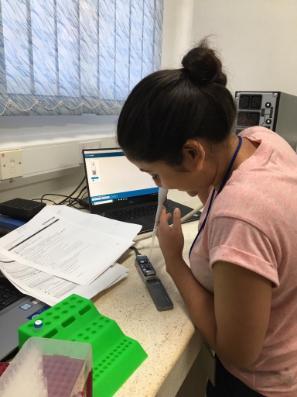 Dr Shirin Ashraf running the MinION sequencer at the UVRI satellite site in Arua
As samples continue to be collected as part of the AFI study, we will be analysing blood and respiratory samples from febrile patients who have tested negatively for malaria and other common causes of febrile illnesses. Additional blood samples will be collected as the patients convalesce in order to help determine how to better diagnose and manage future patients presenting with these infections.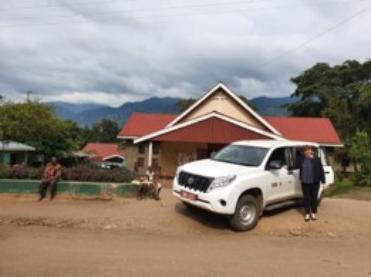 Prof. Emma Thomson on-site at Kagando Hospital, Kasese District, Uganda
Progress report: January 2021
219 samples from individuals with acute febrile illness have been analysed using metagenomic next generation sequencing. Further confirmatory assays are underway using novel serological and PCR-based methods.