Outbreak preparedness
Outbreak preparedness: the response to outbreaks of disease
International public health emergencies due to viral outbreaks are common and often require operational responses from multi-national agencies. The need for research as part of that operational response has been recognised by the World Health Organisation. As a result, the Global Outbreak Alert Response Network (GOARN) was formed. GOARN is a network of institutions and networks, constantly ready to respond to outbreaks of international importance. The CVR is a member of GOARN and may be asked to assist where appropriate, based on the location, severity and likely cause of an outbreak.
Outbreak preparedness: Bioinformatics
During outbreaks, we use technologies developed by the CVR and others to scan and analyse viral data and then upload this data via mobile phone applications in real time. The data is compared with existing data and fed into online open-access databases such as GISAID and GenBank; uploading this data gives immediate access to researchers across the globe and facilitates the earliest possible analysis for example for vaccine development.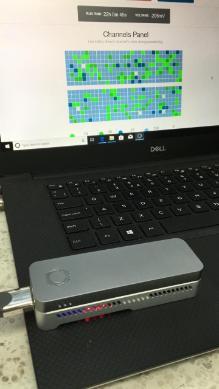 MinION sequencing at UVRI
Current research is aimed at enhancing this approach by developing a tool for the rapid identification of virus mutations and their placement in the appropriate evolutionary context. Such techniques, allow immediate identification of evolving changes in the viral genome during an outbreak and provides us with the opportunity to rapidly analyse the likely impact of such mutations using model systems.
Once optimised, these technologies are implemented on site. Staff in partner countries are trained in the techniques necessary to support this approach. Workshops for bioinformatics are already running in Africa and Asia (supported by the MRC – University of Glasgow CVR and the Wellcome Genome Campus).
Outbreak preparedness: Vector borne diseases
If a new virus is identified using next generation sequencing, we have the ability to culture the virus in the laboratory and in ticks and mosquitoes (in high biocontainment facilities) and then work to establish methods to interrupt transmission of the virus. These methods can prove essential to the ability to effectively manage an outbreak. Ongoing research at the CVR in this area is being carried out by the Sinkins and Kohl groups.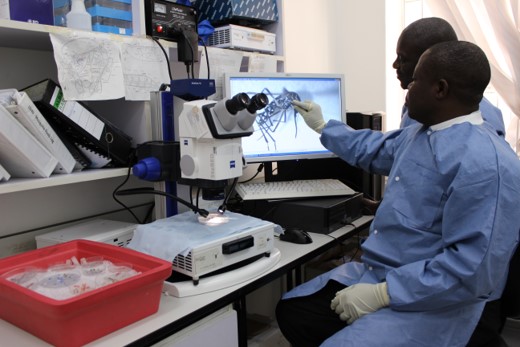 Mosquito identification, Uganda Virus Research Institute (M.Mayanja, PhD fellow)
Outbreak preparedness: Overall objectives
develop technologies for rapid identification of new and emerging viruses
develop technologies to facilitate information sharing amongst scientists during a disease outbreak and enable rapid response from the scientific community
identify and share improved methods for managing disease outbreaks
develop predictive models of disease severity