Nottingham University launches Soviet War Poster website
The University of Nottingham has created an online resource to celebrate its rare collection of Soviet War Posters. The collection has long been recognised as unique in the UK and as one of the largest of its kind internationally.
The "Windows on War" website was launched at the recent two-day "War and Culture in Russia and Eastern Europe" conference hosted by the Department of Russian and Slavonic Studies at the University of Nottingham, an institutional partner of CRCEES. This event and the Windows on War project were both supported by funding from CRCEES.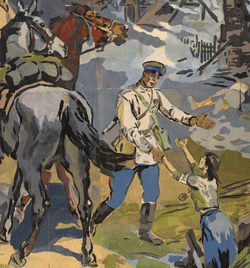 The TASS (Central Agency of the Soviet Union) Studio produced the posters during World War II as a way of keeping morale up on the home front. Their roots lie in popular prints (the lubok) and the ROSTA (Russian Telegraph Agency) windows used after the revolution. Given the low levels of literacy at the time, the prints and the ROSTA windows relied on strong images to communicate ideals of model behaviour and to commemorate important events. The WWII TASS windows were displayed in the windows of offices and shops which fronted main thoroughfares, and the operation was occasionally franchised to other cities.The uniqueness of the posters is attributed to the fact that they were hand-copied by teams of volunteers from an original design.
The website presents an excellent opportunity to explore and examine the details of design presented in the posters that combine to make them valuable examples of war propaganda, art and historical objects. Visitors can enlarge posters, view annotations on points of interest and read additional commentary, war context and information about the creation of each poster.


---
First published: 3 April 2013