Cross-LBAS Conference presentations now available online
Speakers at the Cross-LBAS Advanced Research Methods Conference have kindly supplied CRCEES with their presentation slides, which are now available on our website.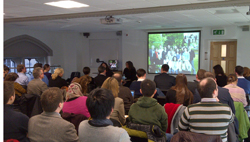 The conference took place on Friday 30 November and was hosted by The Centre for Russian, Central and East European Studies (CRCEES). Our event partners were CASAW, CEELBAS and WREAC.
Themes range of themes from the ethics of fieldwork to conducting research in other cultures and issues of translation and you can download them here:
---
First published: 7 January 2013