British Academy Research Project
The third and final research seminar of the British Academy research project, National Mythologies in Central European TV Series, took place at CRCEES, University of Glasgow on 7th and 8th December 2012.
The aim of this project has been to coordinate an international research network examining national mythologies contained within popular TV series in the Czech Republic, Poland and Hungary. After an initial meeting in May 2011 in Poland, a series of three two-day workshops has taken place in Prague, Bydgoszcz and Glasgow involving lead researchers from the Czech Republic, Poland, Hungary, Romania and the UK.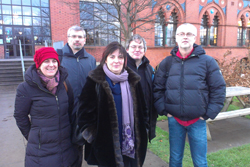 These workshops have:
Developed a common methodology for the empirical study of the value system of two selected Central European TV series, one from the communist and one from the post-communist era.
Explored common methods for a theoretical study of identity, as disseminated into society by popular TV series.
Refined the scope of a future large-scale research project in the field.
The meetings have also provided the background information for the preparation of a budget and structuring of an application for a major ESRC/AHRC grant.

The participants of this research project have produced an international monograph entitled 'How JR won the Cold War? Cultural mythology, ideology and everyday life in Central and East European TV series' which will be published by Sussex Academic Press, Brighton and Toronto, in 2013.

The Project Leader is Dr. Jan Culik, University of Glasgow.

Participating researchers are:
Dr. John Bates and Dr. Zsuzsanna Varga, University of Glasgow.
Professor Petr Bilek, Charles University, Prague.
Professor Alicja Kisielewska, University of Bialystok.
Dr. Doru Pop, Babes-Bolyai University in Cluj.
Professor Piotr Zwierzchowski, Kazimierz Wielki University, Bydgoszcz.
---
First published: 10 December 2012