Julia Yates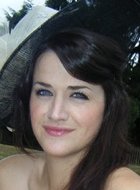 Contact details:
Faculty of Veterinary Medicine
464 Bearsden Road
University of Glasgow
Glasgow
G61 1QH
Tel.: 0141 330
Fax: 0141 330
E-mail:
Academic History
2003 - 2007: BSc(Hons) Equine Sports Science, Nottingham Trent University
2008 - Present: MSc 'Determinants of loss in the Thoroughbred breeding Industry' supervised by Tim Parkin and
Dominic Mellor
Research Interests
The primary aim of my work is to identify veterinary reasons for foals failing to reach weaning, sales, pre-training, training and racing. We will identify risk factors for the major causes of loss and develop management strategies to minimize wastage. The project will involve the use of content analysis to extract information from a dataset that includes the history and racing performance of more than 1000 foals born within a large international breeding operation since the year 2000.
Publications
Dixon, P. M., Barakzai, S., Collins, N., Yates, J. (2008) Treatment of equine cheek teeth by mechanical widening of diastemata in 60 horses (2000–2006). Equine Veterinary Journal. 40 (1): 22-28
Dixon, P. M., Barakzai, S., Collins, N., Yates, J. (2007) Equine idiopathic cheek teeth fractures: Part 3: A hospital based survey of 68 referred horses (1999–2005). Equine Veterinary Journal. 39 (4): 327-332