Flavie Vial
Flavie Vial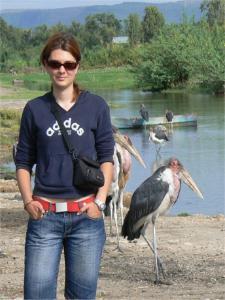 Academic History
Academic History
2006-present: PhD "Conservation science for common ground: developing the necessary tools to manage livestock grazing in Bale Mountains National Park, Ethiopia". My PhD is supervised by Professor Dan Haydon at the University of Glasgow and Professor David Macdonald at WILDCRU ( Oxford University ).
2005-2006: MRes Ecology and Environmental Biology, University of Glasgow
2003-2005: BSc Hons. Zoology, University of Glasgow
2002-2003: First year Zoology, University of Royal Holloway , London
Previous research projects
Previous research projects
Rabies vaccination strategies in African wild dogs (Lycaon pictus). (Honours project supervised by Dr Dan Haydon)
Energetics of interspecific competition between African wild dogs (Lycaon pictus) and lions (Leo panthera). (MRes project supervised by Dr Dan Haydon and done in collaboration with Dr Goran Spong in Cambridge )
Factors affecting the prevalence of blood parasites in breeding blue tits (Parus caeruleus) and great tits (Parus major). (MRes project supervised by Dr Kathryn Arnold)
Scholarships & Awards
Scholarships & Awards
2007: British Airways Travel Bursary
2007: Glasgow Natural History Society - Blodwen Lloyd Binns Bequest Fund
2007: Frankfurt Zoological Society - Africa Small Project Fund
2006-2009: University of Glasgow scholarship (IBLS)
2005-2006: Bellahouston Scholarship
Research
Research
My research project is on grazing management in the Bale Mountains National Park, Ethiopia.
Publications
Publications
Vial, F., Cleaveland, S., Rasmussen, G. & Haydon, D. T. Development of vaccination strategies for the management of rabies in African wild dogs. Biol. Conserv. 131, 180-192 (2006).
Spong, G., Vial, F., Creel, S. & Haydon, D.T. Energetics of interspecific competition between African wild dogs (Lycaon pictus) and lions (Leo panthera): can big carnivores coexist inside reserves? In prep.