Douglas Kerlin
Douglas Kerlin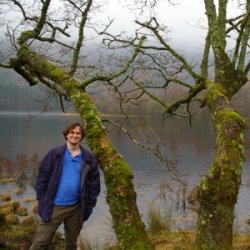 Academic History
Academic History
2005-2009: PhD student The University of Glasgow
2000-2001: M. Inf. Tech. The University of Queensland
1995-1999: B. Sc. (Hons.) The University of Queensland
Research Interests
Research Interests
My major research interests lie in the field of population ecology and in the impacts of environmental and conservation policy on ecosystems and wildlife.
I am currently in the second year of my PhD, which is being supervised by Prof. Dan Haydon from The University of Glasgow, and Prof. David Miller and Dr. Simon Thirgood from The Macaulay Institute in Aberdeen. This research is supported by a Postgraduate Studentship from The Macaulay Development Trust.+
Currently, my work is investigating the population dynamics, the red grouse (Lagopus lagopus scoticus). The primary aim of this work is to develop an understanding of the various processes driving synchrony in the population dynamics of this species.

Kerlin, D.H., Haydon, D.T., Miller, D., Aebischer, N.J., Smith, A.A. and Thirgood, S.J. Spatial synchrony in red grouse population dynamics. Oikos (In Press).
Link for Online Version to:
http://www.blackwell-synergy.com/doi/abs/10.1111/j.2007.0030-1299.16145.x