Institute Research Fellow becomes a National Geographic Society Emerging Explorer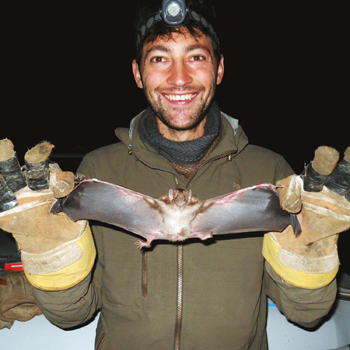 Dr Daniel Streicker, a Wellcome Trust/Royal Society Sir Henry Dale Fellow, joins a group of 14 inspiring trailblazers from around the world in the National Geographic Society Emerging Explorers programme. The programme recognises and supports gifted and inspiring adventurers, scientists and innovators—all early in their careers—whose achievements are making a difference in the world.
"Our Emerging Explorers are inspiring young visionaries and innovators who will help lead a new age of discovery," – Terry Garcia, National Geographic's chief science and exploration officer.
A member of both the Institute of Biodiversity, Animal Health & Comparative Medicine and the MRC-University of Glasgow Centre for Virus Research, Dr Streicker's research focuses on the evolution and disease ecology of viruses associated with bats. Working between Glasgow and Peru, Dr Streicker and his group focus on rabies in vampire bats with the aim to understand how, when and where viruses jump from one species to another—between species of bat, and from bats to livestock and humans. The research will help researchers anticipate future disease outbreaks and to develop a scientific basis for disease control.
Each Emerging Explorer receives a $10,000 award, to support their continuing research and exploration. The awards are being presented during the annual National Geographic Society's Explorers Symposium taking place in Washington DC this week.
Watch Daniel's talk:
National Geographic relies on a network of experts who nominate new candidates each year. Candidates are not notified that they've been nominated, so when Dr Streicker received an email saying he'd been selected it came as something of a surprise, 'I almost deleted it without reading. It's not too often that you get a totally unsolicited and unexpected email saying that you won an award.'
Thinking about how he might use the money Dr Streicker said, 'In the last few months I have been building collaborations with new partners in Peru, and a lot of ideas for small projects have come from that. I think these kinds of flexible funds would be great to support those projects and get Peruvian students and assistants more actively involved.'
As the latest member of the National Geographic family of explorers, we look forward to seeing and hearing more about Dr Streicker's research in the field through the National Geographic media.
Find out more
Daniel Streicker's National Geographic Explorer profile and interview
Earlier this year Dr Streicker was profiled in a Researcher Spotlight feature on the Wellcome Trust blog, and in 2013 was the winner of the Science & SciLifeLab Prize for Young Scientists for his work on the transmission of the vampire bat rabies virus in Peru.
Dr Daniel Streicker researcher profile
---
First published: 9 June 2015