The Centre for Battlefield Archaeology Postgraduate Conference
'We go to gain a little patch of ground': postgraduate research in conflict archaeology'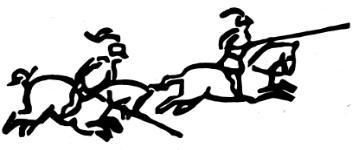 Conference has now finished. This page has been retained as a reference for delegates.
Online Registration is now closed. Please email conflictpg@gmail.com if you wish to attend the conference
7th - 9th October 2011, University of Glasgow
Email: conflictpg@gmail.com
The Centre for Battlefield Archaeology at the University of Glasgow is hosting a three-day postgraduate conference bringing together researchers working within the field of conflict archaeology. It is intended that this conference be a postgraduate answer to the Fields of Conflict conference cycle. The first Fields of Conflict conference, held in Glasgow in 2000, represented a significant horizon for those eager for the opportunity to share pioneering research in the burgeoning field of conflict archaeology. In the last decade, conflict archaeology has transformed from a radical sub-discipline into an established, yet dynamic, academic subject covering a myriad of research avenues.
This postgraduate conference will bring together postgraduate researchers from around the world, providing a platform to present a new generation of research in the field of conflict archaeology. It is hoped that this conference will address a perceived lack of forum for the discussion and presentation of postgraduate work in all facets of conflict archaeology and will in turn foster a vibrant postgraduate research community that forges intellectual, international and interdisciplinary connections. We go, therefore, 'to gain a little patch of ground' (Hamlet IV.iv.18).
Papers will cover a wide range of research interests, reflecting the multifaceted nature of conflict archaeology, covering all time periods from the ancient to the contemporary.
Papers will examine topics such as:
Methodologies and new approaches
Landscapes of conflict
Warfare, violence, resistance
Politics and propaganda
Memorialisation, remembrance and forgetting
Imprisonment / internment
Colonial encounter
Heritage management of sites of conflict and public engagement
Battlefield tourism, thanatourism
Recreation, re-enactment and ersatz experience
Ethics of studying violence and conflict
Investigating and interpreting uncomfortable / problematic histories
Recovery of remains
In addition, delegates are invited to participate in student-led workshops and round table discussions during the final afternoon of conference proceedings (more information to follow).

Selected papers from the conference will be published in a special edition of the Journal of Conflict Archaeology.
Watch this page for updates – a provisional programme will be coming soon.
For further information contact Natasha Ferguson, Jennifer Novotny or Jonathan Trigg.
Centre for Battlefield Archaeology
University of Glasgow
Gregory Building
Lilybank Gardens
Glasgow G12 8QQ
+44 (0)141 330 2304
conflictpg@gmail.com
Keynote speaker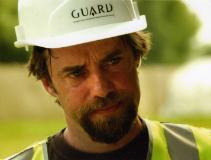 The keynote speaker is Dr. Tony Pollard, University of Glasgow. He has carried out battlefield and conflict related archaeological projects in the UK, mainland Europe, Africa and South America. His interests range from 18th-century warfare, particularly in relation to the Jacobite rebellions in Scotland, to the archaeology of the First and Second World Wars. A co-organiser of the first Fields of Conflict conference, Dr. Pollard has long been at the forefront of research in conflict archaeology.
The keynote speech will be given on Friday evening, 7 October at the Officer's Training Corps Drill Hall. This will be immediately followed by a welcome reception at the Drill Hall with a cash bar.
Field trip - I'm afraid there are no longer spaces available for this trip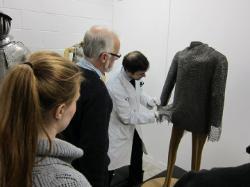 On the morning of Friday, 7 October, we will be offering an artefact handling session led by European Arms & Armour curator Ralph Moffat, at the Glasgow Museums Resource Centre, Nitshill. A minibus will pick you up at 09.30 and transport you directly from the Archaeology Department (Gregory Building) to the Resource Centre, returning to the Archaeology Department at midday. For a sneak peak at some of the items in the Glasgow Museums collection, see Glasgow Museums Collections
There is no charge for this session, however, please register here as soon as possible. Places are extremely limited, due to restrictions on how many people are allowed in the museum stores at one time.
If you have any questions or require additional information, email conflictpg@gmail.com
Conference dinner
Conference Dinner is now fully booked.
The conference dinner will be held on Saturday, 8 October at Balbir's - 7 Church Street (please note the venue has been changed)
The price is £18.50 and includes starters, entrees, and bread and rice from a set menu. The menu includes vegetarian options.
We ask that you pay the conference dinner fee in advance, no later than Friday, 23 September so that we can finalise the booking for our large party. Though places may be available on the day, these will not be guaranteed.
Please advise us well in advance if you have any special dietary requirements or allergies.
Contact Details
For further information contact Natasha Ferguson, Jennifer Novotny or Jonathan Trigg.
Centre for Battlefield Archaeology
University of Glasgow
Gregory Building
Lilybank Gardens
Glasgow G12 8QQ
+44 (0)141 330 2304
conflictpg@gmail.com