Guest speakers and events
Guest speakers and events
Practitioners, Processes, Professions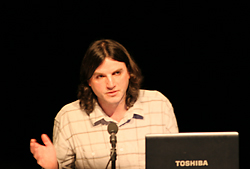 Theatre Studies runs a strand of workshops/seminars under the title 'Practitioners, Processes, Professions'. We regularly invite practitioners to discuss their work with students and staff, and often to accompany these discussions with a 3-hour workshop for interested students.

In recent years, visiting practitioners have included:
Euan Downey, Polish Laboratory Theatre
Nic Green, performance artist/director
Guillermo Gómez-Peña, international performance artist
Ben Harrison, Grid Iron theatre company
Adrian Howells, performance artist
Stewart Laing, international director and artistic director Untitled Productions
Kira O'Reilly, UK-based artist
Tian Qinxin, theatre director, National Theatre of China
Anthony Schrag, performance artist
Reckless Sleepers, performance company
Robert Sturm, Artistic Director of Tanz Theater Pina Bausch Wuppertal
Theatre Studies Research Seminars
The Theatre Studies Research seminars are held three to four times during term-time, and host papers from visiting speakers and distinguished scholars, as well as profiling on-going research by Theatre Studies staff. The seminar series provides a forum within which postgraduate students and staff can meet to discuss and debate current research in the fields of drama, theatre and performance studies. Each session offers an interdisciplinary context for discussion.
In previous years guest speakers at the Theatre Studies Research Seminar series have included:
Lucy Weir, History of Art, University of Glasgow: In Vogue: The Evolution of 20th Century Contemporary Dance: a lecture/demonstration with Ruth Mills
Professor John Hall, University College Falmouth: Practising and essaying near the sign of Performance Writing
David Grant, Queen's University, Belfast: 'Living in the Moment': time, space, the arts and dementia
Robert Sturm, Artistic Director of Tanztheater Pina Bausch Wuppertal: The Work of Pina Bausch
Dr Anna Birch, Royal Scottish Academy of Music and Drama (RCS): Repetition and performativity: multi layered fresco as living monument
Professor Elinor Fuchs, Yale School of Drama: Postdramatic theatre and its discontents: the future of a theory
Professor David Williams, Royal Holloway, University of London: Lone Twin Theatre's Catastrophe Trilogy