What our students say
What our students say
Eilidh MacGregor, Scotland
MSc Real Estate - Eilidh MacGregor
Rong Cai, China (2019-20)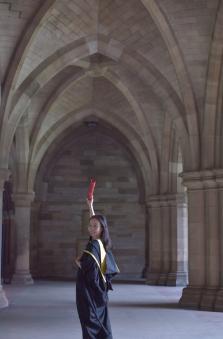 I started to become interested in real estate because of part of my work experience in China. The knowledge learned at work back then was scattered and unsystematic. High-rank and unparalleled campus environment with a good reputation and the curriculum design fit what I desired to know, all of which are the reasons why I chose University of Glasgow.
MSc Real Estate Programme offers a wide range of courses, each course covering a variety of topics. What I enjoy most is programme emphasises the importance of critical thinking ability for learning. In the course design, I am free to choose the topic which I am interested in, then establish own perspective about topic and deeply discussed, which is often reflected in the final evaluation of the course.
Comapred with experienced Chinese study style, what surprises me the most is the richness of class forms such as lecture and seminar. The curriculum is designed to combine classroom knowledge with practical application. First, teachers impart knowledge in the form of lecture. Then, the seminar aims to help us understanding the knowledge of letures, this form not emphasising a small class size so everyone get individual attention from the staff but providing a lot of opportunities for students to express own ideas and exchange views with others.
The campus is very beautiful, I can imagine crossing through "Hogwarts", like a wizard learning 'magic' here. The school also has a large and morden library where the learning atmosphere is constructed and enormous literacy sources are provided for students to get access to. Moroever, I can make a lot of friends at here, they coming from different countires, which is delightful.
I would recommend this programme. There are many reasons but what I think the most crucial one is that professors at here are knowledgeable and passionate about their fields and will assist you as much as they can in the study process.
The design of the programme is directly related to my future work in the real estate field. It provides a basically and multi-dimensionally professional framework, and through which I can re-look at real estate finance, development process, appraisal and market research from a global perspective.