What our students say
What our students say
Robin Joel Van Mulders, Sweden (2016-17)
‌
Why did you decide to study at the University of Glasgow?
When choosing to pursue an LLM after my undergraduate degree, the University of Glasgow was a clear choice. Having completed my undergraduate law degree at another Scottish university I was well aware of the university's excellent reputation as an academic institution. Given that I wanted to pursue the specialist subject of competition law I had narrowed down my list of possible universities to five across the UK. Out of those, Glasgow was the one university which offered me the opportunity to study three major jurisdictions and a truly international LLM experience.
Why did you choose your programme of study?
Having studied competition law in my undergraduate degree and found a deep passion for the subject, and not being sure whether practice or academia was the right path for me, an LLM in the very niche area seemed like the best way to improve my employability chances. I had spoken to several lecturers at the university including the programme lead, Professor Mark Furse, and arrived at the conclusion that choosing all three competition law modules and an added module in EU Trade Law would be the best fit for me.
What can you tell us about your experience studying at the School of Law?
Studying at the School of Law was an excellent experience for several reasons. The professors and lecturers were all very friendly and engaging, helping out with both academic queries throughout the semester as well as with your own professional development. Most of them operate an open-door policy, which come dissertation time can be most helpful! On the social side of things, my experience will have differed from most students. Living in Edinburgh and commuting to Glasgow two to three days a week was flexible, and both the programme and school accommodated this perfectly. Given that the School of Law is in the heart of the West End, you are never too far away from cafés or pubs, which after a long day at the library can be a welcome break and a great opportunity to catch up with your colleagues and friends.
What did you like the most?
The thing I liked the most about my time on the LLM was the intellectual challenge that it offered. The fact that the content which we covered often contained multi-jurisdictional issues (such as the interaction of competition regulation and intellectual property law in the EU and US), or considering the substantive and procedural issues which should be considered when constructing a competition regime was both challenging and rewarding at the same time.
How was your academic experience?
Absolutely outstanding! With only two contact hours per module per week you have the freedom to study and prepare in your own time, and thus use your teaching hours more effectively by discussing high level issues rather than merely discussing the law and what it means. Rather than feeling like we were spoonfed, these classes were made for constructive intellectually rigorous discussions on key developments in our chosen modules.
What support/facilities did you find most useful?
Given that I commuted to university, my time was mostly spent trying to be as productive as I could. Therefore, the most necessary were the library and café facilities. LLM students are lucky in this respect at the University of Glasgow since we have our own dedicated postgraduate area of the library as well as our personally dedicated 'postgraduate club' for socialising.
What do you think of Glasgow, the city? How is it like to live here as a (international) student?
Glasgow is an amazing city, and the best word to describe it is friendly. There is something for everyone! You could spend your weekdays discovering cafés and museums in the West End, your evenings in night clubs and your Saturdays at concerts at the SSE Hydro. As to living in the city, having commuted back and forth between Edinburgh and Glasgow during my LLM years I cannot speak from personal experience.
How do you feel your programme helped you with your career plans?
Pursuing an LLM in International Competition Law & Policy at the University of Glasgow was genuinely one of my greatest personal career investments. Having an interest in what is a very niche area of law, it can be quite difficult to determine whether it is the right career path for you after only taking an undergraduate module in it. The LLM which I undertook confirmed how passionate I feel for this niche (somewhat geeky) area of law which has a tangible impact on peoples lives on a daily basis. It also offered in-depth knowledge and understanding of competition issues which I currently work with on a daily basis as a legal intern at the Competition and Markets Authority. I am more than certain that it will stand me in good stead for a quickly rising and fulfilling career.
What would you recommend to a potential student thinking of coming to the School of Law?
If you are a student and you are thinking of getting a high quality LLM from an international and worldclass university, then you have come to the right place! However, there are a few questions you should ask yourself though before embarking on this great journey:
Why are you doing it?

Ask yourself what you think you will gain from the particular programme that you are thinking of applying to. Is it for career progress? Career progress into academia or practice? In the case of a specialist subject like competition law you might find that to get a job you are competing against other applicants who already have LLMs, and as such it might be a way to show your dedication to the profession that you are choosing.


Why this course at this University?

Many universities might have LLMs in commercial or corporate law, but what is it about this course at the University of Glasgow that separates it from other institutions? It might be worth emailing a professor to see what they offer which is different. In my case, it was the multi-jurisdictional element and the prominence of the University in merger regulation research which really attracted me and separated Glasgow from others in terms of substantive teaching.


Are you ready for a challenge?

The University's of Glasgow worldclass reputation, and particularly its School of Law reputation does not come easy. The classes are meant to be intellectually challenging, developing your analytical and drafting skills for your benefit, which also means hard work. The reward is that if you grab the opportunity to join the University of Glasgow's LLM programme then you will be given the tools to become the best you can be.
Laura Sanchez Rogriguez, Dominican Republic (2014-15)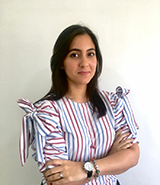 'In 2013 I started working at the Dominican competition authority, Pro-Competencia. Most countries have competition laws and agencies in order to promote and ensure that there is fair competition between undertakings, therefore antitrust laws prohibit unlawful monopolisation (also known as abuse of dominance) and anticompetitive agreements between competitors since they usually result in harm to general economy and consumer well-being. In small market economies like mine, competition law is particularly important due to the size of our markets and the number of companies involved. Having an enforced competition law in Dominican Republic means creating a safe environment for investment, innovation and economic efficiency. At the time, our competition law had not entered into force, but I had a thirst for antitrust. A year later, I applied for a Chevening scholarship with the hopes of bringing back the knowledge and skills to help grow and develop our agency and therefore Dominican commerce for the welfare of the population.
Thanks to the Chevening programme, the Foreign and Commonwealth Office and the University of Glasgow I underwent the International Competition Law & Policy LLM, from which I graduated with Merit in 2015. The amazing programme, the resources and the quality of the professors allowed me to bring back to my country a comparative analysis of antitrust, how competition laws should be applied, how investigations should be conducted and the skills to analyse what today are the first competition cases opened in our country.
In January 2017 our law finally entered into force and today I am honoured to be part of the pioneer staff that is making history in the Dominican Republic with regards to the application of competition law, conducting the first investigations opened by Pro-Competencia in our country. In less than a year, our agency has opened investigations for possible abuse of dominance conducts in beer and car insurance markets, possible anticompetitive agreements in the flour market, cases regarding unlawful competition in supermarkets, as well as sector studies in the transport and bread industries, apart from advocacy duties within government institutions. My year at Glasgow prepared me for what I am enduring today and I will be forever grateful for all the wisdom and guidance I received from all my professors at the University, as well as the welcoming treatment from every member of staff and our (because it is still mine at heart) amazing library.'
Jessica Desgrugilliers, France (2017-18)
'I had high expectations when I arrived in Glasgow and they were all fulfilled. I have been surrounded by open-minded and curious people, while going to very interesting interactive seminars. Everyone here is easy-to-approach, especially the teachers. The city is beautiful, and every stranger has a story to tell. I simply love it!'
Elona Faldaas, Norway (2017-18)
'My year in Glasgow is soon coming to an end, and I am very happy with the experience I have had here. Studying at the University of Glasgow has been rewarding in itself - the professors are engaging and knowledgeable, and I am content with the academic level of the studies. There is no doubt the city also has a lot to offer outside of the school premises – you will always have something to do, whether you like to go to good restaurants and cool bars, or visit museums, parks and go to concerts. There is never a dull moment in Glasgow.'
Marlen Kemper, Germany (2017-18)
'Living in Glasgow made me feel at home from the very beginning. The warm atmosphere of the city, despite the cold weather, as well as the friendly and open-minded people helped me to get along well right from the start. This counts for the University of Glasgow as well where I felt welcomed and supported from the very first day. Not just the quality of professors and the standard of the library but also the range of study related (career) events as well as extra-curricular activity, confirmed the good reputation of the University of Glasgow and therefore my choice of doing an LLM here.
As I have always been interested in law and economics and their interrelation, doing an LLM in International Commercial Law seemed like the perfect opportunity for me to combine these areas. After attending the introduction week presentation of the different LLM programmes the University has to offer I was caught by the idea to specialise in International Competition Law. The possibility to concentrate on a niche area of commercial law that is spreading over the world and gaining influence and importance, whilst focusing on three of the main jurisdictions, fascinated me. Throughout the year, I have got to know not only how these three main jurisdictions are structured, which goals they pursue and which challenges they face, but also which obstacles countries trying to introduce competition law have to overcome and how different mentalities and backgrounds are mirrored in the application and introduction of competition law. These facts, as well as the specific focus on merger control taught by leading academics in this field, combined with sharing lectures with students from across the world each bringing different perspectives and approaches allowed me to really get into the area of international competition law and made me highly enjoy my year in Glasgow.'