Central & East European, Russian & Eurasian Studies (Erasmus Mundus International Master)
IntM
What our students say
What our students say
Sarah El-Menawi, Egypt (2016-18)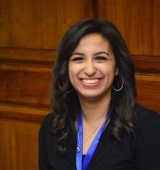 'A lifetime experience that wasn't anticipated at all. Even though my enrolment to the program came by chance, it was the best thing that ever happened to me. The degree of diversity that I encountered in that programme was beyond my expectations. Not only the students but also the teaching staff come from various backgrounds and nationalities which make the learning journey worthwhile. Glasgow is also a beautiful city where you can study, have fun, meet new people, and explore your potentials for development. Support is always provided for all the inquisitive out there and feedback is always cherished inside the university.
I studied political science in my undergraduate degree and I was involved in student activities and community development initiatives through my studies, besides being a professional basketball player back in Egypt. When I came to Glasgow, I thought that I would have to abandon all the extracurricular activities I used to do to focus on the Masters. However, I found myself joining the university basketball team and contributing to any voluntary opportunities that pass by, besides studying. This taught me a very important lesson; you should never give up on your dreams, and for you to find what you are passionate about, you should try everything and get involved in every aspect of the opportunities provided.
The programme was an eye-opening experience for self-exploration; it doesn't just provide its students with the learning experience they needed, every course contributes to our knowledge and the focus of the subjects vary widely, giving us more options and flexibility to discover our research interests. My research interests are mainly in the field of international relations and I am currently focusing on the relations between Russia and the West for my thesis. Also, the chance to learn a foreign language is an opportunity you can't find elsewhere which provides you with an in-depth knowledge of the area under study and a competitive advantage for the labour market afterwards.'
Firdavs Badalov, Tajikistan (2015-17)
'I was fortunate enough to have been granted and benefited from this fascinating 2-year double degree programme. Its uniqueness chiefly lays on the combination of features the programme offers to its students: active involvement of the world class institutions, leading academicians, and the sophisticated structure and resources. Developing independent research skills, approaching to the socio-economic, political and security challenges within the Post-Communist as well as the global context in a more critical manner were key skills I gained from the programme. Innovative facilities and numerous resources the University of Glasgow provides for its students, keenly motivated academic staff enabled me to enhance both my personal and academic skills. More importantly, aforementioned essential features of the programme, equipped me to analyze and examine my own region, Central Asia, from various perspectives.
It should be noted that undertaking studies would have been much less enjoyable without the programme's impressive international component. Notably, benefiting from international experience at least in two different countries, expanding the personal network to multinational level, participating in employability events would only boost students' ability to choose the right career path. Finally, undertaking my postgraduate studies in one of the top universities in the world would not have been possible to realize without the financial aid provided by the European Union. Therefore, I am eternally grateful to the European Commission, the University of Glasgow, and all involved parties for their invaluable contribution and making this project an outstanding academic quality.