UofG student satellite design set for launch after competition win
A team of University of Glasgow students will see a satellite they designed sent into space after winning a £600,000 national competition.

The GU Orbit team were announced as the winners of the LaunchUK Nanosat Design Competition at an awards event at Farnborough International Airshow on Friday 22nd July. The competition is run by the UK Space Agency and Department for Transport.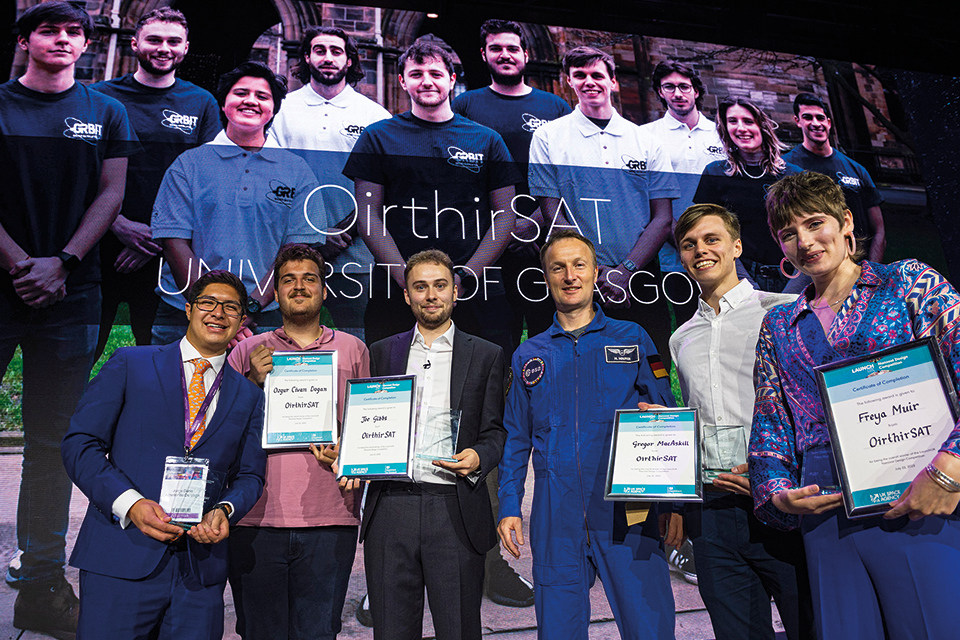 They beat 40 teams from across the UK, aged between 16 and 37, with the judges praising their entry for identifying a clear way to tackle climate change and test new technologies. The team spent months of intensive work on design and planning, with feedback provided by experts from the UK Space Agency.

The team's design for a satellite capable of monitoring climate change from space will now be built and could be launched from a UK spaceport as soon as next year.

The team's design, called OirthirSAT, is a nanosatellite which aims to monitor shorelines and coastal vegetation from orbit using images taken in the visible and near-infrared portions of the spectrum.

Those images, aggregated over time and processed onboard the nanosatellite, could help scientists and policymakers to track, quantify and mitigate the effects of climate change on coastal regions.

Joe Gibbs, one of the student leads of the OirthirSAT team, said: "The whole team are delighted to have been selected as winners of the competition and to move one step closer to launching the OirthirSAT platform.

"The competition has highlighted the existing capability of student teams to design nanosatellites and we hope as a team to showcase what the UK space sector has to offer. Following this result, we move onto the detailed design phase and will begin refining the design of our nanosat ready for the critical design review (CDR) later this year.

"OirthirSAT will generate important data on the UK coastline that will be invaluable to shaping UK policy on climate change, and I look forward to being a part of the student team developing the platform."

Freya Muir, the Science Officer of the team, is also delighted with this win for the team, the university and the field of coastal science. "Going through the competition and designing the mission helped show us that there is a real desire and need, both in industry and in research, for up-to-date information on how our coasts are changing with rising sea levels and increased storm activity.

"We're really excited to be one step (or giant leap!) closer to being the first UK group and first international nanosatellite to provide these regular satellite observations of the coast."

Dr Kevin Worrall, of the James Watt School of Engineering, has mentored the team through the process of developing OirthirSAT.

Dr Worrall said: "It is fantastic that the OirthirSAT team are winners. This is a great reward for the hard work and dedication the full team has put in. It has been a pleasure working with the team and I wish them luck for the next stage of the competition."

Transport Secretary Grant Shapps said: "With satellite launches due to start from home soil this year, there is no better time to support the next generation of space experts in developing satellites to support our mission against climate change.

"My congratulations go to OirthirSAT and everyone shortlisted for their hard work throughout this competition, and I applaud the innovation all the teams have shown throughout."

Dr Paul Bate, Chief Executive of the UK Space Agency, said: "Satellite technology plays a crucial role in monitoring our climate and it is fantastic to see so many innovative ideas to help tackle the most pressing issue facing our planet. My congratulations go to the winners from the University of Glasgow for their excellent design.

"The countdown to the first satellite launch from UK soil is on and this will be a historic year for our space sector. Being the first country in Europe to offer launch will boost our satellite industry further, creating hundreds of new jobs across the UK."

The Nanosat Design Competition opened in November 2021, with aspiring space scientists invited to design a small satellite suitable for launch from the UK to help inform solutions to climate change.

Five teams were chosen from the initial entries to go through to the final stage, which included a four-month mentoring programme with space sector experts. The OirthirSAT team was announced as overall winners at a ceremony with UK Space Agency CEO Dr Paul Bate and ESA astronaut Matthias Maurer, during the Farnborough International Airshow.

UK Government Minister for Scotland Iain Stewart said: "Congratulations to the University of Glasgow students behind this innovative satellite design. I look forward to seeing how this UK Government funding helps bring their fantastic ideas to life.

"With satellites playing an ever-greater role in monitoring and helping combat climate change, it's inspiring to see Scotland's next generation of scientists exploring new ways that space technology can help us understand our environment."

The OirthirSAT team is made up of undergraduate and postgraduate students from across the James Watt School of Engineering, the School of Computing and the School of Geographical and Earth Sciences.

The members of the team are:
Nektarios Chari, MEng Mechanical Engineering
Ozgur Civan Dogan, Computing Science
Joe Gibbs, PhD, Aerospace Sciences
Diego Hidalgo De Las Heras, MEng Aeronautical Engineering
Natalia Ibagon, MSc Robotics and AI
Gregor MacAskill, MEng Aeronautical Engineering
Ignacio Serrano Martín-Sacristán, BEng Aerospace Engineering
Freya Muir, PhD in Geographical and Earth Science (Coastal Modelling)
Theodoros Serghiou, MEng Electronics and Electrical Engineering
Georgios Titas, MEng Electronics and Electrical Engineering
---
First published: 25 July 2022