Music and physics combine to make a splash at Glasgow swimming pool
Published: 10 November 2023
A Glasgow swimming pool is set to host an event which fuses music and science to create performances inspired by gravitational waves.
A Glasgow swimming pool is set to host an event which fuses music and science to create performances inspired by gravitational waves.

On Saturday 18th November, the Arlington Baths Club in the city's west end will host 'Swimming with Gravitational Waves', which brings together physicists from the University of Glasgow with musicians and sonic artists.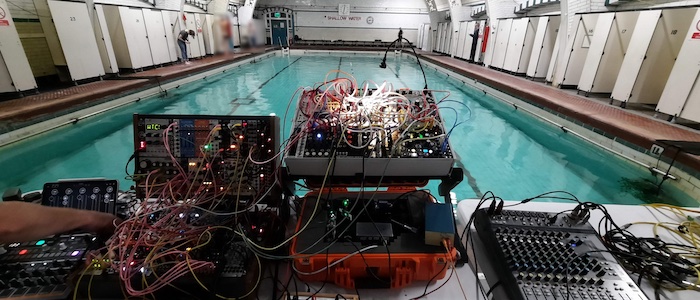 Visitors to the pool will have the opportunity to hear about how physicists in the city contributed to the historic first detection of gravitational waves in 2015. Then, they can get into the pool and enjoy music and sound art which will be audible both above and below the water.

Gravitational waves – ripples in spacetime caused by massive cosmic events like the collision of black holes – were predicted to exist by Albert Einstein in his general theory of relativity in 1916.

By the time those ripples reach the Earth, however, they are so faint and difficult to detect that it took a century before scientists could build a machine capable of picking up their traces as they passed through our planet.

Researchers at the University of Glasgow played a key role in that historic first detection at the Laser Interferometer Gravitational-Wave Observatory in 2015.

Glasgow scientists helped to build the delicate mirror suspensions which made the detection possible. Twin sets of mirrors reflect lasers which measure the tiny changes in distance between the mirrors when gravitational waves pass through them – a process known as interferometry.

A version of that interferometry technology is found in audiovisual performer Leon Trimble's 'gravity synth', which he will play during the event at Arlington Bath Club.

His performance will be followed by a 'sonic journey' played through underwater speakers, designed by the developer of the Wet Sounds aquatic sound system, Joel Cahen aka PluronOvarian.

The event, created by Leon Trimble, is the second in a planned series to be held at swimming baths around the UK, following the sellout success of the first performances held in Birmingham in June.

Dr Andrew Spencer, a lecturer at the University of Glasgow's Institute for Gravitational Research, will deliver a short presentation on gravitational wave science before the performance begins. Dr Spencer said: "I'm delighted to be bringing this event to Glasgow, which is home to the UK's largest gravitational wave research group.

"The ripples on the surface of swimming pools are similar to the ripples in spacetime caused by gravitational waves. The event offers attendees a unique opportunity to really feel how sound passes through them and consider how, until very recently, spacetime was regularly ringing with the sounds of massive astronomical events that we just didn't have the ability to hear. Now, thanks to gravitational wave observatories around the world, we can listen to the universe in an entirely new way."

Leon Trimble, who devised the event said: "As soon as I heard that gravitational wave detectors 'listen' to the universe for signs of ripples in spacetime, and that signals are interpreted as characteristic 'chirps', I knew that astrophysics could be the foundation for some fantastic music.

"Swimming with Gravitational Waves fuses music and physics with physical activity in a really unique way. I'm excited to be part of it and I'm looking forward to playing at the Arlington Baths Club."

The event is supported by funding from the Institute of Physics Scotland. The IOP in Scotland aims to promote the role of physics in education, health, the environment, technology, and scientific literacy.

Alison McLure from the Institute of Physics Scotland said: "We work with a range of partners to support and develop the teaching of physics in schools; we encourage innovation, growth and productivity in business including addressing significant skills shortages; and we provide evidence-based advice and support to policymakers across Scotland.

"Our members come from across the physics community whether in industry, academia, the classroom, technician roles or in training programmes as an apprentice or a student. However our reach goes well beyond our membership to all who have an interest in physics and the contribution it makes to our culture, our society and the economy."

The Swimming with Gravitational Waves event will take place in three sessions beginning at 6:30, 7:30 and 8:30 on Saturday 18 November. The first session is family-friendly, with half-price tickets available for children. Attendees are advised to arrive dressed for swimming and to bring towels. The event will take place at the Arlington Baths Club, 61 Arlington Street, Glasgow.
Tickets are available to book on EventBrite.
---
First published: 10 November 2023