Robert Owen Award presented to Professor Christine Forde by Education Secretary
Published: 17 December 2019
Award recognises an educator who exemplifies the vision, principles and values of Robert Owen
The Deputy First Minister, John Swinney, yesterday presented the Robert Owen Award to University of Glasgow Emeritus Professor Christine Forde in recognition of her commitment to social justice and impact on teachers and Scottish education.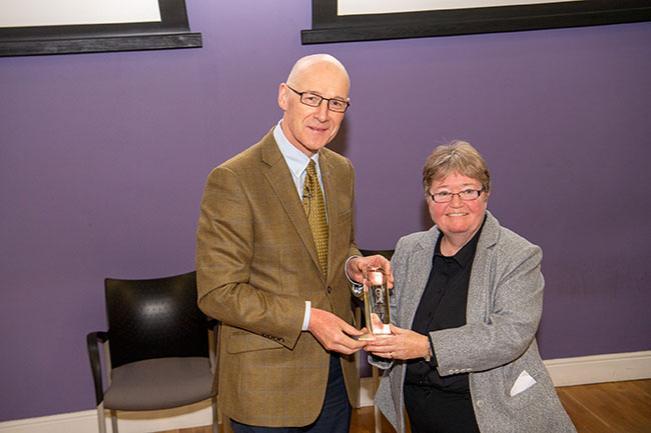 Depute First Minister, John Swinney and Professor Christine Forde.
Mr Swinney, who is Cabinet Secretary for Education and Skills, said: "Professor Forde has made a valuable contribution to the development of our education system over the course of her career. She has played a significant part in many head teachers' journey towards headship and has always advocated the highest standards of teaching and learning. It gives me great pleasure to recognise her passion and efforts in education with this award.
"Her efforts to provide the best possible outcomes for children and young people will leave a lasting legacy."
The purpose of the Robert Owen Award is to recognise an educator who best exemplifies the vision, principles and values of Robert Owen and who has made a significant contribution to Scottish education.
Professor Forde, who started her career as a primary teacher in Glasgow, went on to become an expert in educational leadership and professional learning at the University of Glasgow.
The award ceremony is normally held at the Scottish Parliament but was this year held at the University of Glasgow, with the Glasgow Schools' String Ensemble taking part. The award was set up in 2013 by the then Education Secretary, Michael Russell.
Professor Margery McMahon, Head of the School of Education, said: "The Robert Owen Award is awarded to a Scottish educator for substantial contribution to education, nationally and internationally.
"It is a great honour for the School of Education to have a former professor recognised in this way for her contribution. Christine has had a significant influence, particularly in the area of school leadership through her work in the Scottish Qualification for Headship which has brought international recognition for Scotland's leadership programmes."
Gayle Gorman, HM Chief Inspector of Education, said: "Through her work, Professor Forde has undertaken a wide range of activity, learning, collaboration, teaching and writing which has reached and influenced a significant number of educators across Scotland. Her fundamental commitment to social justice in a diverse society has shaped thinking in the development of the curriculum and pedagogical approaches which have strengthened our education system. Professor Forde is a worthy recipient of the Robert Owen Award."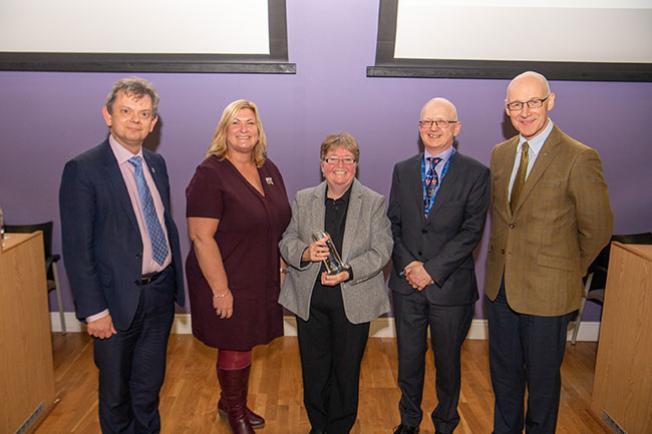 Anton Muscatelli VC, University of Glasgow, Gayle Gorman,HM Chief Inspector of Education, Professor Chrsitine Forde, Professor Bob Davis, Depute First Minister John Swinney.
The invited audience also heard from Professor Bob Davis, Director of the Robert Owen Centre at the University of Glasgow: the centre has no connection with the Robert Owen Award but espouses the same values.
He said: "The prize carries Robert Owen's values which are about the pursuit of educational excellence and educational equity, and a commitment to addressing disadvantage and injustice.
"These were the values that Robert Owen stood for and those who, like me, are charged with the preservation of and passing on the memory of Robert Owen recognise the importance of the prize that shows that these values are enduring ones and live on in the 21st century – and never more necessarily."
---
First published: 17 December 2019