SPFL Trust & UofG reveal that Football Fans in Training delivers long term success
Published: 18 September 2018
FFIT was first piloted eight years ago, and is now among the most successful healthy lifestyle projects ever delivered in a professional football club context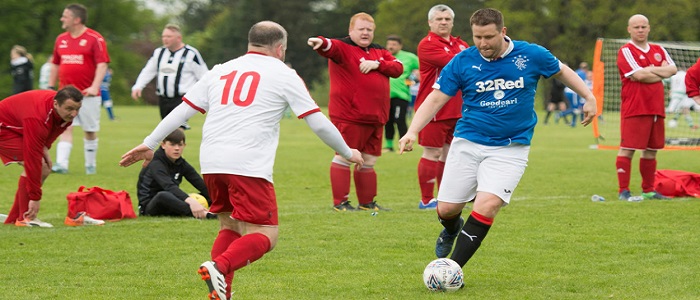 ‌The SPFL Trust and University of Glasgow today revealed the long-term, successful impact of its gold-standard programme, Football Fans in Training (FFIT).
FFIT was first piloted eight years ago, and is now among the most successful healthy lifestyle projects ever delivered in a professional football club context. Since then a highly successful women's programme has been launched.
Research presented today by the University of Glasgow has focused on the original programme which targeted men aged 35-65 with a 38-inch waist or 40-inch belly.
In 2014, a randomised controlled trial found that men taking part in FFIT lost almost 5% of their bodyweight 12 months after taking part in FFIT.
The long-term research involved 488 men from 13 clubs three-and-a-half years after the start of the original trial.
When it came to weight loss, participants continued to hold off much of their baseline weight, maintaining a drop of 2.5%.‌
Men also continued to be more active to eat more fruit and vegetables, less fatty food, less sugary food and take smaller portions.
They reported lasting improvements in their psychological health, including continuation of the improved self-esteem first acknowledged during their FFIT participation.
The results hold for men taking part in both research and standard deliveries of FFIT.
FFIT – which is completely free for participants - provides very good value. The University of Glasgow's health economics model suggests FFIT can deliver short, medium and long-term individual and public health benefits.
Other key statistics from all men and women's programmes delivered from 2014-2017 released by SPFL Trust today include:
4718 men and women have started the programme since 2012 (up to August 2018)
72% are still there at the end of it
Average age for men 47
Average age for women 46
After 12 weeks:
Total weight lost 25,088KG
Average of 8% of body weight lost
Total waist reduction – 33,177cm
Average waist reduction of 10cm
Dr Cindy Gray, Senior Lecturer in Health Behaviour Change on behalf of the University of Glasgow said: "FFIT has been shown to be successful in delivering the long-term weight, physical activity and dietary improvements that are essential to help people reduce their future risk of ill health.
"The fact that we found very little difference between men who took part in our research deliveries and those that took part in standard deliveries of FFIT, means there is no reason to believe that people taking part in current and future deliveries can't achieve the same excellent long-term results."
Joe FitzPatrick, Minister for Public Health, Sport & Wellbeing, speaking at the launch today, said: "I'm proud that the Scottish Government is able to fund such an innovative programme which demonstrates the positive impact that football can make in communities across Scotland.
"FFIT is designed and delivered in a way that effectively supports people to make positive and long lasting changes in their diet and lifestyle and it's great to see in person the real difference it's making to people's lives."
SPFL Trust Chief Executive Nicky Reid said: "This research demonstrates the significant health, social, and economic benefits behind FFIT.
"More importantly, as we've seen at today's event, FFIT changes people's lives. Behind every one of the thousands who have now been involved, there are countless stories as to how FFIT helped get folks to a place where they would want to be, physically and emotionally. We're grateful to the Scottish Government for their ongoing financial support for FFIT, and to the University of Glasgow for the detailed work which underpins the programme."
---
SPFL Trust & University of Glasgow reveal that Football Fans in Training delivers long term success for participants
Long-term research revealed at Hampden Park event
FFIT helps men achieve long term weight loss success
Men also sustain positive lifestyle changes over three and a half year
The 13 clubs involved in the long-term follow up were:
Celtic
Rangers
St Mirren
Kilmarnock
Hamilton
Motherwell
Heart of Midlothian
Hibernian
Dunfermline Athletic
St Johnstone
Dundee United
Aberdeen
Inverness Caledonian Thistle
About FFIT
The programme was first piloted in 2010, and is funded by the Scottish Government.
Football Fans in Training (FFIT, pronounced FIT) encourages men and women who have a waist size of 38+ to take on a programme behind the scenes at their local SPFL club.
Through practical tasks and moderate physical exercise (including walking), participants are guided towards a healthier lifestyle with the motivation of being part of their club a key factor in the programme's success.
Such has been the success of the programme, it has now been licensed to several clubs in England. Most recently Blackpool FC launched, last week.
Additionally, several clubs in Europe are also participating via league pilots.
First published: 18 September 2018