Tom Gibson Memorial Award given to University of Glasgow Plastic Surgeon
Published: 23 November 2018
The recipient of the Professor Tom Gibson Memorial Award 2018 has been named as David Leonard, a Speciality Registrar in Plastic Surgery and University of Glasgow Honorary Clinical Lecturer
The recipient of the Professor Tom Gibson Memorial Award 2018 has been named as David Leonard, a Specialty Registrar in Plastic Surgery and University of Glasgow Honorary Clinical Lecturer.
This biennial award aims to recognise the outstanding accomplishments and potential of young medics and scientists below the age of 40, associated closely with the Universities of Glasgow or Strathclyde. It is given in memory of Professor Tom Gibson, a Glasgow Plastic Surgeon and onetime director of the Canniesburn Hospital, whose pioneering insights into rejection of skin grafts helped form the basis of modern tissue transplantation.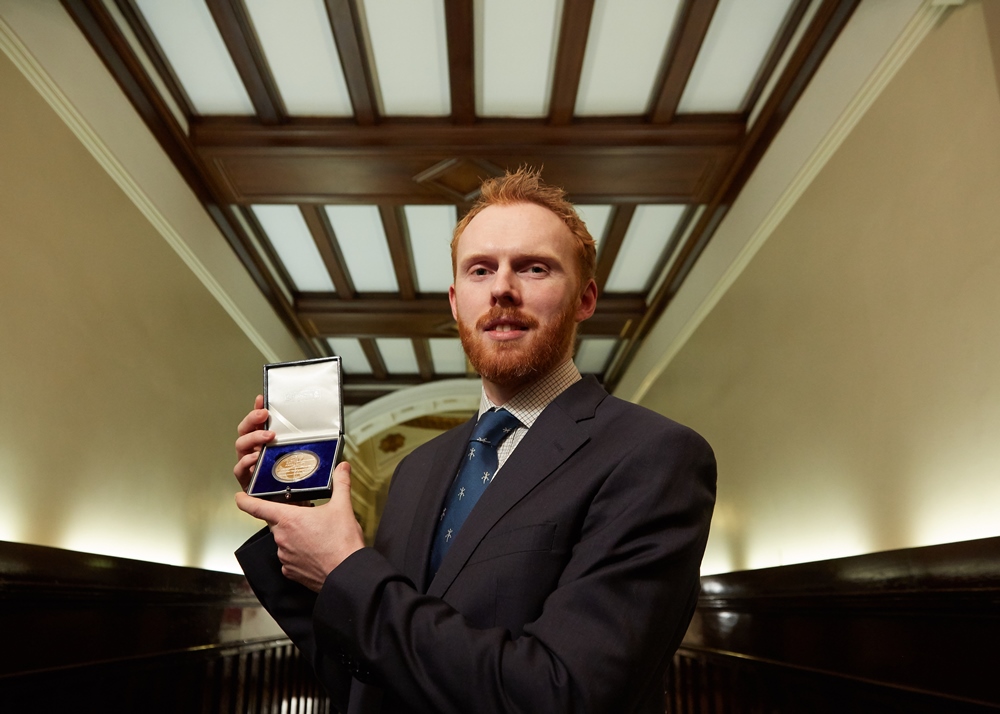 Dr David Leonard is a Specialty Registrar in Plastic & Reconstructive Surgery at the Canniesburn Plastic Surgery Unit at Glasgow Royal Infirmary, as well as an Honorary Clinical Lecturer at the Institute of Molecular, Cell and Systems Biology. He was selected for this year's award in recognition of his outstanding research achievements in plastic surgery and transplantation immunology.
He is a graduate of the University of Glasgow's School of Medicine and trained as a junior doctor in Belfast before undertaking research at the University of Manchester, and at the Transplantation Biology Research Center of Massachusetts General Hospital at Harvard Medical School. During this time, Dr Leonard was awarded his Doctorate in Philosophy for his thesis on the induction of immune tolerance of vascularised skin transplants.
He has produced key published research on the immune response to transplanted skin grafts, and demonstrated proof-of-principle for immunosuppression-free survival of vascularized skin allografts. This has been hailed as an important step towards the development of clinically applicable tolerance protocols for patients undergoing reconstructive transplantation, including of the limbs and face.
He is currently continuing his academic collaborations working between the Institute of Infection, Immunity and Inflammation and the Centre for Cell Engineering, where he is applying his knowledge of transplant immunology to investigate the immune response to engineered tissue.
David Leonard said: "Prof Gibson's reputation for encouraging a spirit of enquiry amongst plastic surgeons is well known, and his insights into transplant rejection are at the very foundation of transplant immunology research. That the mechanisms of transplant rejection are at the heart of my own research, and continue to pose great challenges today, makes this a very humbling and special award."
The Tom Gibson Memorial Award 2018 will be given November 22 2018 at the Royal College of Physicians and Surgeons of Glasgow.
---
Enquiries: ali.howard@glasgow.ac.uk or elizabeth.mcmeekin@glasgow.ac.uk / 0141 330 6557 or 0141 330 4831
First published: 23 November 2018
Related Links