Mark Beaumont is made an Honorary Doctor
Mark Beaumont – record-breaking long-distance cyclist, adventurer, author, broadcaster and documentary-maker – has been conferred the honorary degree of Doctor of the University of Glasgow.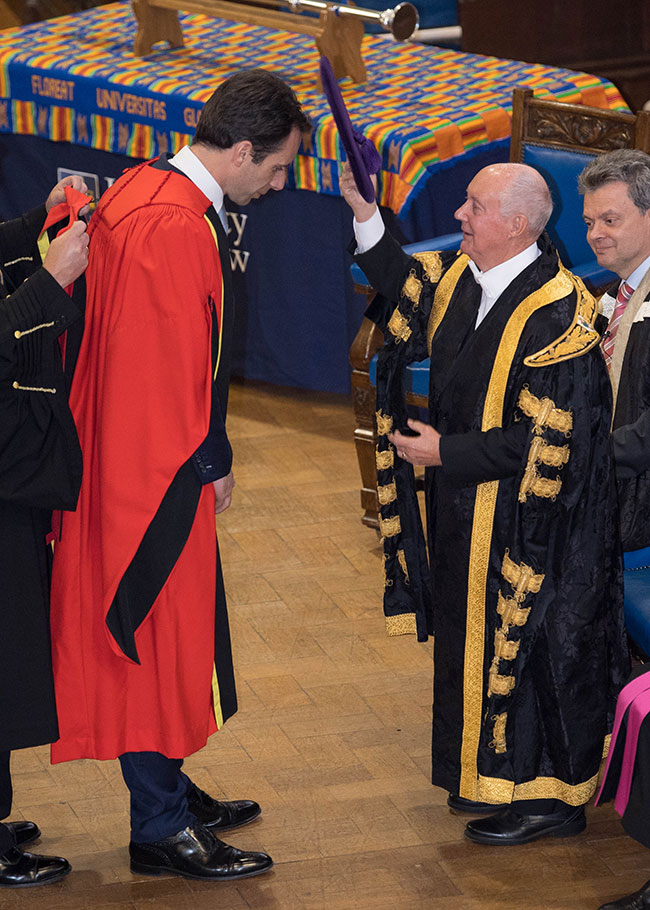 He graduated in 2006 with an MA in Economics and Politics before being named Young Alumnus of the Year in 2008. In 2010 he won the prestigious Glenfiddich Spirit of Scotland Award for Sport.
In his oration at the honorary degree ceremony, Professor Niall MacFarlane, Professor in Physiology and Sports Science, said: "Mark spent much of 2007 planning, and then much of 2008 completing, a solo world circumnavigation by bike.
"That's when I first met Mark. He turned up at my office with some notion that he would cycle 18,000 miles around the planet and break a world record. Obviously, I offered some bland words of advice and encouragement, agreed to provide Sport Science support in preparation for, and during, the attempt (albeit secure in thinking that I would never hear from that nice young man again!)."
He continued: "While Mark never planned to be a celebrity, the funding for his record attempt came with the caveat that he should make a documentary. Accepting this challenge changed his world and he became the athlete, broadcaster, charity fundraiser and writer that we recognise today. He continues to receive accolades, being awarded the British Empire Medal in the 2018 New Year Honours list and being installed as Rector at the University of Dundee."
Mark's achievements include breaking the circumnavigation cycling world record twice – he now holds the 18,000-mile title in a time of 78 days and 14 hours, averaging 240 miles a day. His documentaries have taken viewers to more than 100 countries. Outside sports, media and business, his interest lies within education – he is Honorary President of Scottish Student Sport and Patron of the Saltire Foundation.
Professor MacFarlane concluded: "I know Mark appreciates that the attributes we seek as a University to develop in our graduates helped him solve problems, focus on the immediate task ahead and helped him work as part of a team to achieve success. The University, however, should take pride in him as an exemplar of our notion of world changers. Mark has been inspired to be an ambassador for charities and educational organisations, accounts of his adventures are inspirational to many and, by crossing borders and continents as a vulnerable cyclist, he has challenged many of us to reconsider views on the world as a global community."
The honorary degree ceremony was followed by a lecture from Mark Beaumont and Q&A session.
---
First published: 31 October 2018