Professor Sarah Cleaveland receives prestigious international award
Published: 7 March 2018
Professor Cleaveland has been presented with the 2018 Mike Fisher Memorial Award
Professor Sarah Cleaveland has been presented with the 2018 Mike Fisher Memorial Award at a ceremony hosted by St George's University in Grenada. The award was given in recognition of her innovative work on One Health One Medicine, which has improved health outcomes for humans, animals and ecosystems in many parts of the world and particularly in Tanzania.‌‌‌‌‌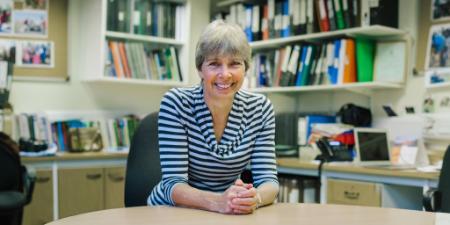 The Mike Fisher Memorial Award – given annually since 2006 – acknowledges the work of the late Mike Fisher, whose original research led to the discovery of the drug Ivermectin, which has spared 35 million people in Sub-Saharan Africa from blindness due to onchocerca volvulus (River Blindness) which causes "River Blindness" and disfigurement due to infection with lymphatic filariasis which occurs in 80 countries in the tropics and has provided domestic animals and livestock with healthier lives.
Professor Cleaveland is Professor of Comparative Epidemiology at the Institute of Biodiversity, Animal Health and Comparative Life Sciences. Last year she was named a Fellow of the Royal Society for her work on infectious diseases.
Professor Cleaveland started her career working on rabies, a terrifying and deadly disease that still kills tens of thousands of people in Africa and Asia every year. The research programme she established in Tanzania has provided important evidence to change the way that rabies is being tackled around the world, and is underpinning international efforts towards the global elimination of rabies, which is now a declared objective of the World Health Organization, the World Animal Health Organization and the Food and Agriculture Organization.
She has worked extensively amongst the pastoral Masai people in Northern Tanzania and particularly on a number of infectious diseases that infect people, domestic animals and wildlife. Her work continues to attract large numbers of graduate students to work with her from many parts of the world, and the outcomes of her studies provide important information for policies in infectious disease control.
Explaining the importance of Professor Cleaveland's work, Dr Cal Macpherson, Founding Vice-President and Director of the Windward Islands Research and Education foundation (WINDREF), the institution that bestows the award, said: "One Health One Medicine is the convergence of human, animal and ecosystem health, resulting in a joined up approach between complementary sectors that, all too often, are practiced in a vacuum. Each of these practices are inextricably connected, and by learning from each other and pooling resources, great progress can be made for the benefit of human, plant and animal kind."
Building on her work on rabies, Professor Cleaveland is now tackling several other diseases that spread between animals and people (known as zoonotic diseases).
She is currently leading Livestock, Livelihoods and Health, a research programme in Tanzania funded under the Zoonoses in Emerging Livestock Systems programme. This focuses on a group of infections that have been largely neglected, but are an important cause of fever in people, and further affect people's livelihoods through production impacts on livestock.
Her research findings are shedding light on the true impacts of these neglected diseases, and are helping to identify effective strategies of control, particularly for people in poor communities who are most affected by these disease problems and struggle most to access health services.
Professor Cleaveland is a strong advocate of using 'One Health' approaches in her work – building multidisciplinary teams that involve medical, veterinary and social scientists – and is committed to building and sustaining partnerships with African institutions and researchers as an integral part of the research.
This approach, combined with working across disciplinary and geographic boundaries, is at the core of Professor Cleaveland's success. By continuing to build new links and find new ways of looking at disease challenges, she hopes to continue to create positive changes in the lives of disadvantaged people.
Professor Cleaveland has also worked extensively on foot-and-mouth disease, cattle vaccine trials, African wild dog conservation.
Professor Cleaveland was also recently awarded an OBE for services to veterinary epidemiology.
In keeping with the theme of Professor Cleaveland's work, the award was presented at a One Health One Medicine Symposium at St George's University, the international medical school on the Caribbean island of Grenada.
---
Enquiries: ali.howard@glasgow.ac.uk or elizabeth.mcmeekin@glasgow.ac.uk / 0141 330 6557 or 0141 330 4831
First published: 7 March 2018