Dr Carol Clugston to join prestigious 30% Club
Issued: Sun, 11 Feb 2018 08:00:00 GMT
One of the University of Glasgow's most senior females has won a scholarship from the prestigious 30% Club.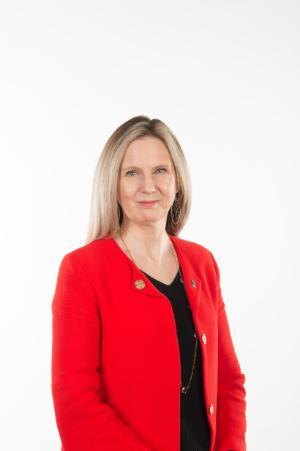 Dr Carol Clugston, the Chief Operating Officer of the College of Medical, Veterinary and Life Sciences (MVLS), has been awarded the 30% Club's London Business School Senior Executive Programme scholarship, which is worth £33,500 and is awarded annually with the aim of helping women reach influential positions.
The 30% Club launched as a campaign in the UK in 2010 with a goal of achieving a minimum of 30% women on FTSE-100 boards. Today, women account for only 8.6% of all executive roles in FTSE 100 companies, although this is an all-time high, compared with 5.5% in 2011.
The London Business School and the 30% Club created the Senior Executive Programme scholarship. Candidates for the scholarship are put forward by their employers based on talent and achievements in delivering outstanding performance.

Dr Clugston went through the rigorous selection process, which culminated in a panel interview including Moya Greene, CEO of Royal Mail, Brenda Trenowden, Chair of the 30% Club globally and Helen Kerkentzes, Executive Director of the London Business School.
Dr Clugston said: "I was delighted that the University chose to put me forward for the 2018 SEP Women's scholarship, and thrilled to find out that I had won. It's a privilege to be selected to undertake such a prestigious leadership programme, which will enable me to contribute more fully to the University's ambitious strategy.
"My success in being awarded the scholarship positively reflects the University's outstanding commitment to gender equality and supporting the professional development of its staff."
Dr Clugston will undertake the residential scholarship at London Business School between May and July this year. The intensive programme brings together senior executives and industry experts from elite and diverse organisations across the world, and equips participants with the tools to drive change in their organisations.
Last year Dr Clugston was awarded the Glasgow Lord Provost Award for health. She has been the Chief Operating Officer of the MVLS since August 2010.
Dr Clugston, who studied molecular genetics at the University of Glasgow and later worked in cancer research, has played a major role in the planning, funding and development of the academic infrastructure at the Queen Elizabeth University Hospital on projects totalling over £70 million since 2012.
These projects include a Teaching & Learning Centre, Clinical Research Facilities, the recently-opened Imaging Centre of Excellence (home to Scotland's first ultra-high-resolution 7 Tesla MRI scanner), and the development of the £20m Stratified Medicine Scotland Innovation Centre. As well as benefits to patients, these projects will create up to 700 jobs and bring £100m to the local economy, and ensure Glasgow is recognised as a global centre of excellence for biomedical innovation
---
Enquiries: ali.howard@glasgow.ac.uk or elizabeth.mcmeekin@glasgow.ac.uk // 0141 330 6557 or 0141 330 4831